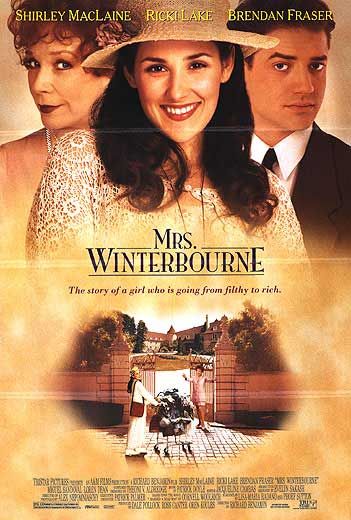 | | None | Light | Moderate | Heavy |
| --- | --- | --- | --- | --- |
| Language | | | | |
| Violence | | | | |
| Sex | | | | |
| Nudity | | | | |
What You Need To Know:
When Ricki Lake, playing the homeless Connie Doyle, gets mistaken for a rich widow, will she reveal her true identity or continue to live a lie? This is the question raised in MRS. WINTERBOURNE, a second-rate rip-off of WHILE YOU WERE SLEEPING. Humorless, uninvolving and foul-mouthed, it will not propel Ms. Lake into stardom.
Content:
(Pa, C, LLL, V, A, M) Pagan worldview with some Christian elements including baptism & prayer; 22 obscenities, 13 profanities & 12 vulgarities ; mild violence including implied beating, threats, implied murder, & implied train wreck; alcohol use & abuse; and, extortion, threats of kidnapping, deceit & baby urinates in face
More Detail:
MRS. WINTERBOURNE is a mediocre rip-off of WHILE YOU WERE SLEEPING starring Shirley MacLaine and TV-talk-show-host Ricki Lake. Lake plays a poor homeless girl named Connie Doyle. Alone, she gets taken in by a bum named Steve. Steve gets Connie pregnant and sends her packing. Connie finds herself on a train headed for Boston and meets a kind, rich young man named Hugh. Hugh introduces her to his pregnant, gorgeous wife, Patricia Winterbourne. The train wrecks and the next memory Connie has is waking up in a hospital eight days later with a new born son and a new identity as Patricia. (The real Patricia died on the train with Hugh.) Connie tries to correct the error, but she is taken to the Winterbourne Mansion, sees its opulence and eventually decides to live a lie, as Patricia Winterbourne. The question remains: Will she reveal her true identity or will she live off the kind and rich Winterbourne's.
All performances are shallow and flat. MRS. WINTERBOURNE has neither the charm nor the talent nor the clean language of WHILE YOU WERE SLEEPING. It does have some Christian elements with baptism and marriage ceremonies, but these merely serve as dramatic plot points rather than matters of faith. MRS. WINTERBOURNE is a poor example of a romantic comedy.