"Great Music Marred by Leftist Messaging"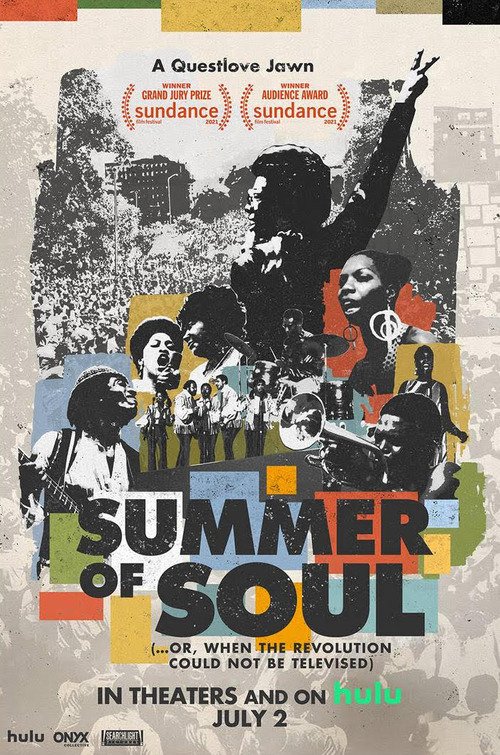 | | None | Light | Moderate | Heavy |
| --- | --- | --- | --- | --- |
| Language | | | | |
| Violence | | | | |
| Sex | | | | |
| Nudity | | | | |
What You Need To Know:
SUMMER OF SOUL is a music documentary about the Harlem Cultural Festival in 1969, which was a series of musical concerts taking place over several weekends in New York City. The festival featured performances by major black soul, pop and jazz stars of the time. The movie intercuts some of the major performances with interviews of some of the artists and attendees looking back on the festival and what it meant to them. "It wasn't just about the music," singer Gladys Knight recalls. "We wanted progress."
SUMMER OF SOUL contains footage unseen for 50 years. It's a great deal of fun to watch because the music is undeniably amazing. To see Stevie Wonder, Sly and the Family Stone, the 5th Dimension, and other performers at their best is a real treat. The movie contains a lot of political content, however, including some strong politically correct, leftist views. There is, however, a powerful performance of a gospel song by Mahalia Jackson and Mavis Staples. MOVIEGUIDE® advises extreme caution for some of the political content, newsreel violence and references to smoking marijuana in SUMMER OF SOUL.
Content:
(RoRo, PCPCPC, C, V, N, DD, M):
Dominant Worldview and Other Worldview Content/Elements:
Strong Romantic worldview where artists and people express themselves emotionally and mention politics of social change, with some very strong politically correct content, mitigated by positive Christian content, some references to gospel music, which include a brief performance of a powerful gospel song by Mahalia Jackson and Mavis Staples
Foul Language:
No foul language
Violence:
Archival footage of rioting in US streets, police arrests of black men cuffed and face down on the ground, and bombing footage from the Vietnam War (nothing graphic, but it's a disturbing reminder of troubled times)
Sex:
No sex
Nudity:
None other than some shirtless men and men wearing shirtless vests
Alcohol Use:
No alcohol use
Smoking and/or Drug Use and Abuse:
Casual smoking seen among audience members and performers, but at the time smoking wasn't considered negative, and several images of people smoking marijuana cigarettes, including famous comedian Redd Foxx; and,
Miscellaneous Immorality:
Some miscellaneous content such as a singer performs the song, "Do Your Thing," an anthem with hedonistic implications, and a group sings about Aquarius, a month in the occult Zodiac.
More Detail:
Everyone has heard of the Woodstock music festival, where 400,000 mostly white people gathered for three days in 1969 to hear an unbelievable lineup of rock stars in what became to be considered classic performances. However, most people don't know that just 100 miles away in New York City's Harlem, nearly as many people (about 250,000 altogether) came together over the course of six weekends for the Harlem Cultural Festival, which featured the biggest black artists in music across jazz, soul and pop.
Stevie Wonder was the biggest name to take that stage. He was followed by acts including Sly and the Family Stone, Nina Simone, B.B. King, and Gladys Knight and the Pips. While Woodstock was filmed for a classic three-hour concert movie of the same name, the Harlem Cultural Festival was filmed, but its footage was never sold for public consumption and was stored in forgotten boxes until a couple years ago.
That's when Questlove, the leader and drummer of The Roots band that serves as Jimmy Fallon's house band on THE TONIGHT SHOW, learned that people had discovered the Harlem footage. He decided to put his considerable clout to use in directing a documentary about the event. The resulting SUMMER OF SOUL (…OR, WHEN THE REVOLUTION COULD NOT BE TELEVISED) shows that the event was not just a terrific display of music, but a powerful display of how music is able to serve as a means of effecting social change.
A young Jesse Jackson is seen throughout the movie, delivering fiery speeches between the top-notch musical performances. His speeches rail against what was then an economy that was too often oppressive to black people. They also called for change on multiple levels of the socioeconomic structure in America. The movie also contains some other political content, including references to the controversial Black Panthers group
Famed singer Nina Simone delivers some beautiful singing, but her songs also mix in heavy-duty liberal politicking. One memorable sequence of the movie points out that the first US moon landing took place during the festival. That sequence contrasts the ecstatic reaction of the media and white America to the moon landing with bitter and sardonic comments from black attendees lamenting that the money should have been spent on social issues instead. (Of course, 52 years later, trillions of dollars of government spending on social "problems" has done little to improve the basic lot of most poor people, including minorities and women.)
The inclusion of these political moments cause conflicting feelings about SUMMER OF SOUL as a whole. The movie's liberal leanings are heavy-handed, but viewers also should consider that the festival was the largest gathering of black musical artists and audiences ever to that point. Also, there was a greater level of prejudice and discrimination against black Americans at the time, and the forced segregation in the Southern states had just ended. The festival was also held a year after the assassination of civil rights icon the Rev. Martin Luther king. So, the politicking can be forgiven a bit considering the context of the time period. "It wasn't just about the music," singer Gladys Knight reminds viewers, looking back on the festival. "We wanted progress." In contrast to the movie's political messages, the movie contains two or so references to gospel music, including a powerful performance of a gospel song by Mahalia Jackson and Mavis Staples.
SUMMER OF SOUL ends with a stunning look at how the incredible concert footage wound up buried by a media structure that refused to consider distributing it as a movie or television special at the time. The reactions of survivors from the event are powerful and sad as they consider what might have happened if they had been given the same chance for success as the makers of the WOODSTOCK concert movie.
Overall, SUMMER OF SOUL is a great deal of fun to watch because the music is undeniably amazing. To see Stevie Wonder, Sly and the Family Stone and other performers at their best is a real treat. Adult viewers can apply their thinking caps and weed out the more extreme political moments, enjoying a movie that has no foul language, sex, or violence (aside from brief archival footage of the Vietnam War and race riots of the time).
The movie's PG-13 rating comes from the disturbing news footage and from the fact that smoking cigarettes and marijuana is casually portrayed at some points. SUMMER OF SOUL is a movie for media-wise adults who can filter out the politically correct content and the few marijuana references. MOVIEGUIDE® advises extreme caution.