"Those Who Humble Themselves Will Be Exalted"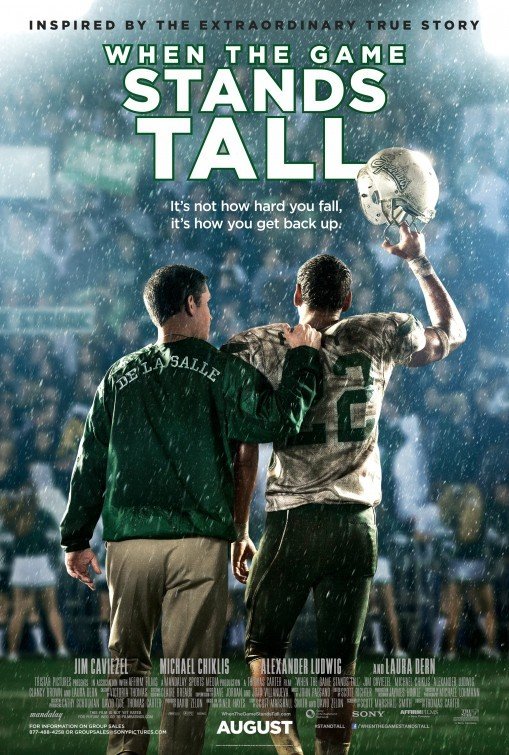 | | None | Light | Moderate | Heavy |
| --- | --- | --- | --- | --- |
| Language | | | | |
| Violence | | | | |
| Sex | | | | |
| Nudity | | | | |


What You Need To Know:
WHEN THE GAME STANDS TALL tells the story of a high school football team that has kept up a 151 game winning streak under coach Bob Ladouceur. Coach Bob has a heart attack. Then, one of the students is tragically killed on the street. As the team struggles to continue, they end up losing their first game in years, breaking the streak. It takes Coach Bob everything he knows and believes to inspire faith, values and integrity into his students to make them a winning team again.
The acting in WHEN THE GAME STANDS TALL is top notch. Many of the young men who star in the movie are sure to have bright futures. The story is both compelling and realistic, though the first half starts off weak and disjointed. Overall, WHEN THE GAME STANDS TALL is a movie that goes against a culture that is all about personal fulfillment. It overtly highlights Christian, biblical principles to instill humility and love for one another. WHEN THE GAME STANDS TALL is a moving story that will inspire families with older children and teenagers.
Content:
(CCC, BBB, H, L, V, N, A, DD, M) Very strong Christian, biblical, moral worldview with openly stated themes about humility and the importance of more than just winning, frequent reference to Bible verses and teamwork, the players often pray the Lord's Prayer before games, a Christian funeral at a church; three minor obscenities and one questionable profanity, a person feeling nervous kneels in front of a toilet though no vomit is shown; general football violence with players being tackled and hit on the field, this sometimes leads to mild injuries like a bloody nose, some shoving not related to game play, a character is shot off screen (but no blood); no sexual immorality but a husband and wife kiss sometimes, teenagers sometimes kiss, and a boy says he took a purity pledge; upper male nudity; a brief party scene depicts young people with red solo cups; one main character is shown smoking once, and this incident leads to a heart attack, plus no drug use depicted but one character asks another if he is high; and, one father is verbally and sometimes physically abusive to his son.
More Detail:
WHEN THE GAME STANDS TALL tells the true story of a high school football team that had a 151 game winning streak under coach Bob Ladouceur.
The opening montage informs viewers of how the De La Salle Spartans, a high school football team, has remained undefeated for many years through hard work and discipline. Though the coach has worked hard to get the team where it is, his goal has never been to keep the streak alive. Instead, he wants to make sure that his players grow into men with integrity and character.
After yet another successful undefeated season, the pressure is high for Coach Bob and his team. When Bob has a heart attack, it becomes apparent that the stress has taken a toll on not only him, but also his family, whom he's neglected.
To make things more difficult, one of Coach Ladouceur's most promising graduates, a man who has learned to be a good, godly man and who has just received a full-ride scholarship to play division one football, is gunned down tragically on the streets. After this incredibly dramatic event, all of the football team is shaken up, especially Coach Bob. This causes the rest of the team to lose sight of the coach's main purpose not to win but to grow into God-honoring men. Their 151 winning streak is lost on the first game of the season.
With a tough schedule ahead and a town that's disappointed in them, the team has to learn to rely on each other and reevaluate why they play the game.
WHEN THE GAME STANDS TALL has a strong second half that ends on an inspiring, tear-jerking note. Though the acting is good, much of the story is disjointed, mostly in the first half. At times, it feels as if the characters have too many goals, and it's hard to discern where the movie is going. This doesn't take away much from the entertainment value, but the emotional impact of the story could have been much stronger. The football games are riveting and well shot and the characters are genuine.
All through the movie, it's clear that Coach Ladouceur has been teaching the boys on his team the importance of humility. In one very touching scene, he brings his dejected and downcast team to a wounded veterans hospital to learn about serving others instead of serving yourself. The biblical themes are extremely apparent in WHEN THE GAME STANDS TALL. It's encouraging to see such a positive representation of the Christian faith, especially among young people. Ladouceur and his family had a realistic family dynamic, and the conflict that comes with it. However, the subplot that was supposed to tackle the ever-relevant issue of fatherhood and work/life balance was left underdeveloped and unresolved.
Overall, WHEN THE GAME STANDS TALL is a movie that bucks against a culture that's all about glorifying one's ego and seeking personal pleasure. Instead of pursuing individual accomplishments and individual fame, the movie promotes an ideal of pursing the exaltation of others. It overtly highlights Matthew 23:12 ("Those who exalt themselves will be humbled, but those who humble themselves will be exalted") as an example for living. WHEN THE GAME STANDS TALL is a moving story for families with older children and teenagers that inspires love and humility.