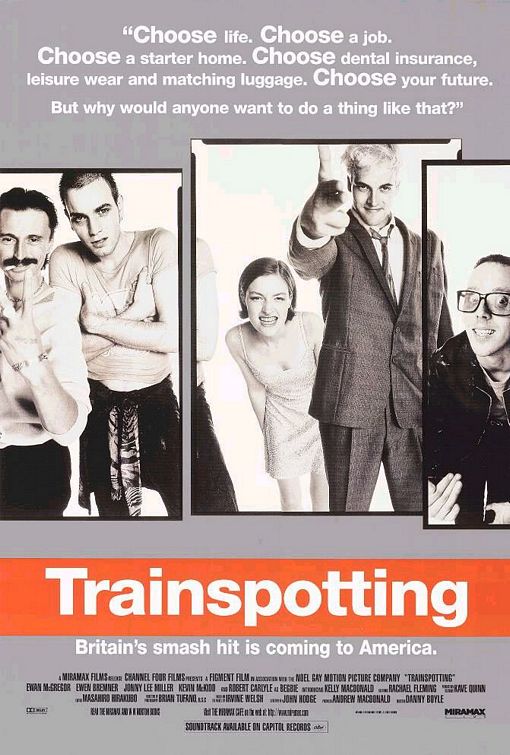 | | None | Light | Moderate | Heavy |
| --- | --- | --- | --- | --- |
| Language | | | | |
| Violence | | | | |
| Sex | | | | |
| Nudity | | | | |
What You Need To Know:
TRAINSPOTTING is about a group of low-life Scot youths who do little but take heroin. One supposedly escapes it, one dies and the others just drift along. Filled with drug use, obscenities, sex, nudity, and some violence, it is a shocking and offensive import that nevertheless is receiving accolades along the lines of PULP FICTION.
Content:
(PaPaPa, DDD, LLL, V, SSS, NNN, A, D, M) Nihilistic worldview demonstrating graphic heroin use where drugs & crime are chosen over life; 109 obscenities, lots of Scottish slang with sexual references & 3 profanities; moderate violence including man shooting dog with BB gun, dog attacks man, beer mug smashes on girl with bloodletting, bar fights, man's face cut, image of dead baby, & threats with knives; one brief montage scene showing several couples fornicating, requests for sex & sexual dancing at a nightclub; brief full male & female nudity; alcohol use & abuse; smoking & graphic drug use depicted including shooting-up heroin, taking opium suppositories & man injected; and, miscellaneous immorality including man defecates in sheets implied, feces are thrown about a room, hallucination sequences of a man crawling into a filthy toilet, stealing money, & drug deals
More Detail:
TRAINSPOTTING is a fierce, scabrous movie about heroin addiction. Set in Scotland, it tells the story of Mark Renton , the most miserable in his group of low-life friends. He doesn't want to choose anything close to a normal life, but rather contents himself with drug use. His friends, Spud, Sick Boy, Tommy, and Begbie , join him in a life of passionless crime and drugs. After Mark OD's on the drugs, he quits and moves to London to escape the life. Tommy dies of an overdose, and Mark goes back to Scotland. In London, Begbie and the others visit Mark, who gets back on heroine. They come across some drugs, sell them and split the profits. However, Mark has other plans with the money: to create another supposedly clean break from the past and have a new heroin-free life.
Applauded at Cannes Film festival, TRAINSPOTTING gives the audience member a vicarious drug trip. This movie has a lot of comedy and glamorizes drug use. The themes it seems to state are: use drugs if you hate life, but don't kill yourself doing it; and, if you want to get away from drugs, stealing money is okay. Also it is filled with obscenities, sex, nudity, and some violence. It is a shocking and offensive import.