"Discover Your Abundant Life"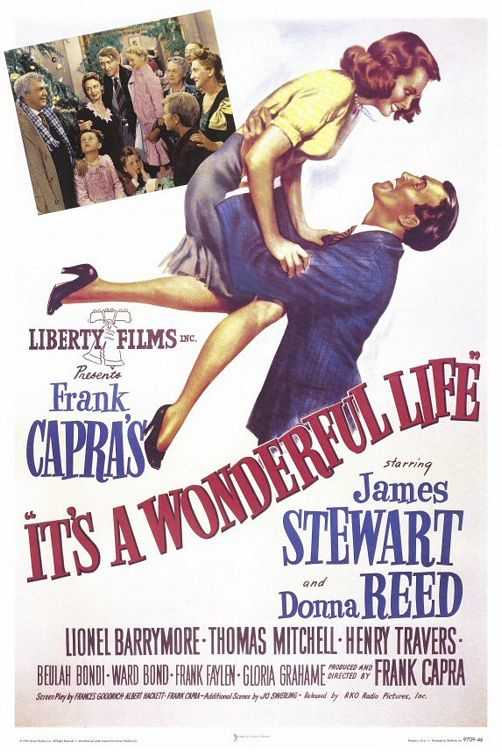 | | None | Light | Moderate | Heavy |
| --- | --- | --- | --- | --- |
| Language | | | | |
| Violence | | | | |
| Sex | | | | |
| Nudity | | | | |
What You Need To Know:
IT'S A WONDERFUL LIFE is the Christmas movie classic, starring Jimmy Stewart and Donna Reed. It's about the struggling owner of a small-town savings and loan company who discovers, with the help of a quirky angel named Clarence, that he's the richest man in the world. After years of struggling to make ends meet, George Bailey contemplates suicide when his forgetful uncle accidentally misplaces $8,000. George's family and friends are praying to God for him, however. As a result, God sends a bumbling but lovable angel who happens upon the one thing that will remind George he's really led a wonderful life.
IT'S A WONDERFUL LIFE is arguably the most beloved movie of all time. It's certainly the most uplifting, rewarding and redemptive movie. It's also funny, emotionally powerful, psychologically enriching, and beautifully made. IT'S A WONDERFUL LIFE is a pro-life masterpiece by Director Frank Capra, with brilliant performances by Jimmy Stewart, Donna Reed, and a cast of terrific character actors. Slight caution is advised for some false angelology, but the movie honors God in a whimsical, profound, powerful way.
Content:
(CCC, BBB, FR, V, AA, D, M):
Dominant Worldview and Other Worldview Content/Elements:
Very strong Christian, moral, pro-life worldview firmly extols answered prayer but the angel in the story is a human being who hasn't gotten his wings yet, so there's some false angelology;
Foul Language:
No foul language;
Violence:
Light violence with an edge at times includes troubled man gets upset and flings things around his living room in front of his wife and children making the children cry, then contemplates suicide, man gets punched, man drives car into a tree, couple accidentally falls into a swimming pool at a big community dance, and other people jump into the pool, man learns his father has suffered a sudden deadly heart attack, and drunken pharmacist upset about his boy dying in World War II accidentally puts poison into medicine and slaps boy with damaged ear to make it bleed, and boy saves his younger brother's life when he falls through some ice;
Sex:
No sex, some brief kissing and hugging especially when man realizes he's in love with the girl, plus town has a girlie burlesque club when angels shows hero what it would be like if he had never been born and during same sequence man's wife has run away with another man;
Nudity:
No nudity;
Alcohol Use:
Alcohol use and a few people get drunk, leading to jeopardy;
Smoking and/or Drug Use and Abuse:
Smoking but no drugs; and,
Miscellaneous Immorality:
Greedy old rich man hides truth to get revenge on his young rival, and old rich man is cruel to others, but the hero stymies his plans and wins in the end because of answered prayer.
More Detail:
IT'S A WONDERFUL LIFE is the Christmas classic starring Jimmy Stewart and Donna Reed about the struggling owner of a small-town savings and loan company who's at the end of his rope but, with the help of a lovable angel, discovers he's the richest man in the world! IT'S A WONDERFUL LIFE is arguably the best movie ever made. It's certainly the most uplifting movie ever made, an instant Christian, redemptive, pro-life masterpiece by Director Frank Capra with brilliant performances by Jimmy Stewart, Donna Reed, and a cast of terrific character actors.
The movie opens with all of George Bailey's family and friends praying earnestly to God to help their friend George, because he's in trouble. An angel named Joseph comes to St. Peter and tells him they have to send someone down to Earth to help George. The problem is, the next apprentice angel is a man named Clarence, who's a bit of a dunderhead and hasn't earned his wings yet. Peter tells Clarence that George is so discouraged that he's contemplating throwing away God's greatest, gift, life. Peter sets Clarence down to show him George's whole life story.
Cut to Earth where the life of George Bailey, its ups and downs, run before our eyes. George wants to travel around the world, but the town of Bedford Falls needs his help. He inherits his father's small savings and loan company. He eventually marries his sweetheart, Mary, and they have children. George spends a lot of time keeping the savings and loan company afloat while the town's miserly misanthrope, Mr. Potter, keeps inventing ways to bankrupt George's company and take it over.
One day, George's Uncle Billy loses an $8,000 deposit that Mr. Potter then steals from Billy without anyone knowing. They can't find the money, and George (acting just like Mr. Potter) takes it out on his family, then storms out of the house.
Clarence travels to Earth to meet George. George has become desperate and is sitting on the local bridge, thinking about jumping off to drown. Before he can do that, however, Clarence jumps into the river and pretends to be drowning. George saves Clarence, after which they sit in the local bridge watchman's shed while their clothes dry. George makes a comment to Clarence that it would have been better if he'd never been born. Clarence decides to grant George's wish, and George finds out the horrible implications of his offhand comment as the story reaches its magnificent climax and resolution.
IT'S A WONDERFUL LIFE is arguably the most beloved movie of all time. Many people cite it as their favorite movie. MOVIEGUIDE®, in fact, puts it at the top of our list of the Top 100 Most Inspiring Family-Friendly Movies of All Time. Many movies vie for that top position, but we can't think of a movie that's more deserving.
Director and Producer Frank Capra does his best work here. He also elicits one of James Stewart's best performances, along with such classic Stewart performances as MR. SMITH GOES TO WASHINGTON (another Capra classic), THE SHOP AROUND THE CORNER, THE MAN WHO SHOT LIBERTY VALANCE, THE PHILADELPHIA STORY, VERITIGO, REAR WINDOW, THE NAKED SPUR, THE FAR COUNTRY, HARVEY, WINCHESTER '73, DESTRY RIDES AGAIN, and YOU CAN'T TAKE IT WITH YOU (Stewart's Capra hat trick). With IT'S A WONDERFUL LIFE, Stewart cemented his position as one of the great American actors of all time. His film career after this movie made Stewart arguably the best American actor ever. His complex performances in 1950s westerns and his tour de force performances for Alfred Hitchcock in REAR WINDER and VERTIGO are perfectly realized and sometimes even emotionally devastating. His performance in John Ford's THE MAN WHO SHOT LIBERTY VALANCE is so wonderfully effortless that you really can't see the wheels working (and you're not supposed to see them; you're just supposed to watch in wonder as Stewart brilliantly but often disarmingly mines the unexpected nuances of his character's depths).
As for Stewart's romantic co-star, Donna Reed, well Donna Reed is the epitome of the girl next door that you want to marry but may not have the courage or good sense to do so. Her character, Mary, is so in love with George Bailey that the issue of whether George will pop the question becomes a huge moment of utmost jeopardy for both characters, but especially for Mary. Then, when George has his biggest moment of crisis, it's Mary's love and faith that sets the stage and is the catalyst for George's ultimate salvation – psychologically, financially, mentally, and spiritually. Without her faith, love and action, George really would be totally lost. IT'S A WONDERFUL LIFE is really a great love story, in addition to everything else!!!
The villain of IT'S A WONDERFUL LIFE is the truly despicable Mr. Potter. Now, this role is one of the most melodramatic villains of all time. A lesser actor could ruin the whole picture. Thankfully, however, Frank Capra has Lionel Barrymore, who became one of the best character actors who ever graced a Hollywood movie. In IT'S A WONDERFUL LIFE, Barrymore plays the villain for all that he's worth. However, his performance never becomes hackneyed nor corny. Instead, he imbues the villain with so much ruthless venom, hatred and evil cunning that, when George Bailey starts to pity Mr. Potter and his obviously lonely life, you can't help but feel the same thing for Mr. Potter while standing in awe as you wonder how in the world can such a man do that to himself? Even God's Word, the Bible, struggles with this question, when the prophet exclaims in Jeremiah 17:9, "The heart is deceitful above all things and beyond cure. Who can understand it?"
If all this weren't enough, Director Frank Capra fills his movie with a veritable who's who of character actors, including Thomas Mitchell, Henry Travers, Gloria Grahame, Beula Bondi, Ward Bond, Frank Faylen (the father of Dobie Gillis on the old 1950s TV show), H.B. Warner (who played Jesus in the 1927 classic KING OF KINGS), Frank Albertson, Todd Karns, and Sheldon Leonard (who went on to co-produce and co-create major classic TV shows in the 1950s and 1960s such as MAKE ROOM FOR DADDY, THE DICK VAN DYKE SHOW, THE ANDY GRIFFITH SHOW, I SPY, and GOMER PYLE: USMC). Even the lesser known ones, such as Edmund Wilson, who plays Mr. Martini, shine in this picture and add something important. Of course, as far as the character actors go, this movie belongs to Henry Travers, who plays the angel with no wings, Clarence, though the great Thomas Mitchell, as Uncle Billy, gives old Henry a run for his money. Also, who can forget Ward Bond as the friendly cop, Frank Feylen as the friendly cab driver, and Gloria Grahame as the loose woman about town who just needs the right direction? Last not least, is the performance by H.B. Warner as the druggist who makes a huge mistake but is saved by George Bailey at the last minute. The heartbreaking scene that accompanies this situation is one of the most powerful moments you'll find in any movie ever made. In fact, one could argue that, without that one early scene, IT'S A WONDERFUL LIFE probably would not be as great a movie as it is. How did Frank Capra know that the movie needed such an early scene, and how does a film director, much less a screenwriter and the actors involved in the scene, know to create such a wonderful, important scene and imbue it with such magic and heartbreaking drama that the whole movie might suffer significantly if it's not there? The payoff for this scene, when George gets his wish to never have been born, and the grieving druggist has been turned into a drunken, worthless, and thoroughly loathed ex-convict, is just exquisite!
We list this scene and these performers to show that IT'S A WONDERFUL LIFE is not just a great Hollywood movie, and a great movie period, but also to show that IT'S A WONDERFUL LIFE is really a miracle from God, divinely ordained by the Creator of the Universe, to bring people from almost all walks of life, to a saving relationship with the One who made us. And, that's exactly what IT'S A WONDERFUL LIFE has done for many people.
How did that happen?
Well, stories abound of people lost in the throes of depression, loneliness, and suicide who stumbled upon this wonderful movie (usually on television) and been transformed and inspired in some way to dedicate their life to God through Jesus. It's happened to people working at MOVIEGUIDE® and people all over the world. One of the biggest reasons why the movie affects people like it does is the fact that Frank Capra and Jimmy Stewart are not afraid to show viewers the darkness that grabs hold of George Bailey when he reaches his moment of absolute crisis. The man has just scared his children half to death, throwing things around the room and yelling, and worried his family and friends. To top it off, he thinks God hasn't answered his plea for help, and he's about to throw his whole life away. Then, he even goes so far as to tell Clarence that it would have been better if he'd never been born. Thus, there's a harsh reality to the story that Capra and Stewart don't hesitate to show the viewer.
The Good News, however, is that, not only does George have real friends, he also has made a major, life-saving difference, in everyone's life. As a result, IT'S A WONDERFUL LIFE is the perfect embodiment of Jesus Christ's words in Matthew 25:40, "Truly, I tell you, just as you did it to one of the least of these who are members of my family, you did it to me." Like the sheep in that passage, George isn't even aware of the great things he's done because of his years of sacrifice, duty, compassion, and helping others. George has laid down his life for others, giving up his own personal desires, and, at the very end, he's richly rewarded for it in one of the most joyful, uplifting and beautiful dramatic endings ever made. George thought he was a failure, but, as Clarence reminds him, "No one is a failure so long as he has friends…" and "You've really had a wonderful life, George." The Beatles once sang, "In the end the love you take is equal to the love you make," while Scripture says in Proverbs 11:18, "The one who sows righteousness reaps a sure reward." Meanwhile, Paul tells us in Galatians 5:6, "The only thing that counts is faith expressing itself through love."
Thus, it becomes clear to us, if not to others, that God used Frank Capra and his cast and crew to craft a wonderful, inspiring, must-see movie that could help lead people to the Son of God, Jesus Christ, and His Gospel. The movie is not only spiritually rewarding and sanctifying; it's also morally uplifting, psychologically enriching, and beautifully made. IT'S A WONDERFUL LIFE certainly deserves our tribute as the Most Inspiring Movie of All Time.
In the end, IT'S A WONDERFUL LIFE is a modern-day version of THE CHRISTMAS CAROL by Charles Dickens. Unlike THE CHRISTMAS CAROL, however, no one has really dared to remake IT'S A WONDERFUL LIFE. Why would you even try?