"Series Takes a Depressing Turn"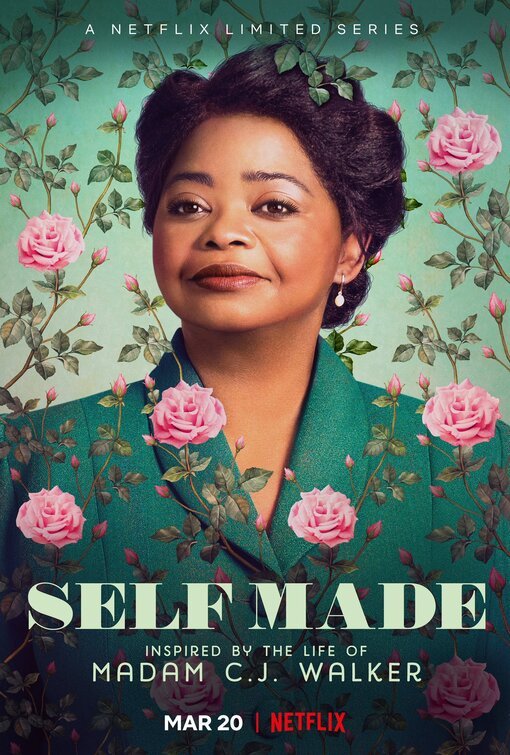 | | None | Light | Moderate | Heavy |
| --- | --- | --- | --- | --- |
| Language | | | | |
| Violence | | | | |
| Sex | | | | |
| Nudity | | | | |
What You Need To Know:
In the "Walker Girl" episode of the Netflix series SELF MADE, which is about a black female entrepreneur in the early 1900s, Sarah Walker expands her company by opening a factory in Indianapolis and opening salons in other parts of the country. She wants to sell her product in a chain store and travels with her daughter to Harlem in New York City to make a business deal. However, Sarah's efforts to grow her business become more difficult as employees, her husband and her son-in-law betray her.
Sarah wants to help other women have opportunities in business and wants to do the "Lord's work." She tells some new employees in this episode, "When God dreams, He dreams big and I decided to follow His example." However, the "Walker Girl" episode leaves this uplifting message behind as Sarah's focus on growing her company and making more money alienates her husband and her female employees. The "Walker Girl" episode is a dramatic episode, but it's depressing. Along with some positive content, it contains more foul language, scenes of betrayal and adultery, and a lesbian subplot
Content:
(PaPa, C, B, Fe, CapCap, Ho, LL, V, SS, AA, MM):
Dominant Worldview and Other Worldview Content/Elements:
Mixed pagan worldview with some Christian, moral, feminist elements and string pro-capitalist content includes characters have marital problems, a character says "Praise Jesus," two characters talk about self-respect and trust, female businesswoman tells new employees that "When God dreams, He dreams big and I decided to follow His example," businesswoman discusses going to church, and businesswoman tells her employees they can be "independent, self-sufficient women" like her, but businesswoman is obsessed with totally controlling her company and making lots more money without her husband's help or suggestions, and this wounds his self-respect and pride and drives him into the arms of her best saleswoman, who decides to work for her female business rival, plus an adult female character is an implied lesbian as she holds hands with another woman, and they talk about moving away together to Harlem in New York City
Foul Language:
Nine obscenities (including one "f" word), one GD profanity, one Jesus profanity, and one light profanity
Violence:
Threats to shoot someone, wife throws a shoe at her cheating husband, woman throws a pail of water towards a girl, two men get into a fight, and some punches are thrown, and a girl learning to ride a bicycle has a fall
Sex:
A scene of depicted adulterous sex under covers
Nudity:
No explicit nudity, but woman shown in bra
Alcohol Use:
Alcohol use and married man becomes drunk
Smoking and/or Drug Use and Abuse:
No smoking or drugs; and,
Miscellaneous Immorality:
Lying, slander, betrayal, businesswoman's daughter has a troubled marriage like her mother, but daughter's affections are adulterous like her stepfather but homosexual, and businesswoman's assistant accidentally lets a criminal numbers banker invest in woman's business, putting her at risk of being thrown in jail if the gangster's involvement came to light.
More Detail:
SELF MADE is a TV series on Netflix about African American entrepreneur Madam C.J. Walker, the first woman to become a self-made millionaire in the early 1900s.
In the third episode, titled "The Walker Girl," Sarah Walker has continued to expand her company by purchasing a factory and opening hair salons across the United States. However, she runs into problems when her employees betray her and her husband wrecks a business deal. This episode is dramatic and discusses a handful of historical figures like W.E.B Du Bois and Booker T. Washington. However, it has a mixed worldview that contains some positive, inspiring references to God and some pro-capitalist behavior, mixed with cheating, lying, marital problems, adultery, greed, obsession, and a lesbian subplot. "The Walker Girl" episode also has more foul language than the first two episodes.
"The Walker Girl" starts out by showing Sarah running a successful factory that produces her hair products. Sarah's trying to recruit new employees as she has plans to expand her business with salons across the country. "When God dreams, He dreams big, and I decided to follow His example," she tells them.
Sarah's husband C.J. introduces the idea of the "Walker girl" to be the face of the company. However, Sarah doesn't like the advertisement because the woman in the ad represents white standards of beauty instead of African American beauty. Although she isn't fond of his ad, she changes the subject by saying she's going on a business trip in Harlem and taking her daughter Lelia with her.
Meanwhile, Sarah's competitor, Addie, is dropping in sales and looking for a way to make money. Addie focuses on Sarah's leading sales rep, Dora. She convinces Dora to work for her and help her convince other people from Sarah's company to do the same. To make matters worse, Dora starts flirting with Sarah's husband, C.J., while Sarah and her daughter are in Harlem. Originally, C.J. had wanted to have a vacation with Sarah in Harlem, but Sarah wanted to make it a "working vacation." C.J. passed on that idea, because past experience has showed him that the trip to Harlem would be lots of work with very little vacation.
While Sarah's in Harlem with Lelia, she attends a meeting to get her hair products into a chain store. After getting a good word about Sarah from the civil rights activist W.E.B Du Bois, the businessmen decide to give Sarah a shot at selling her product in their "10 cent or less" stores. However, it will be up to the final board of directors whether to invest in Sarah's company.
"The Walker Girl" episode marks a dramatic turning point in the SELF MADE series. Sarah's singular focus on growing her company and making money alienates her employees and her husband. Instead of making Sarah rethink her priorities, she doubles down on her attitude and becomes even more focused on growing her company and making money. So, the question at the end of the episode seems to be, "Will Sarah also lose her soul?"
All this makes for a dramatic program, but it's also a little depressing. Also depressing is that this episode has more foul language than the first two. Finally, "The Walker Girl" shows Sarah's daughter succumbing to the homosexual seduction of another young woman. Apparently, the real Sarah Walker was also a very generous woman, even when she was poor, and became involved in many philanthropic endeavors as her business became more and more successful. This generosity hasn't been a part of the first three episodes.
Netflix has given the order to make a total of eight episodes of SELF MADE, but so far, only one more episode, a fourth, has been made.