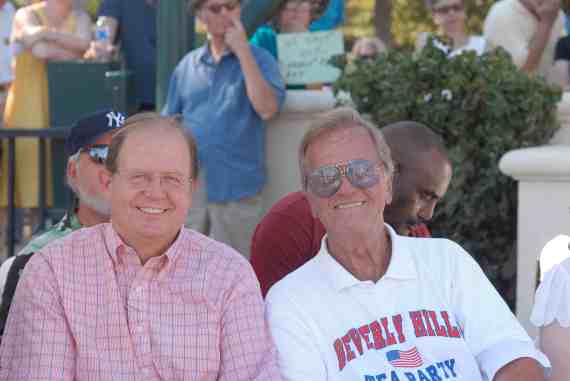 The Tea Party grassroots movement, which is sweeping the nation, often invokes images of everyday people standing up to governmental fiscal irresponsibility. That took a unique twist this past Sunday afternoon as Beverly Hills, in the heart of Hollywood, held its first ever Tea Party.
Known for elitism and typically liberal politics, citizens of Beverly Hills rallied with host Pat Boone to call for a change in government with a fiscal conservative agenda. The rally called for fiscal responsibility, constitutionally limited government and free markets. According to their website, the Beverly Hills Tea Party derives their core values from the Declaration of Independence, the Constitution of the United States of America and the Bill Of Rights as explained in the Federalist Papers.
Dr. Ted Baehr was on hand to speak and shared the stage with Andrew Breitbart, David Horowitz and Hollywood's Victoria Jackson and Lionel Chetwynd.
You can read about the Beverly Hills Tea Party at www.beverlyhillsteaparty.com.
You can catch a small portion of Pat Boone's opening remarks at https://www.youtube.com/watch?v=W2nernQf_jI
Photo Credit: Marc Langsam