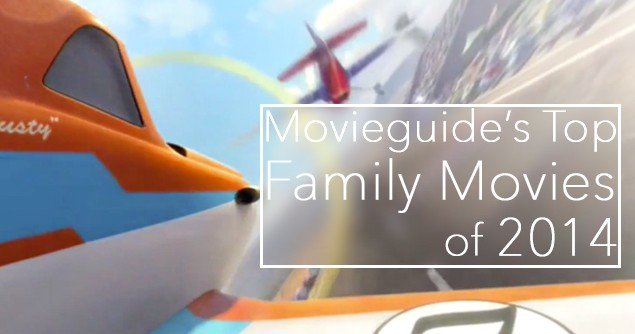 Family Friendly
A Wide Variety of Animated and Live Action Movies Compete
for Best Family Movie at 23rd Annual Faith & Values Awards
Family advocate Dr. Ted Baehr, founder of Movieguide®:  The Family Guide to Movies and the Christian Film & Television Commission®, announced a wide variety of animated and live action movies competing for "Best Family Movie" of 2014 at the 23rd Annual Movieguide® Faith & Values Awards Gala and Report to the Entertainment Industry.
The "Teddy Bear" Awards, as they are affectionately called, will be televised Saturday, Feb. 21, on the REELZ Channel.
Heading the list of nominees for the Best Family Movie of 2014 are (click for our review)…
| | | |
| --- | --- | --- |
| DISNEY'S BEARS | BIG HERO 6 | MUPPETS MOST WANTED |
| PLANES: FIRE AND RESCUE | DOLPHIN TALE 2 | GOD'S NOT DEAD |
| HEAVEN IS FOR REAL | MR. PEABODY AND SHERMAN | SON OF GOD |
| | PENGUINS OF MADAGASCAR | |
The domestic box office totals for these "Ten Best 2014 Movies for Families" range from $211.2 million for "Big Hero 6" to $17.78 million for the documentary "Bears." The faith-based movie "God's Not Dead" became the most successful independent movie of 2014."Bears," "Big Hero 6," "Muppets Most Wanted," and "Planes:  Fire and Rescue" from Walt Disney Pictures, "Dolphin Tale 2" from Warner Bros. Pictures, "God's Not Dead" from Pure Flix Entertainment, "Heaven Is for Real" from Sony Pictures Entertainment, "Mr. Peabody & Sherman" from DreamWorks and 20th Century Fox, and "Son of God" from 20th Century Fox.
"This is one of our strongest faith-filled lists for Best Family Movies," Dr. Baehr said. "Most of the movies have strong Christian, redemptive content and values."
At the Faith & Values Awards, Dr. Baehr will present highlights of Movieguide®'s 2015 Report to the Entertainment Industry, which shows Hollywood what kind of movies were most successful at the domestic and international box office as well as on home video in 2014.
Nominations for other awards will be announced soon, including the $100,000 Epiphany Prizes for Inspiring Movies & TV, the $50,000 Kairos Prizes for Spiritually Uplifting Screenplays by First-Time and Beginning Screenwriters, the $50,000 Chronos Prize for Most Inspiring Screenplay by Established Filmmakers, the Best 2014 Movie for Mature Audiences, the Grace Awards for Inspiring Performances in Movies & TV, and the Faith & Freedom Awards for Promoting Positive American Values.
For more information about the Faith & Values Awards Gala, visit movieguideawards.com or call 1-888-248-6689.