Published: January 13, 2022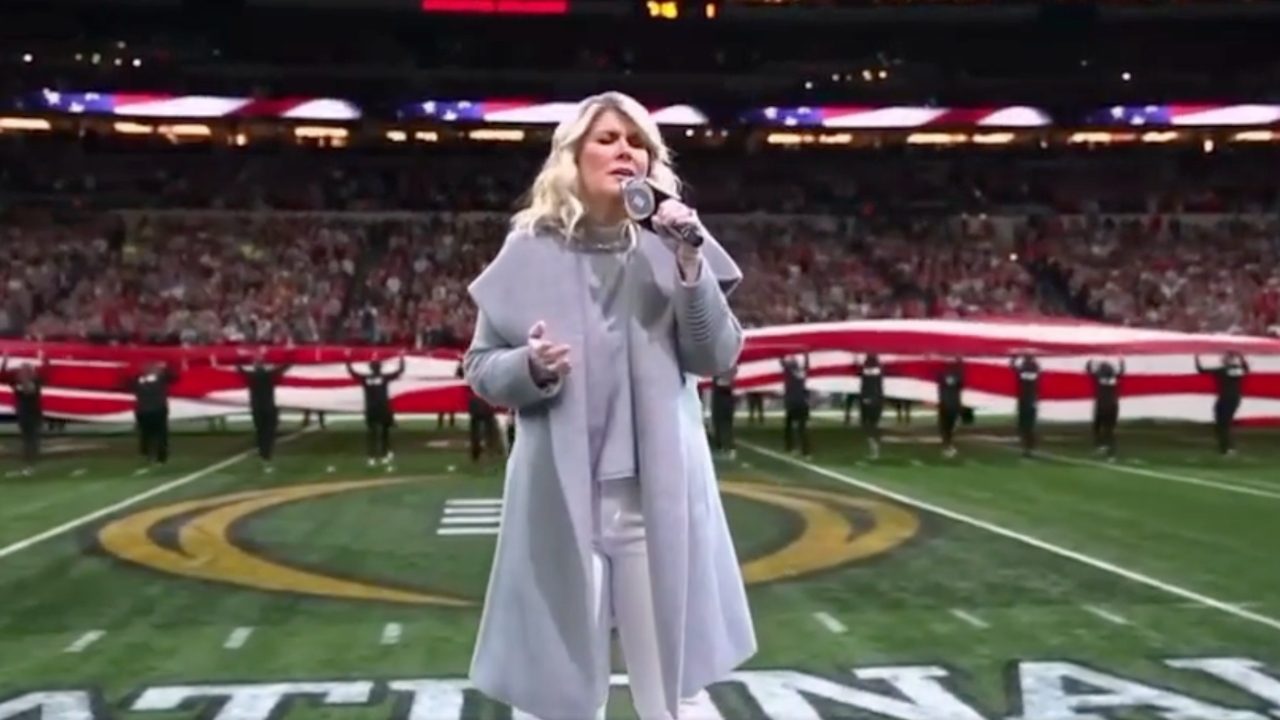 'Jesus Be Glorified': Natalie Grant Wows With National Anthem
By Movieguide® Contributor
Singer Natalie Grant wowed viewers with her powerful performance of the National Anthem before Monday night's 2022 College Football Playoff National Championship.
Grant said she was "beyond grateful" for getting the chance to sing "The Star-Spangled Banner" before the big game. 
"Last night was a thrill," Grant wrote in a Facebook post. "Beyond grateful for the opportunity. Last words in my mind before the first note, 'Jesus, be glorified.'"
"I know it was the national anthem," she continued. "But He's in every moment and can work through every moment. God bless America."
Her performance was so impressive, she trended on Twitter and Facebook after singing the anthem.
Grant spoke about the performance during an appearance on ON BALANCE WITH LELAND VITTERT, saying, "Honestly, what I was thinking before it started was, 'Just don't mess up the words,'" Grant said. "You just felt this moment where everybody was just showing love for our country. And that was beautiful to see."
View this post on Instagram
Grant previously opened up about her relationship with the Lord ahead of the release of her album "No Stranger."
As Movieguide® previously reported:
For Grant, the whole album really focuses on the power of the presence of the Lord in people's lives.

"It's learning the difference between His omnipresence, which is Him at all places at all times, everywhere at once, and His manifest presence, which is His presence made known."

This theme came up in Grant's own life in 2017 when she was diagnosed with thyroid cancer.

When the doctor told Grant she would have to go through lots of rehabilitation for her voice, the fear of not being able to sing anymore sunk in, as being a singer was her identity—or so she thought.

"I think the Lord was giving me the opportunity to say, 'No, even if this is taken from you, who you are is still intact.' And God says, 'Who I am, it's still completely intact. Your circumstances don't determine My goodness.'"

This lesson is something that everyone can be reminded of from time to time, especially in this season of fear and not knowing what's going to happen next.

"It's that constant reminder that when life doesn't make any sense and it feels like there's nothing amazing, that He is with us. That's how we can have a peace that passes understanding."

"He is near to those who are crushed in spirit, that it isn't Him that's coming nearer to us, rather, it's becoming more aware of His nearness, more aware of who He is, more aware of what His presence means. His presence made known." She continued, "So experiencing that is really where these songs came from. They were all birthed from that perspective, that fresh understanding."