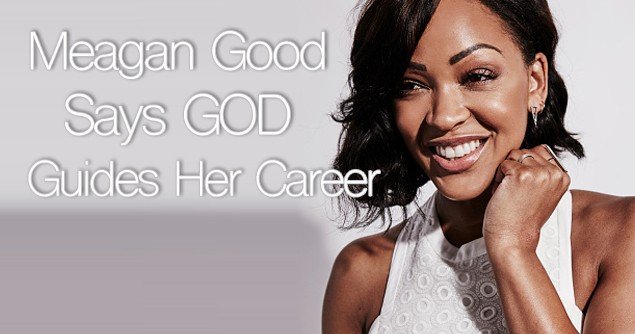 Meagan Good: Actress Says God Guides Her Career
By Rachal Marquez
God comes first in Meagan Good's life. The MINORITY REPORT star shared in a recent interview with the LA Sentinel how her relationship with God is more important than her career, and what she believes ultimately guides her.
"I pray and read my Bible every single day, I stay close to God because He's what matters the most," she said. "Everything else is secondary."
Good has been busy with consistent acting work for the last several years, starring in films such as THINK LIKE A MAN and television series including DECEPTION and MINORITY REPORT However, she said all of that pales in comparison to her relationship with God.
"My career can never give me what God can give me," Good said.
As one actress among the growing number of women of color who are garnering attention for their performances in leading roles in television, Viola Davis recently mentioned her during an acceptance speech of the Emmy award for Best Lead Actress in a Drama.
Though she said the road hasn't been easy, Good explained how fortunate she feels to be where she is.
"I'm a big believer in not complaining about the things that are wrong," she said. "Instead I place my energy into being on the front line of change, having a positive attitude and fighting to see things shift. To be in Hollywood right now and have these opportunities as the shift is coming is incredible."
Since Good built much of her acting career in movies, she said that she was initially somewhat apprehensive about transitioning to more television roles.
"When the opportunity for me to star in DECEPTION presented itself, it was everything I said it had to be, so I knew it was God," she said.
Despite the fact DECEPTION was cancelled after only one season, Good said she remains grateful for her part in it and the other opportunities it paved the way for.
"When it ended, I was very thankful because it created so many other opportunities for me in the process," she said. "I wasn't disappointed when the show got canceled, because I knew God had something else lined up."
Good said that her role in MINORITY REPORT has been a prime example of one of those opportunities.
"With MINORITY REPORT, I asked God for certain things within the role, and it was everything I said it needed to be," she said. "This show is definitely the hardest I've ever worked, but it's been an incredible experience. I trust God so much that even if my decisions don't make sense to other people, I know that God knows what He's doing."
– Source: LA Sentinel, 11/19/15; Christian Post, 11/26/15.