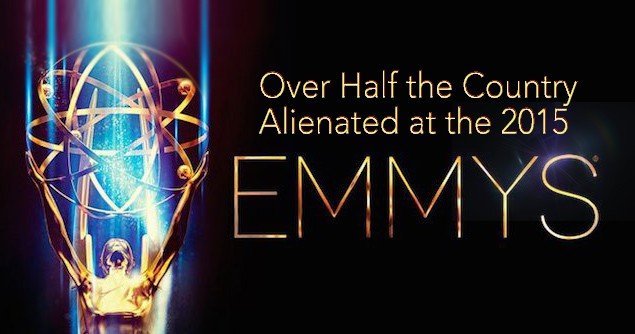 Over Half the Country is Again Alienated at the 67th Emmy Awards
Once again, the Emmy awards alienated the majority of the country's population that holds to faith and values in both the jokes told and the TV shows nominated and awarded. It's no surprise the show drew its smallest audience on record in history, with only 11.9 million viewers.
After a tongue in cheek musical skit with Andy Samberg about the ridiculous amount of shows currently on air and the impossibility to watch them all, it didn't take long for the jokes to get questionable, with reference to Bill Cosby and Dan Fogle. The Hollywood crowd loved Donald Trump racist jokes and a crack about Kim Davis being intolerant. For the most part, conservatives received the brunt of the jokes with only one small quip about Bernie Sanders. Overall, Andy Samberg tried to hard to stoop to get laughs, making the opening monologue dull.
Allison Janney spoke out about how honored she is to be in a show that touches on the issues of addiction in her acceptance speech for MOM, winning Outstanding Supporting Actress in a comedy. Things became fast quickly after this, with only a few positive moments here and there.
Disappointingly, Anthony Anderson while representing the family show BLACK-ISH and presenting a writing award, had a tasteless and unfunny joke about binge watching porn. Not surprisingly, Jill Soloway offensively started her acceptance speech for Outstanding Direction of a Comedy Episode by saying "thank you Goddess" while accepting her award for the show TRANSPARENT about an older man transitioning into a woman. Jeffry Tambor who plays the lead transgender role in TRANSPARENT won the award for Outstanding Actor in a Comedy Series and dedicated his award to the transgender community.
Ricky Gervais may have been the funniest presenter of the night, joking about how he never wins Emmy's. Multiple Movieguide® Award Winner Mark Burnett took home an award for THE VOICE as the Outstanding Reality Series.
One of the nicer moments of the evening was Regina King. Not expecting her win for Outstanding Supporting Actress in a Limited Series she started off by saying, "I'm going to just listen to God" as she listed through everyone she is thankful towards in a emotional speech.
Viola Davis made history by being the first African-American woman to win Outstanding Actress in a Dramatic series with her ABC series HOW TO GET AWAY WITH MURDER. Before the final award was given out to GAME OF THRONES, Tracy Morgan came onstage to thank all his supporters and those who prayed for him after his horrific car accident in 2014.