Here's the 2010 Golden Globe winners along with MOVIEGUIDE® ratings and summaries.  How does it compare with your list?  Click each page to check it out.
---
Best Picture, Drama
AVATAR*** -4
AVATAR is a visually stunning, but slow, shallow and abhorrent, science fiction adventure pitting evil human capitalists against heroic, spiritually sensitive aliens on the planet Pandora, who worship a false deity and nature. Too graphically intense for children, AVATAR has an abhorrent New Age, pagan, anti-capitalist worldview that promotes goddess worship and the destruction of the human race.
Best Picture, Musical or Comedy
THE HANGOVER *** -4
THE HANGOVER is the story of four male friends who go to Las Vegas to celebrate Doug's bachelor party, only to wake up and not remember what happened the night before. Though well made, this comedy features abundant foul language, extreme nudity and extremely offensive sexual references.
---
Best Actor, Drama
Jeff Bridges,CRAZY HEART **** -2
CRAZY HEART is a gripping drama about "Bad" Blake, a washed-up, alcoholic country music singer who finally gets his life back together. The drama is rich and ultimately redemptive, and the acting terrific, but CRAZY HEART has plenty of foul language and drinking, and strong sexual content.
Best Actress, Drama
Sandra Bullock,THE BLIND SIDE **** -1
THE BLIND SIDE is a compelling, feel great drama that tells the true story of Michael Oher, a homeless young black teenager who is welcomed into a wealthy white Christian family. Though there are minor elements requiring caution, this wonderful drama is a faith filled, truly inspiring movie with overt Christian values.
---
Best Director: James Cameron,
AVATAR*** -4
(see above summary)
Best Actor, Musical or Comedy
Robert Downey Jr.,SHERLOCK HOLMES **** -1
SHERLOCK HOLMES stars Robert Downey, Jr., as the world's most famous detective in an exciting, rousing story about Holmes and Dr. Watson up against an evil practitioner of black magic who wants to rule the world. SHERLOCK HOLMES contains a couple double entendres, a scary villain, and action violence, so caution is advised. Even so, SHERLOCK HOLMES is a rousing, exuberant movie with a very strong moral worldview with strong, positive Christian values and content.
---
Best Actress, Musical or Comedy
Meryl Streep,JULIE & JULIA **** -1
JULIE & JULIA is a savory cinematic dish about a young woman who is inspired by famous American cook and TV pioneer Julia Child to spend one year cooking all 524 recipes in Julia Child's book on French cuisine and writing a blog about it. The movie deftly goes back and forth between the woman's experience and Julia Child's early career, but it contains some foul language, some light sexual references and some brief politically correct content.
Best Supporting Actor:
Christopher Waltz, INGLOURIOUS BASTERDS **** -3
Quentin Tarantino's INGLOURIOUS BASTERDS stars Brad Pitt in a suspenseful story about two plots to kill Adolf Hitler and the German High Command during World War II in 1944. INGLOURIOUS BASTERDS is an exhilarating, audacious and riveting war movie, but it includes extreme and gratuitous bloody violence, plenty of strong foul language, a short sex scene, and a message of revenge and brutality that is too merciless.
---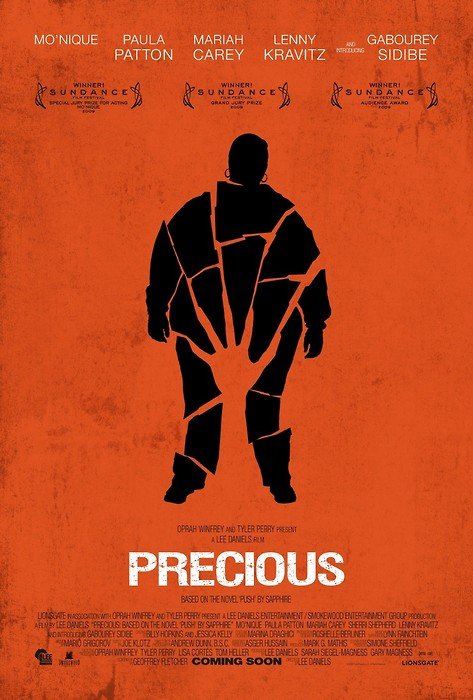 Best Supporting Actress
Mo'Nique,PRECIOUS Based on the Novel `Push' by Sapphire *** -2
PRECIOUS is the true story of a 16-year-old African-American woman, Claireece "Precious" Jones, who was raped by her father repeatedly from the age of three and was hated and abused by her mother until a lesbian teacher helps her survive and triumph. Disturbing abuse, rape, and foul language, combined with eclectic production techniques, slightly diminish this powerful story.
Best Foreign Language Film
THE WHILE RIBBON *** -4
THE WHITE RIBBON is an Austrian movie about a German village just before the start of World War I troubled by a series of unexplained deaths and near deaths. This abhorrent movie blames Christians for the creation of Hitler's Nazi Germany and contains violent and disturbing images and themes.
---
Best Animated Film
UP **** +3
UP, the animated feature from Pixar and Disney, is about a 78-year-old widower and a young boy scout who find the adventure of a lifetime on a jungle plateau in Venezuela full of unknown dangers. UP is another heartfelt, family-friendly, utterly delightful animated classic from the wonderful team at Pixar and Disney.
Best Screenplay
Jason Reitman and Sheldon Turner,UP IN THE AIR **** -3
UP IN THE AIR stars George Clooney as a cynical, hedonistic corporate downsizer who fires people. UP IN THE AIR is an often funny but very dark cautionary tale with no hint of a solution to life's problems. It also has many obscenities, some strong sexual content, a scene of explicit nudity, and a completely depressing, godless ending.
---
Best Original Score
Michael GiacchinoUP **** +3
(see above summary)
Best Original Song
"The Weary Kind" theme fromCRAZY HEART, (written by Ryan Bingham, T Bone Burnett).
(see above summary)
Do you enjoy articles like this?
Click here to become a monthly partner and receive a movie for free!
Want more content like this? Make a donation to Movieguide®