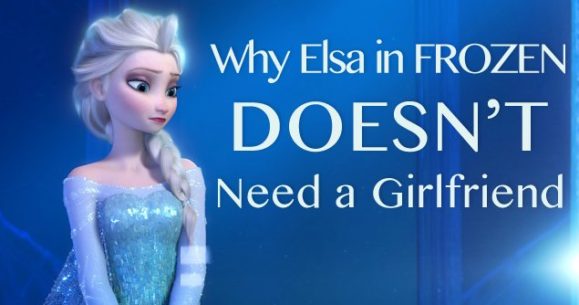 By Ben Kayser, Managing Editor
This past week, a hashtag has re-surfaced on Twitter suggesting that Disney make the popular character from Disney's Animated movie FROZEN a lesbian. The campaign #GiveElsaAGirlfriend caught fire, with many fans hypothesizing that the hit song "Let It Go" is some LGBT anthem. When Jennifer Lee, the writer and co-Director of FROZEN 2 was asked about this on a red carpet in February of 2018, she responded vaguely, saying, "I love everything people are saying and people are thinking about with our film, that it's creating dialogue, that Elsa is this wonderful character that speaks to so many people, it means the world to us that we're part of these conversations." She added, "Where we're going with it, we have tons of conversations about it, and we're really conscientious about these things."
Movieguide® addressed the fan theories in the past stating, "Despite its popularity and Oscar award for Best Song of 2013, "Let It Go" only represents one part of the story, the major turning point where Elsa rejects her sister and isolates herself from the kingdom of Arendelle, which Elsa has trapped in an eternal winter. In the rest of the movie, Elsa must learn how to control her powers for the benefit of others. Also, both she and her sister, Anna, must learn the real meaning of love, and it has nothing to do with sexual attraction."
This of course has become a recurring theme with Disney, most recently shown in the ABC show ONCE UPON A TIME, which featured a storyline where Red Riding Hood and Dorothy Gale, the heroine of THE WIZARD OF OZ, have feelings for each-other and share a kiss at the end of the episode.
The TV series, which continues to drop in ratings on a weekly basis, lost me as a viewer last year when one of the heroes of the story, Robin Hood, cheated on his wife Marian with another main character. The episode clearly celebrated the infidelity, and labeled the sexual affair as "true love." Need I remind the reader that this is a fairytale show intended for families. If monogamy isn't even an important value for the TV networks, it's no wonder the traditional family unit is up for grabs as well.
The sexually-fixated fans petitioning Disney to explore Elsa's sexuality in FROZEN sets a dangerous precedent. That one's identity and self-worth lies in sexual preferences could possibly be one of the most confusing and dangerous messages children can receive. FROZEN is such a beautiful movie because it breaks free from cultural stereotypes by showing that the most powerful and pure love isn't sexual at all, but in fact is sacrificial. This of course is a very biblical message found in John 15:3, where Jesus tells his disciples, "Greater love has no one than this, that someone lay down his life for his friends." Of course, this kind of sacrificial love is shown in the greatest way possible through Jesus Christ's sacrifice on the cross for the sins of the world. While Anna receives her dream wedding at the end of FROZEN, she goes through a journey where she learns the true meaning of love, and thus, becomes a better version of herself for it.
Promoting sexual immorality is nothing new for some Hollywood filmmakers. Due to the fact that many, if not most, storytellers in the film industry don't know Jesus, a constant search for belonging and meaning results in a message that one's identity resides in "do your own thing" or "follow your heart" or behave in whatever way is the most comfortable. In an age where gender and sexuality can be "fluid," according to the whims of progressive society, children are being forced to adopt a schizophrenic identity that changes with the wind, when a firm identity, freely offered to all, can be found instead in Jesus and His Gospel.
Do these Hollywood filmmakers know better? Usually not. That's why Christians need to use narratives like FROZEN as exemplary showcases of biblical values and communicate a counter-narrative that gives hope and answers to those people struggling to understand who they are.
In the situation surrounding around FROZEN, Elsa doesn't need a girlfriend, and she doesn't need a boyfriend. She just needs people to stop centering her value as a human being on a false "sexual identity" that goes against the Good News of real selfless love that thaws even a frozen heart. Elsa needs people to just let it go.