"Flat-Out Fun"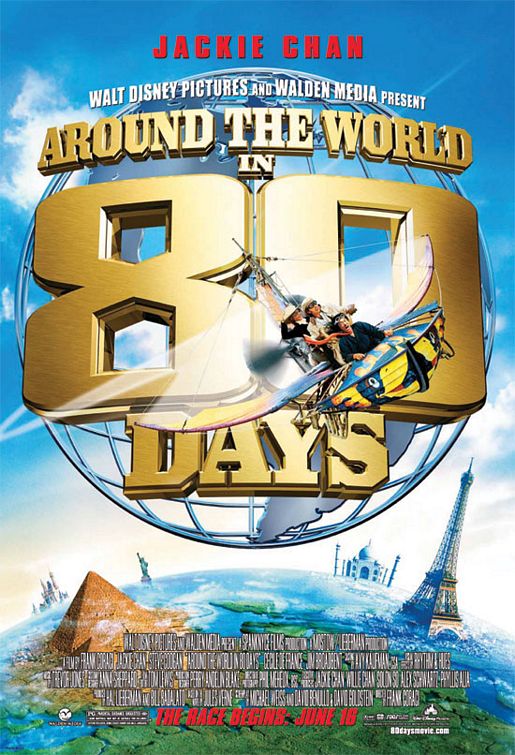 | | None | Light | Moderate | Heavy |
| --- | --- | --- | --- | --- |
| Language | | | | |
| Violence | | | | |
| Sex | | | | |
| Nudity | | | | |
What You Need To Know:
AROUND THE WORLD IN 80 DAYS gives a comic twist to the famous story by Jules Verne. This time around, Englishman Phileas Fogg is saddled with a secretive Chinese valet, played by Jackie Chan. The valet breaks into the Bank of England to retrieve a small jade Buddha stolen from his village in China. He maneuvers Fogg into making a bet with Lord Kelvin that they can travel around the world in only 80 days. Kelvin is in cahoots with a female Chinese warlord, who stole the statue. While traveling with a pretty French girl, the valet tries to evade the warlord and Kelvin's henchmen without arousing Fogg's suspicions.
AROUND THE WORLD IN 80 DAYS is hilarious and exciting. . . as much flat-out fun as your family is likely to have this summer. There's lots of comical martial arts acrobatics from Jackie Chan. Mix in some dry wit from Steve Coogan as Fogg and an absolutely hilarious performance from Jim Broadbent as Lord Kelvin, and you have the makings of a classic family movie. The movie's moral worldview is marred, however, by brief veneration of the Buddha statue, lying, and other problematic elements.
Content:
(BB, Pa, FR, Ev, PC, C, L, VV, N, AA, M) Ultimately moral worldview about sticking by one's friends in need, marred by veneration of a false, superstitious idol, a jade Buddha statue, lying, a pro-evolution comment, and some political correctness regarding multiculturalism, as well as some redemptive, Christian elements, including woman quickly does the sign of the Christian Cross in an apparent appeal to God; three light obscenities and two light profanities; action and comic violence includes man crashes during experiment gone awry, slapstick chases, martial arts fighting, knife sticks in man's bottom, people throw paint at one another, huge metal object falls on two people, and man on rope hits wall; no sex scenes, but one character has six wives and wants another, kissing, and famous painter is seen surrounded by women; upper male nudity and shots of nude painting; alcohol use and drunkenness; no smoking; and, lying, betting, people deceive their friend and one's employer, political intrigue, stealing, and men have to dress in women's clothes to escape capture.
GENRE: Comedy/Martial Arts
More Detail:
AROUND THE WORLD IN 80 DAYS, based on Jules Verne's classic novel, is hilarious and exciting. . . as much flat-out fun as your family is likely to have all this summer. Although the movie's not without flaws (content-wise), it's an exhilarating, inventive, colorful comic adventure that's remarkably entertaining.
Except for its comic tone, which is stronger than Verne's novel, the most significant change in the story is that, instead of a French valet, Englishman Phileas Fogg picks up a Chinaman, Lau Xing, played by Jackie Chan. Lau needs to hide with Fogg, because he's just retrieved a small jade Buddha figurine stolen from his village. Unfortunately for both Fogg and Lau, Lau broke into the Bank of England to retrieve the sacred statue. When Fogg asks his new valet his name, Lau looks out the window and sees two Asian fellows handing over their passports, so Lau blurts out, "Passport. Two." Thus, Fogg dubs his new valet with the character's French name from the novel, Passepartout, and Lau lies that his mother was Chinese, but his father was French.
In order to return the statue to his village in China, Lau slyly dupes Fogg into making a bet with Lord Kelvin, the head of the Royal Academy of Science, that they can travel around the world in only 80 days. If he wins, Fogg will be appointed head of the Academy, but if he loses, Fogg has to give up creating any more crazy inventions.
Fogg and Lau don't realize that the female Chinese warlord, General Fang, stole the statue from Lau's village to pay Lord Kelvin for military assistance from England. Kelvin figures out who's got the statue, but Fogg remains in the dark. While being chased by Fang and Kelvin's agents in Paris, Fogg and Lau pick up a pretty French painter, Monique. Monique tags along for the ride as Lau races to return the statue to its rightful place, and Fogg races to win his bet.
AROUND THE WORLD IN 80 DAYS is full of comical martial arts fighting as Jackie Chan's character tries to evade Fang and Kelvin's henchmen without arousing Fogg's suspicions. Comic actor Steve Coogan provides lots of witty, dry humor as the earnest English inventor, Fogg. For example, Fogg meets Monique at an exhibit of paintings. When she informs him that the paintings are "impressionist" paintings, he replies, "I'm not impressed." As Fogg trades bon mots with Monique, Lau frantically tries to dodge General Fang's agents in the gallery, which upsets Vincent Van Gogh, who also just happens to be there painting. Rounding out the cast are Belgian actress Cécile de France, who's perfect as the perky Monique, and Jim Broadbent, who's absolutely hilarious as the pompous, sarcastic Lord Kelvin.
Entertainment is the primary goal of AROUND THE WORLD IN 80 DAYS, but the movie has a few content problems. First, the plot is moved along by a bet and by lying. The movie also displays too much veneration for Lau's Buddha statue in a couple scenes, an apparent nod to multiculturalism. As the director Frank Coraci (THE WEDDING SINGER and THE WATERBOY) noted about his movie, "It's a wild, imaginative ride that is about embracing all cultures." Coraci gave a similar answer when MOVIEGUIDE® asked him about the way he dealt with the Buddha statue in those scenes. The movie also contains a piece of dialogue that's pro-evolution.
On the other hand, the movie has many positive moral elements. For example, in a cameo featuring Arnold Swarzenegger, Lau and Fogg have to rescue Monique from a Muslim prince with six wives. The prince tries to kidnap Monique in this anti-Islamic sequence, which seems to contradict the director's intent to "embrace all cultures." Also, Lau and Monique, who keeps Lau's secret from Fogg when she finds out, seek Fogg's forgiveness when he learns about Lau's deceit. They try to make things right with Fogg by helping him win his bet against the evil Lord Kelvin. Furthermore, although Monique bows to the Buddha statue out of respect, she later makes the sign of the Christian Cross at a crucial moment. At the end of the movie, the villain Lord Kelvin is exposed and the integrity of England restored.
Thus, despite its problems, AROUND THE WORLD IN 80 DAYS is an enjoyable romp around the globe. The screening audience laughed heartily throughout and clapped enthusiastically at the end. This movie may get lost among the other big blockbusters this summer, but many moviegoers may want to take this trip again and again, which bodes well for the movie's future DVD release.