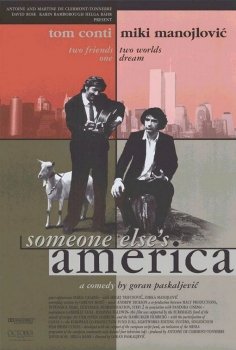 | | None | Light | Moderate | Heavy |
| --- | --- | --- | --- | --- |
| Language | | | | |
| Violence | | | | |
| Sex | | | | |
| Nudity | | | | |
What You Need To Know:
In SOMEONE ELSE'S AMERICA, the immigrant experience is told in the story of two men's enduring friendship as they try to carve out lives for themselves in America, while trying to appease their mother's nostalgic homesickness for their homeland. The story has a sweet, fairy-tale-like air to it with strong moral values that stress family and true friendship, support multi-racial communities and carry messages of hope, perseverance, forgiveness, and lasting loyalties.
Content:
(B, C, LL, V, S, NN, M) Moral worldview depicting family unity & love, an enduring friendship, 4 positive mentions of God, marred by an element of whimsical magic; 6 obscenities, 9 vulgarities & 9 profanities; father hits son twice & several instances of implied violence -- brawl at neighborhood party, 2 implied situations where man is beaten up, implied physical abuse of girl, & death of young boy by drowning; 1 sexual situation; upper nudity of man & woman; cigarette smoking; and, miscellaneous immorality including illegal immigration, wife leaving husband for another man, gambling, lying, cock-fighting, & 1 event of suicide portrayed comically
More Detail:
SOMEONE ELSE'S AMERICA is a wonderful story of two immigrants to America who share a loyal friendship. Alonso, played by Tom Conti, has citizenship and lives with his old, blind mother who wants to spend her last days back in her home in Spain. Bayo does not have a green card, earns a living by doing odd jobs and working for his friend Alonso who owns a seedy bar, and sends money home to Montenegro to his old mother. Things take a turn when Bayo's family make their way to Brooklyn, New York, to join him, losing Bayo's favorite son when crossing the Rio Grande in the process. Devastated, Bayo refuses to accept his son's death and embarks on a fruitless search for him. Bayo's older son Luka convinces Alonso to turn his bar into a profitable restaurant. While Bayo tries to come to terms with his son's death, Alonso is busy pining for a neighborhood girl who is betrothed to another. As Bayo and Alonso try to live their lives as immigrants, they discover enduring loyalties in their friendship.
This is a film that celebrates the warmth of true friendship and values the family as the central force of life. Some instances of implied violence taint the story. Although one sexual situation and the use of strong language could have been avoided, SOMEONE ELSE'S AMERICA is applauded for its values and gentle compassion.