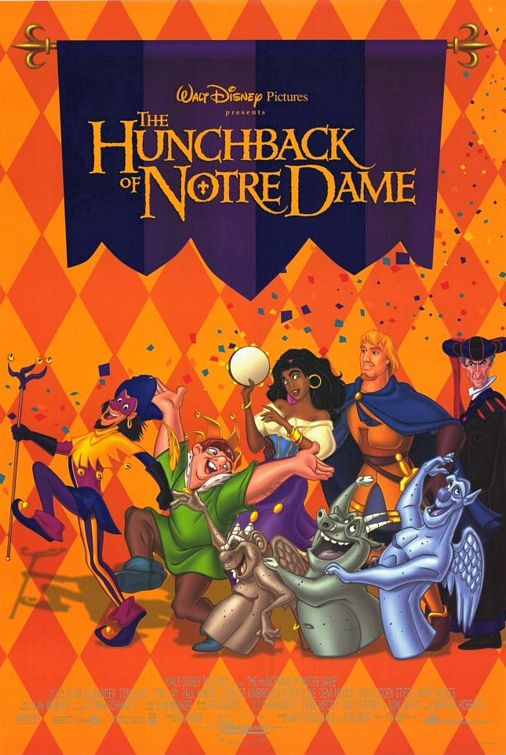 | | None | Light | Moderate | Heavy |
| --- | --- | --- | --- | --- |
| Language | | | | |
| Violence | | | | |
| Sex | | | | |
| Nudity | | | | |
What You Need To Know:
THE HUNCH BACK OF NOTRE DAME is a masterpiece extolling God's Grace -- a spectacular animation adaptation by Walt Disney Pictures based on the famous Victor Hugo novel. In this version, Quasimodo and the Captain of the Guard, Phoebus, team up with mutual love interest Esmeralda to fight the cruel terror of Judge Frollo. Although it has a strong, pro-Christian worldview, it may be too mature for small children. However, it is a "must see" for older children and adults.
Content:
(CCC, B, Ab, L, VV, S, O, M) Strong Christian worldview uplifting the inherent value of all mankind with positive reference to God, prayer, the Church, resisting temptation, self-sacrifice, & exposing hypocrisy with an undercurrent of antinomianism; 2 "dang it's" & several uses of the word "hellfire"; moderate action violence including burning a house, shooting arrows, one arrow strikes man, throwing rocks, breaking open cathedral door, threats of hanging, punching, dropping bricks on attackers, chasing, tripping, horse sits on man, man squishes ants, man tied down & fruit thrown at him, & attempted burning at the stake; shapely woman dances suggestively & kissing; man with shirt off; and, man lusts after woman, deception & references to palm reading
More Detail:
THE HUNCHBACK OF NOTRE DAME opens with a song where we learn that the bell-ringer is a mysterious outcast named Quasimodo, imprisoned by the evil Judge Claude Frollo. Judge Frollo caused the death of Quasimodo's gypsy mother and was forced to care for the child. Frollo forbids Quasimodo to leave the tower, but Quasimodo escapes to the square during the "Feast of Fools." He is pulled on stage by gypsy Esmeralda, crowned King of Fools and then tied down and pelted by villagers. Esmeralda rescues Quasimodo, but Frollo is not amused. Frollo orders Phoebus, the Captain of the Guard, to arrest her, but Esmeralda runs into the cathedral and claims "sanctuary". Quasimodo and Phoebus team up to rescue Esmeralda whom Judge Frollo threatens to burn at the stake.
Technically flawless, the music and artistry displays gothic spirituality. Inappropriate acts include a dance by Esmeralda and Frollo's lust for Esmeralda. This is a very mature, complex movie about the battle between legalism and Grace. THE HUNCHBACK OF NOTRE DAME has a strong Christian worldview and displays many favorable expressions of God's Grace and the church. THE HUNCHBACK OF NOTRE DAME will delight animation fans, but this may not be a movie for very small children. However, it is a "must see" masterpiece for older children and mature audiences. It as testimony to the Truth who offers every man sanctuary.