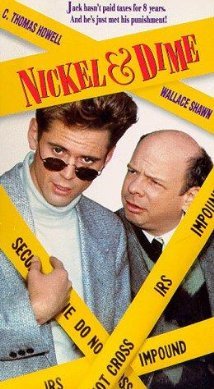 | | None | Light | Moderate | Heavy |
| --- | --- | --- | --- | --- |
| Language | | | | |
| Violence | | | | |
| Sex | | | | |
| Nudity | | | | |
What You Need To Know:
NICKEL AND DIME is a lightweight comedy about a fast-talking "heir hunter" who must come up with $5,000 to avoid a jail term, courtesy of the IRS. He joins forces with an uptight accountant, and the two bicker through a thin but convoluted subplot. With mildly offensive language and innuendo, the movie plays more like an overlong TV sitcom than a feature film.
Content:
(L, V, S) 6 obscenities & 4 profanities; brief slapstick violence (characters kicked in groin, etc.); and, lighthearted view of prostitution, implied sexual immorality & fornication.
More Detail:
NICKEL AND DIME plays more like a sitcom pilot than a feature film. Jack Stone is a fast talking but broke "heir hunter," who locates beneficiaries of deceased individuals in exchange for 30% of the proceeds. Jack is being evicted from his apartment, his credit cards are no good and his senile father is about to lose his nursing home bed for lack of funds. His accountant is so fed up that he sends the company's chief nerd, Everett Willits, to recheck Jack's tax return. Much of NICKEL AND DIME consists of arguing between the Jack and Everett, who have something to learn from one another. Jack needs to acquire Everett's attention to detail. Everett needs a little adventure. His love interest turns out to be a prostitute with a heart of tarnished gold. (One of this film's drawbacks is its causal view of sex for money.)
NICKEL AND DIME features competent acting, a few good gags and a happy ending, but also a sprinkling of cursing, sexual innuendo and kick-in-the-groin slapstick violence. It is not an offensive film, but one with very little substance. There is not enough clever dialogue to sustain the plot, nor character development to show us something about the human condition we couldn't learn on our own.