Published: August 9, 2021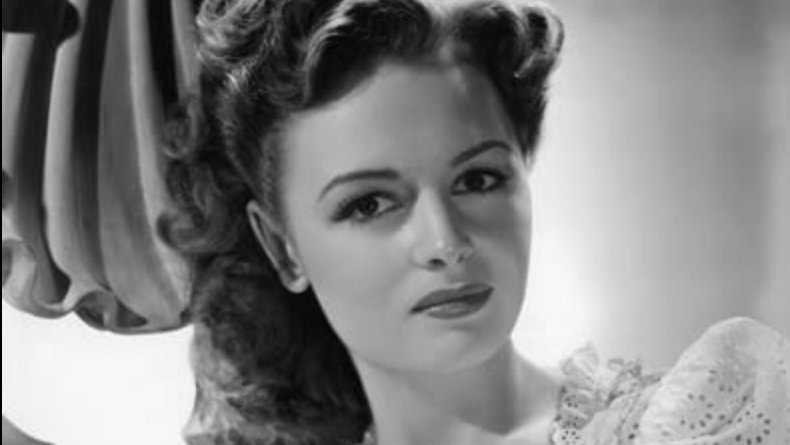 'God Still Lives and Rules': Actress Donna Reed on the Power of Faith in the Face of Hardship
By Movieguide® Staff
Note: This story is part of our Faith in Hollywood series. For similar stories, click here.
IT'S A WONDERFUL LIFE star Donna Reed revealed that faith in God is her foundation in trials.
Reed also worked to teach her four children, two sons and two daughters, that true peace can only come from the Lord.
In an article from 1962, Reed recalled a memory of her son Timothy and a homework assignment that made her anxious for the future.
"Not long ago my younger son Timothy—he's 12 now—came in to me with his homework assignment. Timmie had to read and try to understand all the stories on the front page of our newspaper," she wrote. "I hastened to cover up the momentary despair I felt. There, splashed baldly across the page, were frightening headlines about many of the things that are wrong with our world today.
"There were reports about a hydrogen bomb explosion, about a murder, a car crash, a divorce. Oh Timmie, I thought to myself, must you learn about all of these things? What a world to bring you up in!" she added. "It is easy to believe that our children don't think much beyond baseball or when-they'll-be-allowed-to-wear-lipstick or what's-for-dessert? Actually, however, children are but small adults; they, too, worry about the terrors of atomic war; they, too, can see the dark shadows with which our days are edged."
One day, Reed's eldest daughter asked, "Mom, what did you have to worry about in your day?"
Although it was a simple question, Reed couldn't help but recall her childhood.
"My family on both sides had pioneered in that state before I was born. As children all of us had chores to perform. I could and did milk the cows and drive the tractor, bring in water from the pump and coal and wood for the stove; to this day I can bake my own bread," she said, referencing the total contrast to her Beverly Hills home she lived in as an adult.
"The most obvious difference between my childhood and our children's is not that I lived on a farm, but that back in Iowa during the terrible pressure of the Depression years we were quite poor," she continued. "Poverty, need, these are awful things to have happen to you, but worse, I think, to watch in others. I remember the sounds of our animals crying for food and water.
"When I think back to those harsh days, I think mainly in terms of my parents, and the anguish I felt inside as I saw them up early and late to bed, day after day, laboring hard with no returns," she added. "As children we had few toys and I always yearned for a bicycle which I never got, but I can't recall these things as having been very important to me when I knew so well the inescapable realities of our situation. We might have left the farm, too, if it had not been for Dad."
Reed remembered her father, William Mullenger, as a "stubborn man," with a drive to never quit. Reed reflected on what sustained her father and her family: Faith.
"I used to wonder how Dad could be so sure when so many others were not. And then, on Sundays, I'd get a glimpse of the answer. On Sundays Dad would pile Mom and the four kids into that old car we drove for 15 years and we'd rattle to the Methodist church in Denison," she said. "You could get strength just from sitting next to Dad in church. When the minister would read from the Bible, Dad would lean forward a little, as though this especially he had to hear.
"Watching his face, we children could see that the ancient words were food to his spirit, strength to get him through one more week," she continued.
The words of Isaiah 41:17-18 brought back Reed's memories as a child in church.
"When the poor and needy seek water, and there is none, and their tongue faileth for thirst, I the Lord will hear them… I will make the wilderness a pool of water, and the dry land springs of water," the verse reads.
"These are the things which my father heard and believed," Reed said.
Just beneath her father's priority of faith came his love for his family.
"Dad was a family man, a real family man. 'If there is family strength,' he used to say, 'that old Depression's not going to get us.' And the Depression did pass and it did not get us," she remembered.
Reed said that talking to her daughter Penny Rose about her upbringing made her realize the importance of faith.
"I came to the root of the matter when I began to think about faith, the faith that our family now was renewing in church on Sundays. In essence it was the same as when our family went to church in Denison: the knowledge that God still lives and rules and can handle our problems whatever they may be–if we let Him," she said. "I do not believe that the world changes as much as we choose to think. In my father's day there was the Depression; the suffering then was real and affected millions of people… In words not surpassed anywhere in the Old Testament, Isaiah spoke of hope and the kingdom of God on earth. And that's the way it happens: faith and courage are like torches passed from old to young."
She concluded: "Today represents new times, yes, new problems, new fears, but one basic and beautiful thing links us with the past and with the future. That thing is faith, our belief in God and His adequacy. Dad had that faith when he said about our poverty, 'It will not always be this way.' With Him we know that if we fail today, tomorrow offers its triumphs."