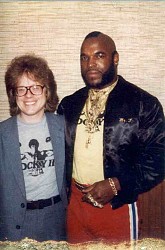 By Gary Nosacek
THE A TEAM recently became the latest iconic TV show to be given the big screen treatment. Reviews, to be polite, have been mixed. One thing, though, seems to be consistently mentioned. Quiton " Rampage" Jackson is no Mr. T.
It's not that Mr. T was a Shakespearian actor in the mold of Sir Laurence Olivier and Rampage is closer to a dinner theater extra. Truth be told, when it comes to acting, both men are equal. It's that you actually believe Mr. T is what you see. If you're a bad guy, you want to stay clear of him. If you're a good guy, you know you have nothing to fear. It has nothing to do with acting. It's a presence that jumps off the screen and into real life. Mr. T really is a good guy's good guy!
I had the pleasure of working with him on a promotion for ROCKY III. It was fascinating to see how a man who played a character that became an instant classic villain was  loved by the people . Our visit to the old Northridge Theater in Milwaukee was a great example. He picked the theater because it would be showing the closing credits when we arrived. He didn't tell me why that was important.  As the credits began running, he walked to the front of the theater and stood blocking the screen. To say the crowd was startled would be the most understated understatement of all time. He then casually walked down the aisle and stood in the lobby shaking everybody's hand thanking them for "seeing my picture".  People who just moments before had been booing Clubber Lang and cheering when Rocky  beat him in the finale, couldn't wait to run up to Mr. T and tell him how much they liked him. Children especially wanted to be near him. They weren't scared of him at all.
When the crowds had left, he turned to me and said, "Little brother, don't ever enter a room unless everybody knows you were there when you leave."  The words seemed a bit self-promoting, but as the night went on, I realized that he saw it as an obligation. He knew people had come to see him and wanted to give each of them a positive experience, and stories to tell.
Our next event was a Stallone look-alike contest at a local nite club.
Mr. T got out of his limo and made a grand entrance.  As he passed the press area, he heard one of the TV cameramen mutter that his battery had died. The station's reporter wasn't happy. Mr. T stopped and asked,  " You got another one?"  The cameraman did, so Mr. T got back in the limo and did the whole thing over, just so the guy wouldn't get chewed out for missing the shot.
Entering the club, Mr. T quickly made it clear that he wasn't the big star who should be left alone. He mingled with staff and patrons alike, talking and dancing with everybody. He seemed truly happy to have been invited. Just as the contest was to begin, the club's owner told us there was a little problem..as in little kids.  They had heard Mr. T was there and gathered outside hoping to get autographs. Due to the liquor laws, they couldn't be let in. Mr. T said there was no problem, and told the crowd to wait a few minutes. He went outside and stayed until every child got a signature.
The contest was another example of Mr. T giving the fans an experience to remember. All of the contestants were huge bouncers and body builder types, except for one thin, little guy. As he came up to the stage, it was obvious that he had trouble walking. The other Stallone wannabes were not amused. The young ladies in the crowd went crazy! They loved this guy's courage. Each contestant was given a ROCKY III arm band and struggled to pull it over bulging biceps. The little guy pulled it over his head and had it around his neck. The crowd laughed and cheered. His fate was sealed. Mr. T declared him the winner.
" The ladies will beat me up if I don't pick him", he joked to the Stallone clones. Nobody argued with him.
I've bumped into the winner a few times at other promotions over the years. He still talks about that night. I don't know if everybody in the room still remembers that Mr. T was there, but for this guy, it was the biggest night of his life!  For that reason alone, in my heart, Mr.T will always be playing for THE A TEAM!