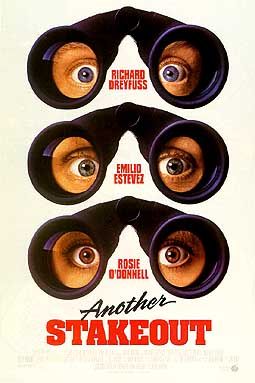 | | None | Light | Moderate | Heavy |
| --- | --- | --- | --- | --- |
| Language | | | | |
| Violence | | | | |
| Sex | | | | |
| Nudity | | | | |
What You Need To Know:
In ANOTHER STAKEOUT, Richard Dreyfuss and Emilio Estevez return as the Seattle detective partners who, this time, must pose as a "family" along with Rosie O'Donnell, who plays the assistant D.A. and helps them locate a witness in a mob trial in an upscale neighborhood. The movie contains some funny scenes, but too much violence and immoral situations.
Content:
(LL, NA, S, VV, A/D) Roughly 25 obscenities, profanities & crudities; New Age references; sexual situations & innuendo; intense explosions, intense assassination attempt, fights, hitting, & graphic violence; and, alcohol abuse.
More Detail:
In ANOTHER STAKEOUT, Richard Dreyfuss and Emilio Estevez return as the Seattle detectives who are assigned to a new stakeout with a different twist. This time they are assigned to move into a neighborhood and carry on as a family in order to spy on a couple who might be harboring an escaped witness to a mob crime. The movie begins with an assassination attempt on a government-protected witness. A hitman sets explosives to kill him, but when the smoke clears, the F.B.I. realizes their star witness has disappeared. He turns up at a friend's house, and the two detectives, with Gina, the assistant D.A., are assigned to survey the house undercover. The movie laughs come, however, when people from different backgrounds come together in the house to keep it under surveillance.
The overall chemistry and appeal of the three keep this sequel lively and funny, but the script is predictably unoriginal. Because it has been six years since the first STAKEOUT, some of the storyline familiarities are lost on the contemporary audience. There are some funny one-liners and crudities that play for laughs, but ANOTHER STAKEOUT is going to have a hard time contending with summer movies that have more plot and depth. This film is mediocre entertainment laden with immoral influences.