"Making the Right Decision Has a Price"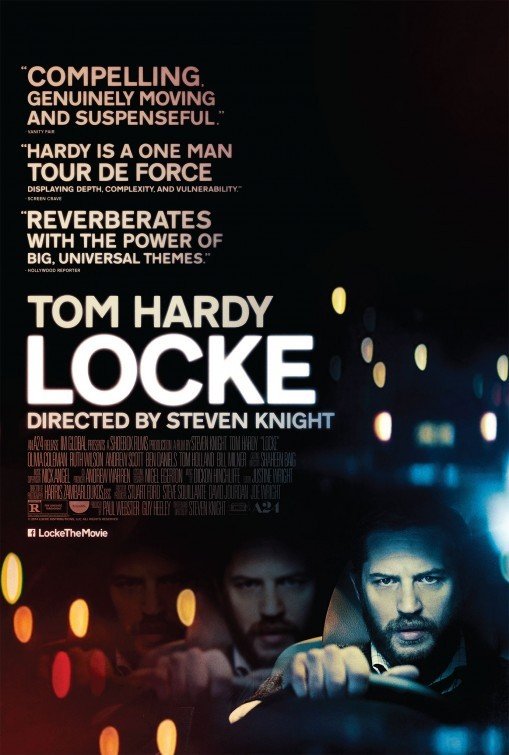 | | None | Light | Moderate | Heavy |
| --- | --- | --- | --- | --- |
| Language | | | | |
| Violence | | | | |
| Sex | | | | |
| Nudity | | | | |
What You Need To Know:
LOCKE is a gripping, fascinating British drama. Ivan Locke is a concrete foreman with a wife and two children he loves. On the eve of his biggest concrete pour for a massive skyscraper, Ivan receives a phone call. A women, with whom he had a one-night drunken affair, is in early labor with his child. Instead of running from his sin, he decides to drive to the hospital to be there for the delivery. On the way, he must call his wife, confess his indiscretion, and try to save his marriage.
LOCKE is a riveting movie, even though the story takes place entirely inside a car over 90 minutes. The acting is excellent, especially Tom Hardy in the title role. LOCKE plays like a morality tale. One bad mistake, one sin, tears the protagonist's life apart, but he bares the consequences of his sin willingly, trying to reconcile with those he's hurt. Though a powerful look at the wages of sin, it fails to convey the joys that come from repentance and forgiveness. The abundant foul language in LOCKE warrants extreme caution.
Content:
(BB, Pa, Ab, LLL, S, A, D) A morality tale with a strong moral worldview showing the consequences of indiscretion, while also showing a man's desire to make the right decision to fix his mistake, main character doesn't want his illegitimate child to grow up without a father like he did, light paganism in that true repentance and forgiveness is never seen; one quip about "Not trusting God" when it comes to weather and pouring concrete; 107 obscenities (including 90 f-words) and 12 profanities; no violence; implied adultery; no nudity; a man on the other end of a phone call is drunk; one reference to "dope"; and, no other immoral content.
More Detail:
LOCKE is a gripping and fascinating British drama about a man set out to fix the problems that arise from one mistake.
Ivan Locke (Tom Hardy) is a concrete foreman with a wife and two children he loves dearly. On the eve of the biggest concrete pour of his career for a massive skyscraper, Ivan receives an important phone call that sets into motion unforeseen circumstances. Instead of going home for the evening to spend time with his family and get some rest before the big day, Ivan jumps onto the highway and heads for London. While driving, he gives his wife a call and explains that he won't be coming home the night. He explains that months prior, while on a business trip, he had a little too much to drink and in a moment of vulnerability, slept with his older personal assistant. Now, not only is she pregnant, but she's in labor three months early. Shocked, his wife hangs up the phone.
A few moments later, Ivan receives a call from his co-worker Donald who's wondering where he's gone. Ivan calmly explains that he won't be at the concrete pour the next day, but will walk Donald through all the necessary steps and precautions. Nearly having a nervous breakdown, Donald calms down enough in order to take some instructions.
Ivan continues to drive to the hospital while over the phone trying to save his marriage, save his job and save the concrete pour that's happening the very next day. In between phone calls, he argues with his deceased father as if he's in the back seat, who left Ivan's family when Ivan was a young boy. The stakes get higher, and the drive gets more intense.
Even though the plot of LOCKE takes place entirely inside a car over a 90 minute period, it becomes riveting, despite taking a good 15 minutes to get rolling. Tom Hardy transforms himself into the eerily calm but distressed Ivan, bringing great tension to an otherwise action-less story. Similarly, director and screenwriter Steven Knight avoids exaggerating the story into an unnecessary action movie, but instead, commands the viewer's attention through simple, realistic, and relatable situations. The only complaint artistically is the lack of resolution he gives to the plot, similar to that of his latest screenwriting endeavor, CLOSED CIRCUIT.
LOCKE plays like a morality tale. Ivan is a decent man, who loves his family and who has turned his life around, despite growing up in less than desirable circumstances. Yet, one bad mistake, one sin, will tear his entire life apart. (SPOILERS) Even though Ivan could have hid his sin and possibly save his marriage and job, he decides to be at the hospital for the delivery of his illegitimate baby. Why? Because he doesn't want the child to suffer the same hardships of being fatherless that he had to face. His desire to right a wrong causes him to lose everything, a price he's willing to pay.
LOCKE portrays sin as sin, and shows the consequence of indiscretion and doesn't offer excuses for such mistakes. That being said, though realistic, it's unfortunate that true repentance and forgiveness isn't taken to mend the marriage. The abundant foul language also warrants extreme caution.
Now more than ever we're bombarded by darkness in media, movies, and TV. Movieguide® has fought back for almost 40 years, working within Hollywood to propel uplifting and positive content. We're proud to say we've collaborated with some of the top industry players to influence and redeem entertainment for Jesus. Still, the most influential person in Hollywood is you. The viewer.
What you listen to, watch, and read has power. Movieguide® wants to give you the resources to empower the good and the beautiful. But we can't do it alone. We need your support.
You can make a difference with as little as $7. It takes only a moment. If you can, consider supporting our ministry with a monthly gift. Thank you.