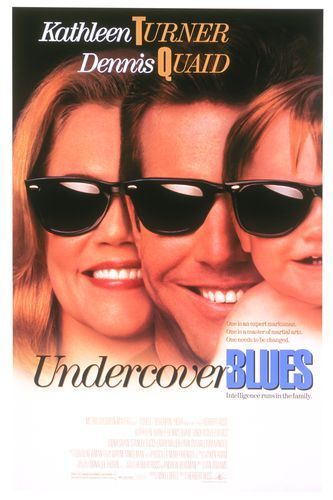 | | None | Light | Moderate | Heavy |
| --- | --- | --- | --- | --- |
| Language | | | | |
| Violence | | | | |
| Sex | | | | |
| Nudity | | | | |
What You Need To Know:
In UNDERCOVER BLUES, two former hotshot spies, Jeff and Jane Blue (Dennis Quaid and Kathleen Turner), despite their being new parents and needing a rest, get back in business for the money. The movie is an enjoyable suspense comedy with fast pace and timing and with competent acting by Turner and Quaid.
Content:
(LL, V) Up to 15 obscenities & 6 profanites; and, some slapstick violence.
More Detail:
When undercover F.B.I. agent-on-sabbatical Jeff Blue (Dennis Quaid) nonchalantly pushes the baby in her stroller down a deserted New Orleans street in the movie UNDERCOVER BLUES, he encounters more than he bargained for as muggers jump him for his wallet. In the ensuing melee, however, Blue manages to best the muggers, including a character named Muerte, and utilizes the baby stroller to good advantage, much to the baby's glee. Soon, the Blues' chief contacts them and persuades them (for a considerable sum) to pursue an international spy attempting to steal national security secrets. The Blues accept the offer, locate the spy and have a delightful time in the process.
UNDERCOVER BLUES is an enjoyable suspense comedy with fast pace and timing. The acting by Turner and Quaid is competent as well. Turner, in particular, has much riding on this film since her recent films have not done that well, and Quaid could use a hit, too. Stanley Tucci's character, Muerte, meaning "death," is hilarious and provides a running comedic thread through the movie as over and over again, his attacks on Blue fall to the ground. Fiona Shaw's melodramatic Paulina Novacek also contributes to the movie's comedic impact with the violence being primarily slapstick and not that offensive. UNDERCOVER BLUES underlines the fact that a good comedy can be fun.