"Promoting Good Sportsmanship, Respect and Hard Work"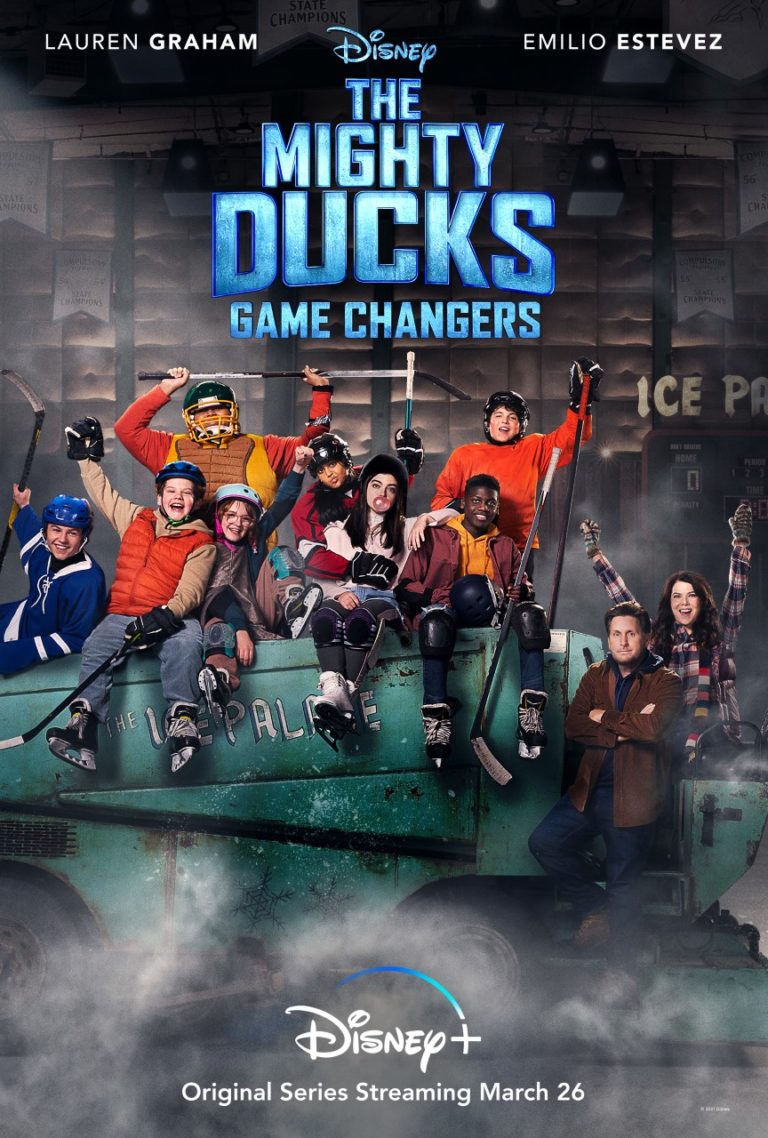 | | None | Light | Moderate | Heavy |
| --- | --- | --- | --- | --- |
| Language | | | | |
| Violence | | | | |
| Sex | | | | |
| Nudity | | | | |
What You Need To Know:
The last three episodes of Season One of THE MIGHTY DUCKS: GAME CHANGERS follows the story of The Don't Bothers as they advance to the final round of state champi-onships, on a collision course with their rivals, The Mighty Ducks. Before they get there, however, the team fires Evan's mother, Alex, as head coach when she gets angry at them in the locker room. They replace her with Assistant Coach Gordon Bombay, the original coach for The Mighty Ducks team. When they get to the championships, the current coach of the Ducks manipulates Bombay into telling him why he got banned 10 years ago from the NCAA.
The last three episodes of Season One are engaging, with high production values. They have a strong moral worldview promoting friendship, trust, fairness, loyalty, good sports-manship, and respect. The show has little offensive content, such as a lesbian couple and most of the bad behavior is rebuked. Overall, THE MIGHTY DUCKS: GAME CHANGERS is a high-quality program that can teach children how to positively deal with the pressures of sports, friendships, relationships, and family dynamics.
Content:
(BB, H, Ho, V, M): Dominant Worldview and Other Worldview Con-tent/Elements: Strong moral worldview where characters respect each other and support each other and promotes values of love, friendship, respect, good sportsmanship, and posi-tive influences, a humanist element where female coach "thanks" hockey for what it has done for her son and herself, reflecting the humanist idea that man or man's creation, not God Himself, are responsible for the team's abilities and talents, plus one young hockey player's parents are two lesbian women
Foul Language:
No obscenities or profanities but one use of crap
Violence:
Some hockey violence such as players slamming into each other, tripping each other, etc., with no blood
Sex:
No sex scenes or sexual immorality, but a girl and a boy who like each other hold hands, another girl and boy kiss very briefly, several couples dance (not provocatively) at a party
Nudity:
No nudity
Alcohol Use:
No alcohol use
Smoking and/or Drug Use and Abuse:
No smoking or drugs; and,
Miscellaneous Immorality:
Light miscellaneous immorality including blackmail, deceit and pride.
More Detail:
"Shouldn't kids be allowed to play sports for fun?" is the idea behind the new series THE MIGHTY DUCKS: GAME CHANGERS on Disney+. After being cut from the Mighty Ducks, an elite competitive youth hockey team, young Evan is crushed. However, Evan's mother, Alex, decides they should start their own hockey team. The first season of the series observes the team's rise in success under the tutelage of Alex and Gordon Bombay, the original coach of the Mighty Ducks, focusing on the team's mentality, coaching, determination, and growing bonds with one another. The last three episodes of the first season continue to focus on the TV program's positive view of friend-ship, sports, fun, and healthy competition while also addressing how easy it is to fall into the temptation of pride, greed and deception.
In Episode Eight, Evan's mom, Alex, the head coach and brains behind her son's team of underdogs, The Don't Bothers, begins to steer away from her motto of Putting Fun First when she begins to realize that winning is fun and satisfying. However, after spiraling into a world of strict fitness regiments, superfoods and benching the worst players, she throws a fit in the locker room because the players didn't follow her plan, even though they still won the game. As a result, the team fires her and replaces her with Assistant Coach Bombay before they head to the state championships.
Once there, however, the Mighty Ducks head coach manipulates Bombay into telling him about a mistake he made over 10 years ago that got him banned from the NCAA. Afraid that The Don't Bothers might actually defeat the Ducks in the championship tournament, he uses this information to prevent Bombay from coaching. This leaves The Don't Bothers without a head coach. However, Alex comes and uses her lawyering abilities to allow Bombay to retain his position. She apologizes for her actions, and the kids take her back as their coach again.
Will The Don't Bothers make it to the Finals? What will happen to their rivalry against The Mighty Ducks?
Disney's THE MIGHTY DUCKS: GAME CHANGERS is a well written, well per-formed and engaging television program, with strong values. It addresses some of the is-sues that can arise in modern youth sports, specifically the idea of putting too much pressure on young athletes. The program demonstrates that young people can play well and win at sports simply by working hard and having fun, without any unnecessary pressure.
The last three episodes of Season One of GAME CHANGERS are funny and inspiring. They address many themes and issues from a moral perspective. Good sportsmanship, loy-lty, fairness, responsibility, and hard work are all looked upon favorably. At the same time, lying, manipulation, cheating, and poor sportsmanship are all explicitly displayed as wrong. That said, there is no references to God, faith or religion in the episodes. In fact, at one point, Alex thanks hockey for all it has done for her rather than thanking God for her son's talents and for His provision in providing them with a team.
The last three episodes of Season One are mostly void of any offensive content. However, there is some light miscellaneous immorality such as lying, pride, cheating, manipulation, blackmail, and underhandedness, although it's worth mentioning that these actions are not encouraged and portrayed as wrong. Also, one of the athletes has two lesbian mothers, and a few of the other families are slightly dysfunctional and have problems. The episodes ad-dress each of the problems in turn, however, and do a good job demonstrating the healthy ways to handle them.