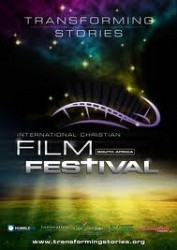 South Africa's first International Christian film festival, the TRANSFORMING STORIES INTERNATIONAL CHRISTIAN FILM FESTIVAL (TSICFF) arrives this October. Presented by Humble Pie Entertainment in association with Cape Town 2010: The Third Lausanne World Congress and in partnership with MOVIEGUIDE®, will run from October 15 to 23, 2010 in South Africa.
TSICFF brings powerful, inspiring, faith affirming, transforming films to South African audiences and to over 4,500 international Christian leaders through special partnerships with local organizations and the Lausanne Movement: Cape Town 2010, where 200 regions in the world will be represented by key Christian Leaders.
Celebrating Christ's message through the powerful medium of cinema, TSICFF aims to transform cultures through storytelling and by identifying and rewarding talent of the highest standards. Films which
promote positive messages and family values are welcomed, with the goal of furthering a culture of justice, peace, righteousness, and love. Features, shorts, PSAs, and documentary films are welcomed across a number of themes including Truth, Reconciliation, World Faiths, Priorities, Tolerance, Integrity and Partnership. Filmmakers can submit entries that communicate a message that fits into six themes (see www.transformingstories.org for more information on themes, entry fees and submission criteria).
A total of $7000.00 USD will be awarded to winning titles, including a $5,000 prize for the film deemed Best of Fest. A panel of five international judges representing eight languages and five continents will select the best films, granting official selections additional exposure. We welcome Dr. Ted Baehr, Founder and Publisher of MOVIEGUIDE® as keynote speaker at the award ceremony and guest to inform and share about the media and its influence. The Festival aims to deliver such wide-reaching exposure to inspire Christian leaders to make use of films to evangelize, teach, and transform their communities for the greater good. In the organizers' own words "TSICFF is part of a global revolution encouraging filmmakers to produce films that will transform communities for the good."
Transforming Stories International Christian Film Festival has partnered with Withoutabox and films can be submitted online (http://www.withoutabox.com/login/9397 ). The final submission deadline is August 16, 2010.
Filmmakers: if your film touches on themes of Christianity or glorifies God, don't miss the exceptional opportunity to showcase your film in South Africa and gain global recognition. Submit to the Transforming Stories International Christian Film Festival today!
Please don't hesitate to give us a call or drop us an e-mail if you have any questions.
Transforming Stories International Christian Film Festival:
Office: +27 (0)79 183 7164 / +27 (0)21 802 6809
Fax:  +27 (0)86 592 4477
E-mail: info@transformingstories.org
www.transformingstories.org
About Humble Pie Entertainment:
Humble Pie Entertainment is a creative media, marketing, distribution and project management agency specializing in the film and music industry. Over the past three and a half years Humble Pie Entertainment has been involved with various Christian film releases including One Night With The King, Bella, Son of Man for Ster-Kinekor, The Ten Commandments – Animated Film for MFILMS and Nu-Metro, Flywheel, Fireproof, Tornado and the Kalahari Horse Whisperer for Aquavision and Ster-Kinekor, Faith Happens together with Side By Side Films, God of Wonders, The Calling, The Blind Side for Warner Bros. Pictures and Nu-Metro Inspires, A Dance For Bethany and HOPEVILLE with Heartlines just to name a few. Humble Pie Entertainment has gained a respectable name in the entertainment industry as a company who knows how to speak to the Christian market in South Africa and has evolved to launch campaigns into the secular market. With more than 19 years accumulated business and marketing experience, the management offers a creative, qualified and highly competent team to any film or music project. www.humblepiegroup.com