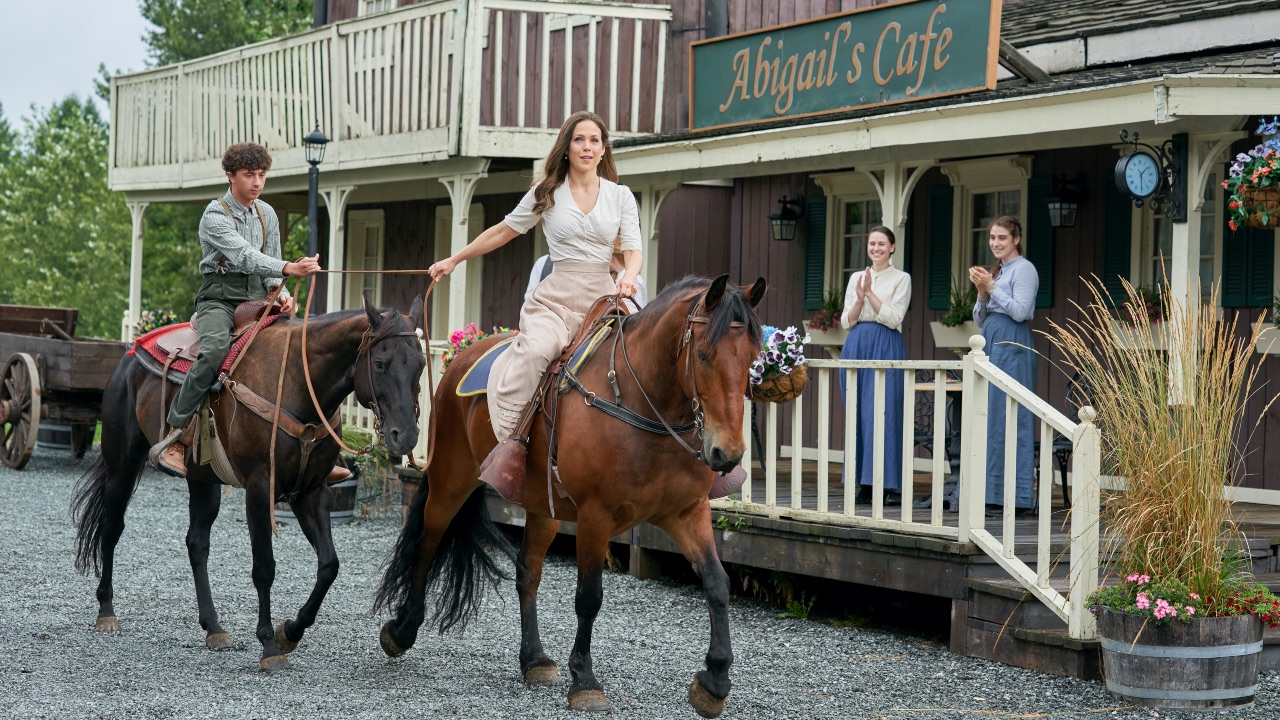 WHEN CALLS THE HEART's Erin Krakow Hopes Lori Laughlin Will Return
By Movieguide® Staff
WHEN CALLS THE HEART star Erin Krakow hopes that former co-star Lori Laughlin will return to Hope Valley. Hallmark dropped Laughlin in 2019 after the actress was convicted of paying bribes during the college admissions scandal.
However, much like Laughlin has experienced some repentance and redemption during her time in prison, Krakow hopes the two can reunite on camera in the beloved show.
"Well, I sure hope so," Krakow told Fox News. "Real life Abigail is one of my dearest friends. Her name still hangs on a sign above the cafe. She will always be an incredibly important part of 'When Calls the Heart.' I would love to see her character back in Hope Valley again. We've got a lot more exciting stories that we could tell with her."
Season 8 of WHEN CALLS THE HEART premiered this week and took viewers back to the coal mining, good-hearted town of Hope Valley. 
"They're some of my very best friends and I miss them when I'm not up there in Vancouver," Krakow said. "As far as one of the biggest lessons I've learned from the show, I think my takeaway is that you are stronger than you think. There will be unexpected challenges and surprises in life. When you think you are incapable of handling them alone, there's always a hand to hold, someone to reach out to in Hope Valley who can help support you. I found that to be true in life, as well. You're stronger than you think."
WHEN CALLS THE HEART has gained a loyal fanbase who have built a healthy community. 
"While our show takes place in the early 1900s, it's telling stories that still feel very current, themes that we're experiencing today," Krakow explained. "But I think one of the things that really sets our show apart and makes it feel unique is the sense of community and friendship, and how this small town is really always there for each other whenever anyone needs anything."
Krakow plays schoolteacher Elizabeth who has endured her own set of trials since arriving to the small town to teach.
"When Elizabeth was experiencing the loss of her husband and giving birth to a son and thinking she might have to raise this child on her own – that was never going to be the case in Hope Valley," Krakow continued. "Because all of her friends, the whole community really came together to help support her. I think that's something that really resonates for viewers today. We're all really craving that sense of community again, especially after the year we've all had where it's felt like we're all pretty isolated."
Krakow also expressed her desire to work with her fellow Hallmark star Candace Cameron Bure.  
"I adore Candace," Krakow said. "I would love to work with her. She is a total pro, especially when it comes to comedy. I would say, I would come up with some kind of comedic scenario for us. I don't know if we'd be playing sisters or perhaps friends who fell out of touch since elementary school… But yeah, certainly comedy. I would love to do something funny with Candace."
WHEN CALLS THE HEART airs Sundays at 9 p.m. ET on Hallmark Channel.
Part of Movieguide®'s review reads: 
WHEN CALLS THE HEART is a charming Hallmark TV show set in 1910 Canada about a woman named Elizabeth Thatcher coming to a small coal-mining town to teach. In Season 2, the town is transitioning from being a coal-mining town to a lumber town. Elizabeth Thatcher is the lead character, who not only teaches the children of the town, but also helps wherever needed in order to increase the community of the town.

WHEN CALLS THE HEART is an entertaining television show with a strong Christian, moral worldview. The whole family can sit down and watch this show together, be entertained, and know that their faith and values won't be offended.