"JOHNNY Shines with God's Grace and Faithfulness"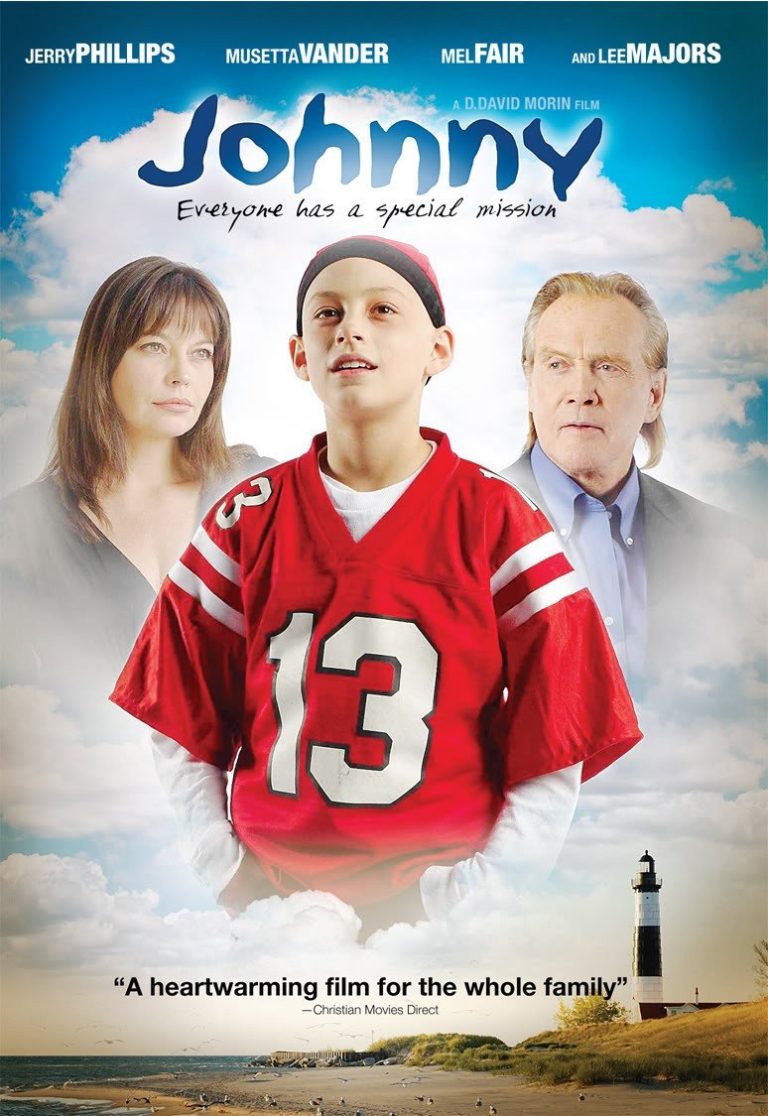 | | None | Light | Moderate | Heavy |
| --- | --- | --- | --- | --- |
| Language | | | | |
| Violence | | | | |
| Sex | | | | |
| Nudity | | | | |
What You Need To Know:
OHNNY is a touching movie about a young boy, with Stage 4 leukemia and without a family, who believes he has a God-given mission to fulfill before he dies. His new oncologist, Dr. Carter, is amazed by Johnny's cheerfulness, optimism, and most of all, his faith in God. Dr. Carter's wife, Julia, has been emotionally absent from her family ever since her young son died in a car accident two years prior. Despite her disapproval of the idea, Dr. Carter brings Johnny into their home to be his foster family. It soon becomes clear just what Johnny's mission is: to lead the Carters to Christ.
The film is steeped in the biblical truths of God's faithfulness, forgiveness, and grace. Johnny is a shining example of how the Lord provides us with the strength to endure the challenges, the disappointments, the sorrows of life. His interaction with a non-believing family demonstrates that each one of us, no matter our age or occupation, can be mighty ambassadors for Christ. There is a serious theme of death in the movie, so caution is advised for younger children.
Content:
(CCC, BBB, V, M) Very strong Christian, moral worldview with much overt mention and demonstration of forgiveness, God's free gift of grace through His Son, God's providence and abounding love for His children, Bible is quoted, and the need for God's love to help us love and show compassion for one another; no foul language; light violence is exhibited by school bullies who shove the main character on the playground but the main bully, however, asks forgiveness from the victim, who immediately gives it graciously and there is a somber theme of death throughout the movie; no sex; no nudity; no alcohol; no smoking or drugs; and, bullying but it is rebuked.
More Detail:
JOHNNY is a powerful, poignant, and heartfelt family film that emphasizes Christ's love, forgiveness, grace, and desire for us to invite Him into our hearts and make Him Lord of our lives.
Johnny, played by newcomer Jerry Phillips, is a 10-year-old leukemia patient and ward of the state whose unwavering faith and trust in God are an inspiration to everyone he meets. The movie opens with Johnny awakening from a recurring dream, one in which he runs and smiles as healthy young boys do, but Johnny's day-to-day life is nothing like his dream. Instead, his tired body is constantly subjected to the scrutiny and evaluation of countless doctors, not to mention grueling chemotherapy. What's worse, he doesn't have a family to support and strengthen him through his exhausting sickness.
On the way to his next doctor's appointment, Johnny's caseworker, Glenda, asks the boy if he's worried. Without missing a beat, Johnny responds with a Proverb, "An anxious heart weighs a man down." Throughout the movie, the young hero readily quotes Proverbs as well as other pertinent scriptures, to the wonderment of those around him.
At the appointment, Dr. Miller, played respectably by Lee Majors, informs Johnny he's referring him to Dr. Carter, an oncologist with substantial problems of his own. Dr. Carter (Mel Fair) lost his son, Robby, two years ago in a tragic car accident. His wife, Julia (Musetta Vander), who was driving the vehicle in which her son died, has been emotionally absent ever since and continues to blame herself for his death.
Told by Dr. Miller that Johnny is "specialer" than other patients, Dr. Carter quickly learns from Glenda that Johnny considers himself on a mission from God and believes that, one day, he will be given a family.
After spending a delightful day outdoors with Johnny, Dr. Carter decides to make Johnny a part of his family, despite his wife's antagonism and disapproval. While Johnny quickly befriends his new adopted sister, Kayla (Aubyn Cole), Julia can hardly tolerate being in the boy's presence, infuriated because she feels he's taking the place of her late son, Robby.
In a tender scene between Kayla and Johnny, Kayla holds Robby's Bible and explains that her brother accepted Jesus as His Savior at Vacation Bible School before he died. Johnny then leads her in a sinner's prayer of her own after explaining that we are not saved by doing good works, but by confessing our sins and accepting Jesus Christ as our Lord.
Despite being given the news he doesn't have much longer to live, the courageous young boy insists that Dr. Carter attend a Christian men's retreat. Dr. Carter reluctantly promises to do so and leaves his adopted son in the care of his troubled wife.
With her husband gone and the children enjoying a day at the beach, Julia calls Glenda to come for Johnny. Seeing her daughter's tear-filled eyes as she watches Johnny walk away, Julia is overcome with remorse.
When she receives the news that Johnny has taken a turn for the worst, Julia rushes to be at his side and immediately arranges for him to be brought home, "where [he] belongs."
This beautiful, touching movie ends on a bittersweet note that wonderfully demonstrates Johnny's mission being unequivocally accomplished. He has fought the good fight and kept the faith. The overarching theme of God's sovereignty in the midst of brokenness, and even death, resonates deeply from beginning to end and triumphantly proclaims His mercy and faithfulness.