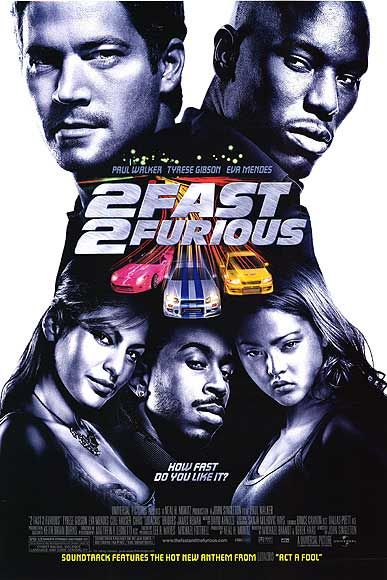 | | None | Light | Moderate | Heavy |
| --- | --- | --- | --- | --- |
| Language | | | | |
| Violence | | | | |
| Sex | | | | |
| Nudity | | | | |
What You Need To Know:
In 2 FAST 2 FURIOUS, Miami street racers are commandeered to infiltrate a money-laundering organization. They cooperate only to keep out of jail. While there is nothing ex
Content:
(Pa, LL, VV, S, N, A, MM) Pagan worldview; 24 obscenities, no "f" words, no profanities, and two obscene gestures; action violence includes man briefly tortured using a rat (little blood), short gunplay, car crashes, and fisticuffs; no sex, but one man squeezes the rear ends of two women on either side of him, and one man gives a woman a little slap on the rear and makes rude comment; upper male nudity and lots of women in bikinis (one thong briefly shown from behind), lots of midriffs and short shorts/skirts; alcohol served in club (champagne); and, gambling, dangerous street racing, rave party atmosphere, running from police, and monetary evidence pilfered.
GENRE: Action-Adventure/Crime Thriller
Pa
LL
VV
S
N
A
MM
More Detail:
In 2 FAST 2 FURIOUS, actor Paul Walker returns to his role as, now ex-cop Bryan O'Conner from the first THE FAST AND THE FURIOUS. It seems that, as a policeman in Los Angeles, Bryan blew his cover and let his mark get away, was kicked off the police force, and then moved to Miami to earn a living illegally racing in the streets.
The new story picks up as Bryan gets caught racing by local police. Soon his ex-chief from L.A. and the FBI are in the interrogation room commandeering him to use his driving prowess to capture a money-laundering, import-export dealer named Carter Verone (Cole Hauser). Bryan agrees to help only to keep himself out of jail.
After exposing the street-racing ignorance of the undercover agent assigned to help him, Bryan demands that the authorities allow his childhood buddy, parolee Roman Pearce (Tyrese), to work as his partner. Together they are to work with an undercover agent named Monica (Eva Mendes), who has, over the last 11 months, both infiltrated Verone's organization and become his lover.
From the inside, Monica helps to hire Bryan and Roman as drivers needed to pick up and deliver several duffel bags full of dirty money to a site where Verone will be waiting. Before Bryan and Roman begin the job, Monica warns them that, once the drop is made, Verone's thugs are to kill them. How will the men keep from getting killed without quitting the job and being thrown into jail?
2 FAST 2 FURIOUS is much more light-hearted than its prequel. John Singleton does a wonderful job directing Paul Walker and Tyrese in what could turn out to be a new LETHAL WEAPON-buddy type of franchise. It has more of the fast action street racing of the original and a little of the DUKES OF HAZARD thrown in for fun.
The movie is rated PG-13, however, for street racing, violence, language and some sensuality. If children see this movie, parents should discuss the dangers of the culture the movie is built around as the street racers are portrayed as just a bunch of good people trying to have fun. In reality, they are endangering people's lives and are ultimately just criminals. My father taught me that if I had "the need for speed" that I should spend a little money and race in a safer environment provided by my local raceway.
There's one other caveat to the movie (this may be a spoiler). The two men feel that they have been unfairly squeezed between the police and the gangster, so they decide to steal some of the unlaundered dough for themselves. The film never made these men out to be of the utmost character to start with, but just like the person who sneaks from theater to theater in a multiplex – on one ticket – because ticket prices are ripping us off, one crime never offsets another crime. This is something that is subtly endorsed in 2 FAST 2 FURIOUS, however.
Please address your comments to:
Stacey Snider, Chairman
Universal Pictures
Ron Meyer, President/COO
Universal Studios
100 Universal City Plaza
Universal City, CA 91608-1085
Phone: (818) 777-1000
Web Page: www.universalstudios.com
SUMMARY: In 2 FAST 2 FURIOUS, Miami street racers are commandeered to infiltrate a money-laundering organization. They cooperate only to keep out of jail. While there is nothing excessively objectionable to this movie, the PG-13 rating is fitting, so extreme caution is required.