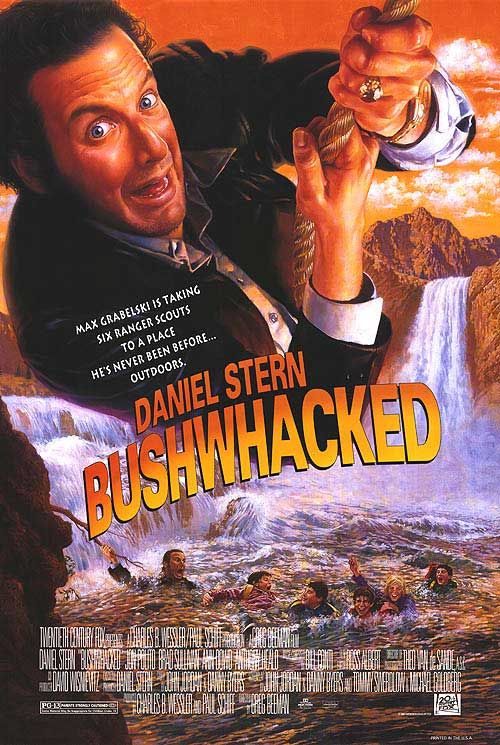 | | None | Light | Moderate | Heavy |
| --- | --- | --- | --- | --- |
| Language | | | | |
| Violence | | | | |
| Sex | | | | |
| Nudity | | | | |
What You Need To Know:
There is a fine line between silly comedy and stupid absurdity and BUSHWHACKED has crossed it. Max Grabelski is an offensive, idiotic delivery man for a shipping company who gets blamed for a murder and masquerades as a ranger scout leader in the wilderness while he tries to clear his name.
Content:
(NA, B, LLL, VV, S, D, M) Pagan worldview with moral elements including blessings & prayers; 14 obscenities, 4 profanities (2 exclamatory) & 12 vulgarities; action slapstick violence including gunfire, bee stinging, bear mauling, & wrestling; implied intercourse between dolls; smoking; and, miscellaneous immoralities including vulgar urination scene & foul sexual talk.
More Detail:
There is a fine line between silly comedy and stupid absurdity and BUSHWHACKED has crossed it. Daniel Stern executive produces and stars as Max Grabelski, an offensive, idiotic buffoon who works as a delivery man for a shipping company. Max receives an offer to make several secret deliveries for $50 a pop. When one of the deliveries goes afoul resulting in a supposed murder, Max gets blamed for the crime and goes on the lam from the law as a Ranger Scout leader on a wilderness expedition. Keeping one step ahead of the law, Max leads the Ranger Scouts to Devil's Peak and eventually, clears his own name from the crime.
Playing a loser everyman out-of-his-element, Stern attempts broad, slapstick comedy as he wards off angry bees, fights rapids, crosses a rickety bridge, and generally fights the great outdoors. He offends and insults both our intelligence and moral sensibilities and provides a horrible example of leadership to the children. Not only does he use obscenities liberally, he teaches the children how to relieve themselves and how to have sex with both vulgarity and crassness. This film attempts to be reach a family audience as it demonstrates courage and personal growth, but will probably offend most moral Americans, young and old alike.