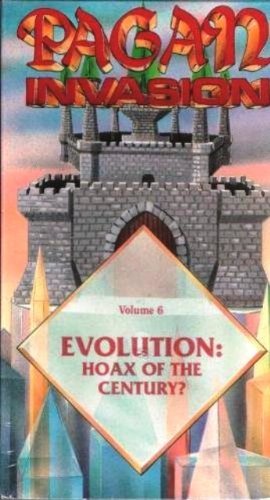 | | None | Light | Moderate | Heavy |
| --- | --- | --- | --- | --- |
| Language | | | | |
| Violence | | | | |
| Sex | | | | |
| Nudity | | | | |
What You Need To Know:
PAGAN INVASION-EVOLUTION: HOAX OR HISTORY and PAGAN INVASION-EVOLUTION: FROM PHYSICS TO METAPHYSICS are two powerful Christian perspectives on the creation/evolution issue. Unlike some treatments of this issue, which talk over the average viewers head, Chuck Smith and Caryl Martriciana provide the facts in an accessible and interesting manner.
Content:
(B, C, V) Both PAGAN INVASION: VOL. 6 and VOL. 7 contain powerful Christian perspectives on evolution and its relationship to science and spirituality. Brief abortion footage (to illustrate the logical consequences of evolution; e.g. life is meaningless) is included in Vol. 7.
More Detail:
In PAGAN INVASION VOLS. 6 and 7, Chuck Smith and Caryl Martriciana present the facts of the history of Darwinian evolution and expose its many false "proofs" and illogical dogmas.@@@HOAX OR HISTORY focuses on the scientific problems of evolution, including the lack of transitional forms in the fossil record and the fraudulent "ape men" purported to be the "missing link." FROM PHYSICS TO METAPHYSICS concentrates on the battle waged by humanists to promote the teaching of evolution in the educational system. Also, the religious roots and New Age fruit of evolution are examined. @@@These programs are two of the finest I have seen on the subject of evolution. Unlike some treatments of the creation/evolution issue which talk above the average viewers' head, the information and arguments provided in the PAGAN INVASION tapes are immediately accessible. These tapes can be very effective in equipping the average Christian to respond to the assertions of evolutionists.