Note:  MOVIEGUIDE®'s David Outten interviews Jim McBride, Executive Producer of FIREPROOF.
MOVIEGUIDE®:  Do you realize what a miracle Sherwood Pictures is?
Jim McBride:  The Lord has blessed us beyond what we could ask, imagine or think yet.
MOVIEGUIDE®:  I've seen a number of Christian movies. Many get seen by little more than friends and family. You guys are three for three in being really successful.
Jim McBride:  Yes, we're amazed too. We're like the little boy who gave his five loaves and two fish to Jesus and stood back in awe at what the Lord did with it. He said that's not my lunch anymore. That's the way we feel when we look and see what God has done with this project.
MOVIEGUIDE®:  The DVD comes out today, right?
Jim McBride:  Yes, it does.
MOVIEGUIDE®:  I saw the movie on opening day. It was really great!  You've actually been in all three Sherwood movies, haven't you?
Jim McBride:  Yes, in FLYWHEEL, I was an opposing car salesman, Butch Bowers. I was in a commercial. I had hired Jay Austin's guys when they quit. In FACING THE GIANTS, I was the bad coach, Bobby Lee Duke. In FIREPROOF, I was the Fire Chief, Paul Hatcher. I'm only in the background FIREPROOF. The main scene I had was cut due to time constraints.
MOVIEGUIDE®:  Does anyone ever approach you on the streets and say "I know you from somewhere"?
Jim McBride:  Yes.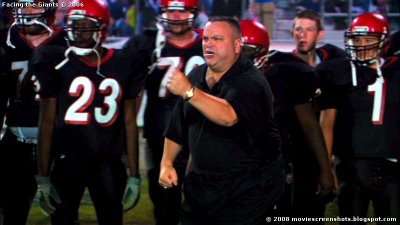 MOVIEGUIDE®:  Do people see you as a bad guy because you played the bad coach in FACING THE GIANTS?
Jim McBride:  Yes, you would think they wouldn't like the bad guy, but for some reason they do. A lot of youth groups have sent me shoe boxes full of lollipops and say Dear Coach Duke, here are some lollipops – that kind of thing. But, usually, somebody at some event will come up with a lollipop and say will you put this in and let us make take a picture with you?
MOVIEGUIDE®:  That's great! It's wonderful that FLYWHEEL, FACING THE GIANTS and FIREPROOF have all been financially successful, but I think one of the reasons they have been is that being financially successful isn't the real point of making a movie, is it?
Jim McBride:  That's right. The main mission is the ministry and that's why, when we're asked do you want to spend more money in order to get it into other languages, in order to reach more people groups, the answer is absolutely, yes. But, you know when you put the ministry first the financial blessing is there on the end. That's great, but that is not the driver.
MOVIEGUIDE®:  You must get a lot of testimonies from people whose lives have been affected by the movies.
Jim McBride:  Yes, we have received over 10,000 emails back from FACING THE GIANTS – just communicating stories of life change and that included over 5,000 people who prayed to receive Christ as their Savior. Now, we are off to a similar start multiplied many times from FIREPROOF, with stories of people who have gone to see it and it has impacted their marriages – and marriages get put back together, couples getting remarried and having fireproof engraved on their wedding rings. Just some neat testimonies of marriages that are broken and apart – even couples living 700 miles apart from each other across the country – the Lord bringing them back together through watching this movie.
MOVIEGUIDE®:  I have a copy here of the LOVE DARE BOOK, which is mentioned in the movie. I understand it has sold a million copies.
Jim McBride:  It's getting closer to 1.5 million at this point. It has done very well. The neat thing about it is that it's giving people who watched the movie something practical to take and use day-to-day in their marriage. We're hearing a lot of reviews from people who use it each day, some whose spouse knows about it and some who don't. The Lord is just using that for some people to restore their marriage, and we are very excited about that.
MOVIEGUIDE®:  There's an interesting twist in the movie where you show the book is not just for men to use on their wives. Do you get a lot of people that try it both directions, where the wife does it or the husband does it?
Jim McBride:  Yes, we are hearing it both ways. That's the reason we put that twist in there. We wanted people to see that this wasn't just a guy thing, but a thing that either spouse could do in demonstrating love for one another regardless of what the other one has done.
MOVIEGUIDE®:  So what exactly does an Executive Producer at Sherwood Pictures do?
Jim McBride:  A little bit of everything. I'm the Executive Pastor at the church as well as the Executive Producer. So, as the Executive Producer, I work on the agreements with all the parties, with Provident and Sony, as far as the contracts. I'm also part of the casting crew for the movies and I help day-to-day around the set. My wife is the Set Designer. This has been a family project for us.
MOVIEGUIDE®:  What a great project! So are you guys working on another movie with a title that begins with and an "F"?
Jim McBride:  A lot of people ask me about that, but that's just a coincidence the way they have all begun with an "F." One of the things we do each time is that we bathe these projects in prayer. We don't want just a good idea. We want God's idea.
MOVIEGUIDE®:  That shows.
Jim McBride:  Right now we are in that season of prayer to where we are seeking God's will – not just what is the next movie but should there be another movie?
MOVIEGUIDE®:  Really?
Jim McBride:  You know, just because God did something one way one time doesn't mean it's automatic that He will do it again. At this point we believe that He is leading us, after a season of prayer in December, to do another movie, but right now we're still in a time of prayer on what it is.
MOVIEGUIDE®:  Well, the fact that you guys use so much prayer really shows in the movies – it makes a huge difference.
Jim McBride:  Yes, it does.
MOVIEGUIDE®:  I enjoy watching the making-of sections on the DVD almost as much as the movie because they really show your approach to making movies. On the new FIREPROOF DVD, Stephen says he hopes that the movie will inspire other Christian filmmakers to really put the Lord first in making movies. What advice would you give, after being involved in three movies, starting at the real novice stage of a $20,000 production? I must admit the look of FLYWHEEL, the first time I saw it, had some lighting problems and such, but the story was so strong it was wonderful. It's one of my favorite movies, but the quality wasn't so great! You've really gotten the quality up with FACING THE GIANTS and FIREPROOF. What advice would you give a young Christian filmmaker that you guys have learned from making three movies now?
Jim McBride:  I would say first they should get the people around you and bathe the idea in prayer to find out what God's will is for you. It's not automatic that say somebody made a Christian film or any other film that what they are doing for the Lord in ministry would be replicated. I would just encourage them to bathe themselves in prayer, seek God's will, and make sure that's what God is calling them to do. Because the Lord has used us in so many different ways, you know. If the church is making movies for someone else – it may be made for TV Programming, or it may be some local ministry with a homeless shelter in your community. But, most the important thing first is God's direction and God's will, because we know if it is God's will that he brings all the resources upon us, and if God be for you, who can be against you?
MOVIEGUIDE®:  Amen to that.
Jim McBride:  That's the thing we would challenge them to do. And then from there, trust in God. D.L. Moody said, "If God is your partner, you better plan big." So, that would be our encouragement to them to seek God's will and find that – and then trust in Him so that the resources will be provided.
MOVIEGUIDE®:  You know D. L. Moody also said, "The world has yet to see what God can do with one man solely dedicated to Him." The attitude of a filmmaker should have is the world has yet to see what God can do with one filmmaker solely dedicated to Him.
Jim McBride:  Absolutely!
MOVIEGUIDE®:  Just from the technical standpoint, what is the difference in the equipment and staff you used for FLYWHEEL and FIREPROOF?
Jim McBride:  In FLYWHEEL, we used just a simple video camera that was not high definition that we had purchased, most of the time it was held on the shoulder for the shots. When we finished FLYWHEEL, we were able to partner with David Nixon Productions, a group of Christians out of Orlando, Florida, who had seen FLYWHEEL and were inspired by it. They had a Panasonic Vericam camera at 32 frames per seconds. There were five of those guys that came along side us for FACING THE GIANTS and FIREPROOF, and we just surrounded them with our volunteers. They had a camera man and a camera and we surrounded him with assistant cameraman volunteers. They had a lighting specialist and we surrounded him with novice lighting volunteers. That enabled us to raise the standard for the last two movies.
MOVIEGUIDE®:  It's wonderful! How do you guys get nonprofessional actors to act so well?
Jim McBride:  Well, one of the things we look for is people who have similar experience or something that would help them with the role. And, we look for people who have a lifestyle that they would portray on the screen. All of our people are believers or part of our church. In FACING THE GIANTS, for instance, the coach's wife is the real wife of the coach at the Christian Academy. And, some of those in FIREPROOF we brought in an acting coach to work with our church volunteers before they went on the set. You know all of those things are helpful, but I think the biggest thing for us is prayer. Before the people show up each morning, there is a group of people praying over the outfits they will wear. Then when they come in to put on the outfits they know they have been prayed for. There are people who pray for them before they go into acting the scene. The prayer team is outside praying while they are doing the acting scene.
MOVIEGUIDE®:  You don't hold any punches when it comes to having the tough scenes in the movie too – I mean the husband and wife fighting, and so forth.
Jim McBride:  That's right. Even on those there is a four person leadership team, Michael Catt, the Senior Pastor, myself and Alex and Stephen Kendrix. And we have to be unity on each item before we move forward. One scene in FIREPROOF we went back and forth was, do we put the pornography scene in the movie, where he's sitting at his computer and eventually does something to his computer (I won't give that away). But that part we went back and forth in prayer because we wanted to show something that was very serious. A lot of people in our culture are dealing with that, but at the same time, we didn't want to cause anyone to stumble.
MOVIEGUIDE®:  Right, it was very tastefully done. You knew what it was about, but it wasn't graphic in any way.
Jim McBride:  Right.
MOVIEGUIDE®:  That was excellent. And like you say, it is definitely a problem that an awful lot of people struggle with and you deal with it so squarely. It's hard to deal with that one in a sermon.
Jim McBride:  Yes.