Published: May 17, 2022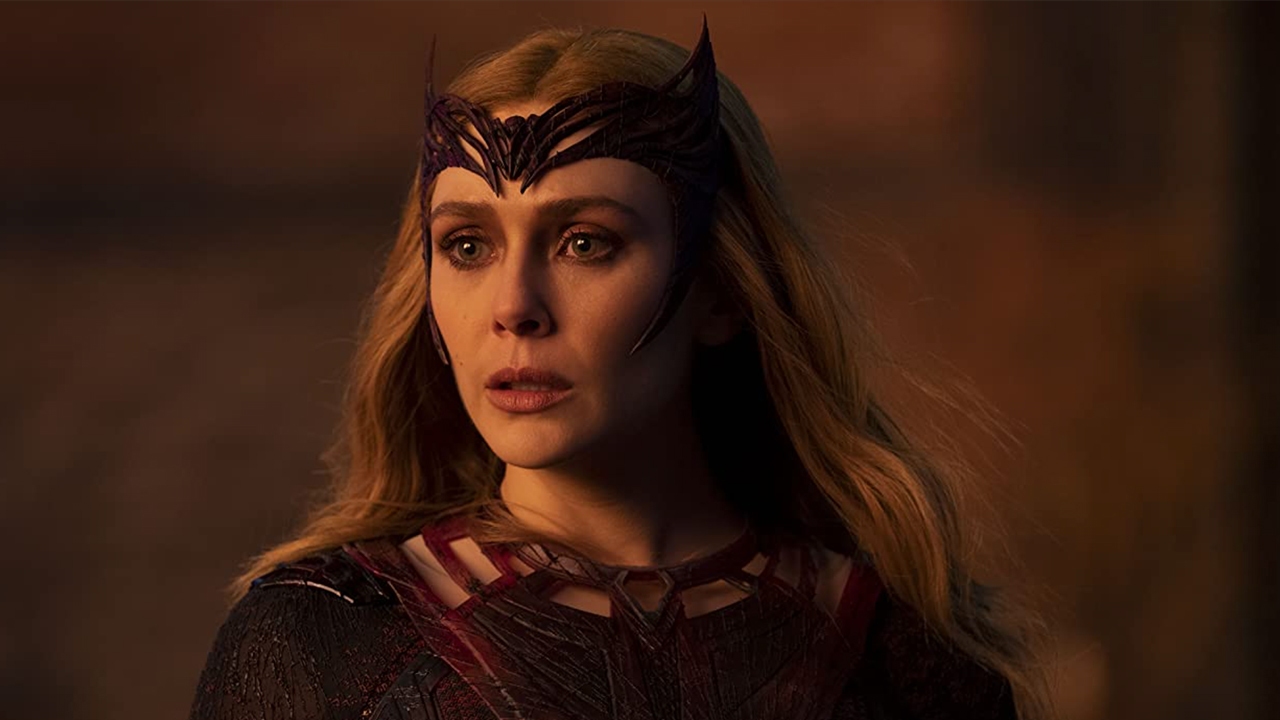 Marvel Actress Elizabeth Olsen Discusses Real-Life 'Witchy' Practices
By Movieguide® Staff
Actress Elizabeth Olsen, best known for her recurring role as Wanda Maximoff (The Scarlet Witch) in the Marvel Cinematic Universe (MCU), said she is familiar with witchcraft in a recent interview.
The 33-year-old actress said that while she does not practice witchcraft herself, she knows friends who do.
"I am witness to it. I don't practice it, but I have friends that do and people around me who do," Elizabeth Olsen told Pedestrian.tv.
"I do feel, though, that I and some people in my life are a little bit witchy," Olsen said in the interview. "And I think that that has something to do just being connected to nature and to allowing certain thoughts, or surprising dreams, like actually allowing — [taking] them in. And I think there is something about that in itself that is very witchy."
One of my biggest career bucket list items has been crossed off as I finally got to chat to Elizabeth Olsen to celebrate #DoctorStrange. It was everything I wanted it to be and more. As requested by the #ScarletWitch fans, I asked her about her favourite costume first up. Enjoy! pic.twitter.com/yCrWgvog1c

— Matthew Galea (@mattygalea_) May 12, 2022
Olsen portrays Wanda Maximoff in Disney's latest Blockbuster, DOCTOR STRANGE IN THE MULTIVERSE OF MADNESS.
A portion of Movieguide®'s review reads: "The negative worldview content in MULTIVERSE OF MADNESS hurts the movie's moral, spiritual acceptability. The movie isn't totally abhorrent or evil, but it contains too much negative, evil worldview elements to make it acceptable."
In a previous interview with Glamour Magazine, Olsen said that WANDAVISION co-stars gave her a "box of crystals and magical stones."
While Olsen said she does not practice Witchcraft, she is candid about her atheist beliefs.
"When I was 13, I told my parents I didn't believe in God any more," Olsen said in 2013. "I wanted to be an atheist because I believed that religion should be about community and having a place to go in prayer, not something that should determine women's freedoms."
Movieguide® previously reported on witchcraft and its increasing popularity in mainstream TV and movies:
Worship leader and speaker Jenny Weaver encouraged media discernment for Christians after she fell into witchcraft after watching a movie.

Before becoming a Christian, Weaver said that a movie called THE CRAFT led her to practice witchcraft.

"What started off as something innocent where I'm just connecting with energy and the universe and vibes and all these innocent things that we see, took me down a path of just dark desperation," Weaver told CBN News.

"I felt at one point I was living in like a haunted house," Weaver continued. "I was hearing scratches on the wall right next to me. I would feel a brush by me and be terrified that somebody was here in the room with me. I always felt like I was being watched. It took me far into drugs. I ended up being homeless and on drugs, in and out of jails. For nine years of my life, I was in and out of a dark place."

In Jail, Jenny prayed and surrendered her life to Christ and is passionate about the Gospel and media discernment.

"I think media has done a good job of pushing something to the point where it's now normalized," she said. "We have shows as early as day care age promoting witchcraft and sorcery — 'It's ok boys and girls say these spell words with us.' And it's so ABC, preschool witchcraft, that it gets into the hearts and the minds of people, including the people in church."

She added: "And people who are not really connected with the Lord and don't understand, they're easily deceived. And the Bible talks about even the very elect will be deceived. And so, people are going to a whole other source. That's what they're wanting. They want a healing crystal because they don't understand that Jesus is the healer and there's no other source that you can go to except through Jesus."
Movieguide® Publisher and Founder Dr. Ted Baehr warns against children consuming occult content in his book, FRODO & HARRY: Visual Media and Its Impact on Our Youth. Baehr, along with Movieguide® Editor Tom Snyder, writes:
The Bible is very clear about the evils of witchcraft, sorcery and other occult practices.

In Deut. 18:10-13, for example, Moses clearly says, "Let no one be found among you who sacrifices his son or daughter in the fire, who practices divination or sorcery, interprets omens, engages in witchcraft, or casts spells, or who is a medium or spiritist or who consults the dead. Anyone who does these things is detestable to the LORD, and because of these detestable practices the LORD your God will drive out those nations before you. You must be blameless before the LORD your God." Also, in Rev. 21:8, Jesus Himself says, "The cowardly, the unbelieving, the vile, the murderers, the sexually immoral, those who practice magic arts, the idolaters and all liars – their place will be in the fiery lake of burning sulfur. This is the second death." Furthermore, in Galatians 5:19-21, the Apostle Paul says, "The acts of the sinful nature are obvious: sexual immorality, impurity and debauchery; idolatry and witchcraft; hatred, discord, jealousy, fits of rage, selfish ambition, dissensions, factions and envy; drunkenness, orgies, and the like. I warn you, as I did before, that those who live like this will not inherit the Kingdom of God."

All of these biblical passages – and more besides – show us, beyond all reasonable doubt, that God wants us to avoid completely witchcraft and sorcery.

You must protect your children and grandchildren, therefore, from the occult evils promoted [in media].