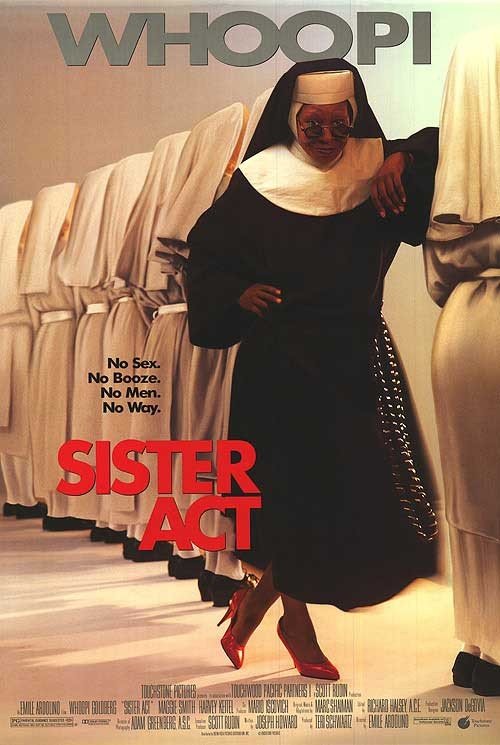 | | None | Light | Moderate | Heavy |
| --- | --- | --- | --- | --- |
| Language | | | | |
| Violence | | | | |
| Sex | | | | |
| Nudity | | | | |
What You Need To Know:
Swapping the spotlight for a SISTER ACT becomes a life-changing experience when a nightclub singer discovers her mobster-boyfriend killing a man and escapes to St. Katherine's Convent under the witness protection program. SISTER ACT is a redemptive romp which affirms that Christian forgiveness and self-sacrifice do overcome adversity. The redemptive message of SISTER ACT will speak to those who are lost. However, be cautioned that our fallen world is portrayed accurately in the beginning of the movie.
Content:
(C, B, LL, VV, S, A/D, M, Ab) Biblical messages of forgiveness, unconditional acceptance, & self-sacrifice overcoming adversity marred by: 11 obscenities; murder, punching thugs in their groins in self-defense to get away, chase scenes, fights, & holding nuns hostage; implied adultery, nude sculptures, suggestive dance moves, cleavage, & sexual innuendo; bar scenes; police corruption, disrespect for elders; and, and, jumbling Bible verses out of ignorance in a make-shift prayer.
More Detail:
SISTER ACT begins in a Reno casino, where Delores belts out muzak in sequined garb. Trapped in a relationship with her married boss, Vinnie, Delores decides to leave town. On her way, she discovers Vinnie shooting a man so she runs to the police station. To protect her, an officer hides her in a dying convent in an inner city neighborhood in San Francisco. Now, Delores must embrace a disciplined lifestyle. She does, and both Delores and the convent are converted. Initially selfish, when she puts others before herself, Delores finds her true self, restores the convent's choir and revives morale. In turn, Delores gets the nuns to reach out to the community, and their faith comes alive. Delores's impact on the choir is a heart-warming sound that may convert the most stiff-necked sophisticate. As Delores says: "This is rejoicing. We are singing to the Lord."
SISTER ACT is a redemptive romp that affirms that Christian forgiveness and self-sacrifice do overcome adversity. It is recommended for those who want to introduce their worldly friends to the joy of real celebration. However, Delores comes out of a fallen world which is portrayed accurately in the movie. Therefore, the film is not for pietists, or little children.