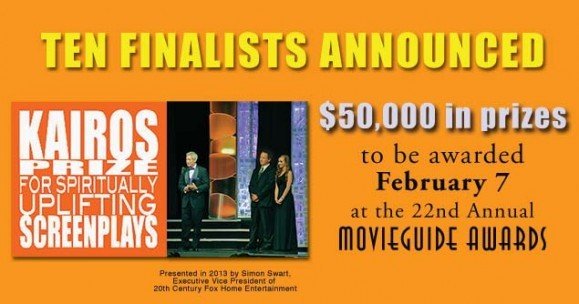 Ninth Annual Kairos Prizes for Spiritually Uplifting Screenplays
Announces Finalists for First-Time and Beginning Screenwriters
Hollywood, Calif. – Dr. Ted Baehr, founder of Movieguide®: The Family Guide to Movies and Entertainment, announced the top 10 finalists for the Ninth Annual Kairos Prize for Spiritually Uplifting Screenplays by First-Time and Beginning Screenwriters.
Supported by a grant from the John Templeton Foundation and presented annually by MOVIEGUIDE®, the Kairos Prizes award $50,000 to the top three entries as it celebrates the best new screenwriters from around the world whose work aims to greatly increase man's love or understanding of God.
"This year's finalists once again challenge us to seek a brighter future in storytelling," Dr. Baehr said. "And they remind us exactly where inspiration is truly derived.  It is because of that inspiration and that truth – we are compelled to reach higher and we are thankful for the continuing support of so many people of influence in the film and television industries."
The winners will be announced at the 22nd Annual Faith & Values Awards Gala and Report to the Entertainment Industry on Feb. 7, 2014 at the Universal Hilton Hotel in Los Angeles.  This year's 10 finalists are (in alphabetical order):
Ken Berry of West Melbourne, FL for GIANT STRIDE
Rick Conti of Chelmsford, MA for THE SQUATTER
Donald Driscoll of Plum, PA for SHOWDOWN AT DAMASCUS
Brian Faye of Spanish Fork, UT for JEREMY
Tony Gonzalez of Reno, NV for THE PIANO GOSPELS
Jeff Malphurs of New Smyrna Beach, FL for FULL DISTANCE
Jeff Peabody of Federal Way, WA for WHEN MOUNTAINS MOVED
Kathryn F. Taylor of Cary, NC for THE LION'S DEN
Allen Wolf of Santa Monica, CA for HOOKED
Connie O'Donahue of Beaverton, OR for KEEPSAKE
Since 2006, the Kairos Prizes have championed the brightest new voices emerging from the world of screenwriting. Success for its winners began with its inaugural winner David M. Anthony whose winning script was immediately picked up, produced and released under the title JOHNNY.  Two other winners, Christina Denton and Rusty Whitener, have seen their scripts produced and released in recent months. Additionally, there are several other winning scripts either in pre-production or close to development deals.
In addition to the Kairos Prizes, the highlight of the MOVIEGUIDE® Awards each year is the presentation of the two $100,000 Epiphany Prizes for Inspiring Movies & TV. Also supported by a grant from the John Templeton Foundation, the Epiphany Prizes honor the best, most inspiring movie and television program of the previous year.
The John Templeton Foundation (www.templeton.org) funds independent research and public engagement to pursue big questions and discoveries on life's purpose, human potential, and ultimate reality. The Foundation's motto, "How little we know, how eager to learn," exemplifies its support for open-minded inquiry, commitment to rigorous scientific research and related scholarship, and encouraging civil, informed dialogue among scientists, scholars, theologians, and the public at large.
Author of "The Culture-Wise Family" and "How To Succeed in Hollywood (Without Losing Your Soul)," Dr. Baehr is chairman of the Christian Film & Television Commission® (CFTVC) and its family guide to movies and entertainment, Movieguide® (www.movieguide.org). CFTVC and Movieguide® are an international, non-profit ministry dedicated to "redeeming the values of the entertainment industry by influencing industry executives and by informing and equipping the public about the influence of the entertainment media."
At the Faith & Values Awards, Dr. Baehr will present highlights from Movieguide®'s 2013 Report to the Entertainment Industry, a comprehensive financial analysis of the movie business showing what kinds of movies and what kinds of movie content moviegoers favor the most with their hard-earned money.