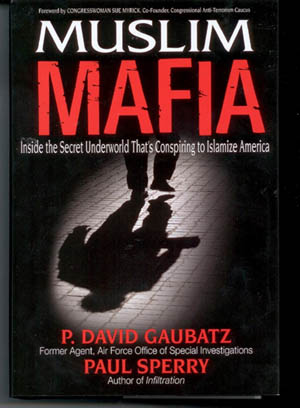 What's Worse Than the Mob? **


Quality: * * * * Acceptability: +4
Language: None
Violence: V
Sex: None
Nudity: None
RELEASE DATE: 2009
AUTHOR: P. David Gaubatz, Paul Sperry
PUBLISHER: WND Books
CONTENT: (CCC, BBB, V) Very strong Christian, biblical worldview of the evils of Islam with lots of scary stories; some references to violence and terrorism; and, nothing else objectionable.
GENRE: Non-Fiction
INTENDED AUDIENCE: All ages
REVIEWER: Dr. Ted Baehr
REVIEW: MUSLIM MAFIA is must reading. Although it is a factual investigation of Muslim groups in the United States, in particular the Council on Islamic American Relations, known as CAIR, it reads like an exciting spy novel. That's because it tells the story of an American agent who worked undercover in CAIR and discovered thousands of documents linking CAIR to Islamic terrorism or jihad.
P. David Gaubatz was a 20-year military veteran who served as Special Agent for the U.S. Air Force Office of Special Investigations. Fluent in Arabic, he and his son, Chris, infiltrated the bowels of CAIR with the responsibility for shredding some of their most frightening documents. These documents show that CAIR was spending time and money trying to free terrorists from jail, coaching terrorists to withhold information from the FBI, defending terrorists, funneling money to radical Muslim organizations, setting up Muslim spies throughout the federal government, including the FBI, and much more. Whatever you read before about Muslim penetration in further of jihad is just the tip of the iceberg.
MUSLIM MAFIA shows the extent and the careful precision of the Islamic jihad plans to overthrow the United States. The day this review was edited, a Muslim group linked to the worldwide terrorist organization Muslim Brotherhood had just finished "sensitivity" training for TSA airport security officers in Los Angeles. This book makes it perfectly clear that people have to stop being useful idiots. Americans must understand the threat and resist it at all costs. Every American should read MUSLIM MAFIA.
Please address your comments to:
Joseph Farah
WND Books
WorldNetDaily
2020 Pennsylvania Ave NW, Suite 351
Washington, DC 20006
Phone: 1-800-496-3266
Website: www.wndbooks.com
Email: inquiry@wndbooks.com