Published: August 5, 2022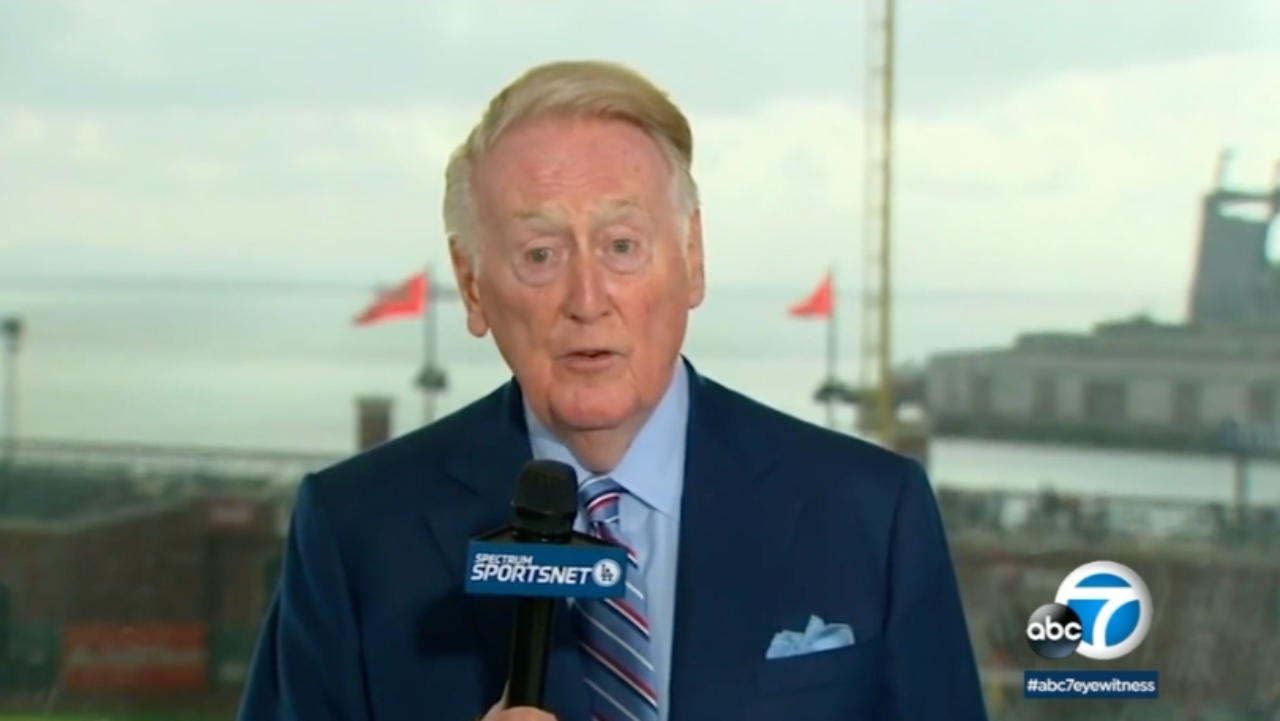 Fans Remember MLB Broadcaster Vin Scully's Faith After His Death
By Movieguide® Contributor
Legendary Major League Baseball broadcaster Vin Scully died earlier this week, and friends, fans, and family are remembering the sports figure's strong faith. 
According to ABC, Scully was the "longest tenured broadcaster with a single team in pro sports history. Scully saw it all and called it all. He began in the 1950s era of Pee Wee Reese and Jackie Robinson, on to the 1960s with Don Drysdale and Sandy Koufax, into the 1970s with Steve Garvey and Don Sutton, and through the 1980s with Orel Hershiser and Fernando Valenzuela. In the 1990s, it was Mike Piazza and Hideo Nomo, followed by Kershaw, Manny Ramirez and Yasiel Puig in the 21st century."
ABC continued:
Vincent Edward Scully was born Nov. 29, 1927, in the Bronx. He was the son of a silk salesman who died of pneumonia when Scully was 7. His mother moved the family to Brooklyn, where the red-haired, blue-eyed Scully grew up playing stickball in the streets.

As a child, Scully would grab a pillow, put it under the family's four-legged radio and lay his head directly under the speaker to hear whatever college football game was on the air. With a snack of saltine crackers and a glass of milk nearby, the boy was transfixed by the crowd's roar that raised goosebumps. He thought he'd like to call the action himself.

Scully, who played outfield for two years on the Fordham University baseball team, began his career by working baseball, football and basketball games for the university's radio station.

At age 22, he was hired by a CBS radio affiliate in Washington, D.C.

He soon joined Hall of Famer Red Barber and Connie Desmond in the Brooklyn Dodgers' radio and television booths. In 1953, at age 25, Scully became the youngest person to broadcast a World Series game, a mark that still stands.

He moved west with the Dodgers in 1958. Scully called three perfect games – Don Larsen in the 1956 World Series, Sandy Koufax in 1965 and Dennis Martinez in 1991 – and 18 no-hitters.
Scully, a devout Catholic, often spoke about his faith, praising God for the blessings He had bestowed on him. 
In a 2016 interview, Scully discussed one of his favorite sayings: "If you want to make God smile, tell Him your plans."
"That quote has been so much a part of me, I don't know when it began," he said. "Maybe as a child, I heard a priest say it, and it just stuck. It makes good sense. You know, we try to write our own script and it's a mistake. There's a script already written for us."
The LA Dodgers broadcaster also said that his Christian faith helped him keep "things in perspective."
"Faith is the one thing that makes it work, makes me keep going. You appreciate what you've been given," he explained. "You know, this isn't the only stop on the train. There's one big one we're still waiting for. I used my faith to guide me straight and narrow and strong, for sure.
"God has been incredibly kind to allow me to be in the position to watch and to broadcast all these somewhat monumental events," Scully said of all his career success. "I'm really filled with thanksgiving and the fact that I've been given such a chance to view. But none of those are my achievements; I just happened to be there."
He concluded, "I know some people won't understand it, but I think it has been God's generosity to put me in these places and let me enjoy it."