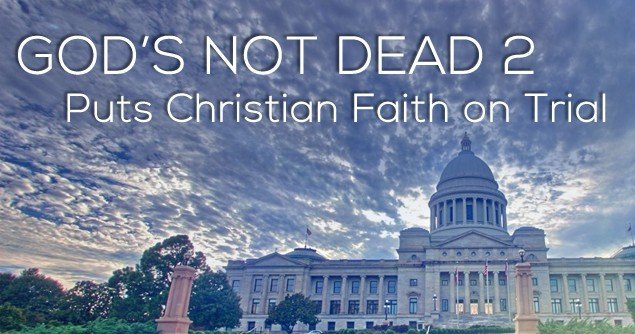 GOD'S NOT DEAD 2 Puts the Christian Faith on Trial
By Trevor Pacelli
Does it ever seem like the speaking voices of the church have become vanquished because of how prejudiced most of the world is? It has become a pressing issue in America within the past century; people getting beaten, raped, murdered, arrested, and abandoned due to issues on freedom of speech and religion. Now, director Harold Cronk asks the world, "What's really at risk here?"
Back in 2014, GOD'S NOT DEAD made a successful run in theaters, earning over $60 million at the box office. This movie finally offered the needed inspiration and hope to all those who felt like they didn't have the voice nor the courage to stand up against the seemingly more powerful authority. It gave that little push forward that the public needed, as told through a seemingly ordinary college student who was not afraid to take a stand for Christ against the educational system.
Now in Cronk's sequel, GOD'S NOT DEAD 2, he transports the matter from the classroom to the courtroom, a move that newsboy Duncan Phillips says, "was a very natural progression in that sense." In this sequel, a high school teacher compares the teachings of Gandhi and Martin Luther King Jr. to those of Jesus, an association that quickly causes the nation to erupt from hearing the Lord's name muttered in an educational setting. The actress portraying this teacher, Melissa Joan Hart, compares this role to that of a great skin care line that she wanted to share with everyone, and ultimately argues, "Why wouldn't I do that with something that I found that brings me joy and comfort and peace?"
Much like Pure Flix Production's previous hit, GOD'S NOT DEAD 2 asks further complicated questions that challenge one's faith in Christ our Father, such as: Would you be willing to put God above the law and risk losing everything for His sake?
The most common answer would probably be no, but Jesus never accepted that answer, even though it meant execution on a cross. It is a tough thing, which is why GOD'S NOT DEAD 2 is going to be exactly the push that everyone needs to pursue shining the light of Christ towards all tribes and nations. GOD'S NOT DEAD 2 opens everywhere on April 1, 2016.