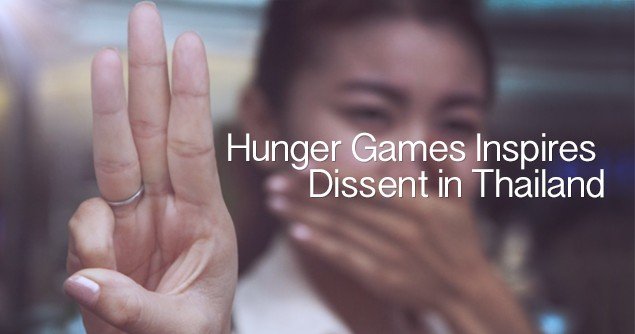 HUNGER GAMES Inspires Dissent in Thailand
Job Garcia, Contributing Writer
It is often said that "life imitates art," and to a certain degree in many cases this statement is undoubtedly true. The news media often reports cases of individuals who imitate in real life what they have watched in movies, television and video games, read in books, or heard in music. These reports usually contain the positive and/or negative affects of art on reality.
On July 20, 2012, America awoke to a horrific, appalling massacre in Aurora, Colorado that caused an overwhelming amount of pain and suffering. A gunman, James Eagan Holmes, opened fire inside a movie theater during a midnight screening of Christopher Nolan's THE DARK KNIGHT RISES and killed 12 peopled and wounded 70 others. Witnesses reported that during Holmes' deadly rampage he proclaimed to be the Joker, the prominent villain in the preceding film (THE DARK KNIGHT), played by Heath Ledger. It was also reported by the news media that Holmes was fond of video games, specifically WORLD OF WARCRAFT, and potentially negatively influenced by them.
In a more recent situation, and probably one that demonstrates the positive influence of art on reality, anti-coup protesters in Thailand have adopted the three-fingered salute against tyranny from the HUNGER GAMES movies. In the book and movie trilogy, the three-fingered salute symbolically represents resistance against the totalitarian rule.
Similarly, in real life, these anti-coup protesters are using the three-fingered salute to symbolically proclaim "freedom, equality, and freedom," and as a means of non-violent, civil disobedience to resist "the recent takeover of Thailand's civilian government by the military," which has established a curfew and abolished public congregations of more than five individuals across the country. These laws have been established "in an effort to diminish the damage being done to the country's tourism industry."
Along with these newly established laws, the controlling military coup, according to The Hollywood Reporter, has silenced local and international media, "with imported TV channels such as CNN, BBC, HBO and Disney Channel pulled off [the] air, local journalists warned not to criticize the coup, and the military threatening to censor Facebook and Twitter if it perceives the services are being used to organize opposition."
The anti-coup protesters in Thailand that are using the three-fingered salute from THE HUNGER GAMES to peacefully resist the ruling junta and proclaim their ideology, worldview and belief is a perfect example of the significant influence and power that media, entertainment, and art have on societies, cultures and reality.
From a theological perspective, the situation occurring in Thailand in many ways echoes the many instances that Jesus resisted the religious and Roman political establishments in order to present the gospel and bring forth the kingdom of God. Jesus was simultaneously traditional and radical. He did not come to abolish the law or the Prophets but to fulfill them.
So, if "life imitates art," and art can have positive and/or negative effects on those who consume it, then more art with biblical morals and values should be created. It also wouldn't hurt to have Christ-centered or Christocentric art, so that people, especially children and grandchildren, can focus on their Lord and Savior.