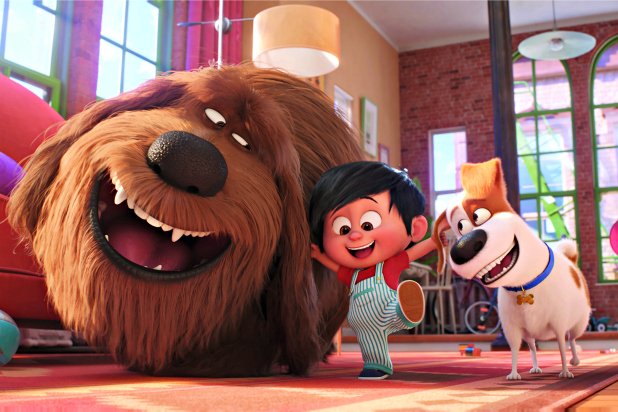 Learning to Let Go:
Behind the Scenes of THE SECRET LIFE OF PETS 2
By Tess Farrand, Staff Writer
Do pets really have a life of their own? What can our pets teach us about life? Illumination Entertainment's THE SECRET LIFE OF PETS 2 hopes to answer these questions and make families of all ages laugh along the way. Movieguide® recently had the pleasure of speaking with director Chris Renaud to talk about prevalent themes in the movie and perhaps one of the most important lessons of all: learning the value of when to let go.
THE SECRET LIFE OF PETS 2 picks up with the same fun pet characters from the first movie: Max (Patton Oswald), Duke (Eric Stonestreet), Gidget (Jenny Slate), Chloe (Lake Bell), and Snowball (Kevin Hart). Yet, filmmakers approach the sequel centering in on Max and his interaction with his owner's firstborn child, Liam.
"[We eventually] settled on the theme of pets and kids," Renaud states. This element makes SECRET LIFE OF PETS 2, very family-centric and explores those family dynamics. For instance, at first, Max is opposed to the idea of his owner having a child with her husband, however, "we build into this idea that he loves this little boy," Renaud mentions.
Once Max bonds with Liam, he starts thinking differently as many parents do. Is the sidewalk safe? Can he be left without any help? When should I let him make mistakes and try new things on his own?
Max learns several worthwhile lessons that the filmmakers hope will speak to the parents in the audiences, "it's tricky because it can be a scary world, [but] sometimes the scariest things are the most rewarding," the director asserts. As Liam is nearing the age to go to preschool, Max has to grapple with this idea more than ever.  When Movieguide® asked if this resonated with him personally, he responded, "Absolutely!" As a parent or caretaker, he highlights the importance of recognizing, "there's a limit to what you can control in life."
THE SECRET LIFE OF PETS 2 also shows audiences that fears can be overcome by working together. A big way the filmmakers attempt to be successful with this theme is by providing Max with a mentor. Rooster, a dog who runs a farm in the country, teaches Max how to not shy away from danger or fear, but deal with problems as they arise. Harrison Ford (INDIANA JONES) voices Rooster in the movie, an intentional choice Renaud recalled, "Harrison's voice has a lot of authority, grit and authenticity."
The movie is very family-centric, with sweet scenes depicting family and growing pains that the characters experience. Renaud hopes that children and teenagers specifically will take away from SECRET LIFE OF PETS 2 "the idea of locating bravery [and] working together."
For the full review of THE SECRET LIFE OF PETS 2, click here.