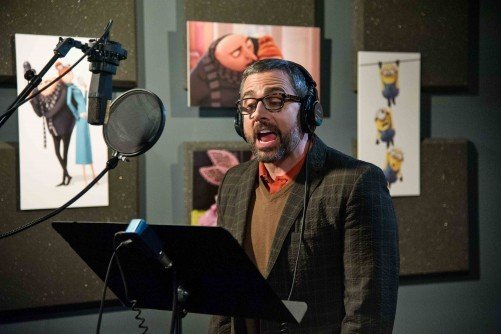 Steve Carell isn't so Despicable in Despicable Me 2. Inside story!
By Evy Baehr, Managing Editor
DESPICABLE ME 2 is a wonderful animated movie about a former villain, Gru, who has been completely transformed and no longer wants to take part in evil tasks. Gru has adopted three adorable little girls who long for a mother, but Gru is scared of dating. All the while, an evil villain needs to be stopped and Gru is brought into an anti-villain group in order to save the world.
DESPICABLE ME 2 is a wonderful movie, which has a lot of heart. Movieguide® had the opportunity to hear from Steve Carell.
You have a teenage daughter, do you feel like you're already experiencing similar things that Gru is experiencing with his daughters?

Carell: We're not quite there, and I hope I'm not the same sort of dad. I hope I don't react that way, with a freeze ray gun. I think it's tricky because I don't want to be that overprotective dad, but at the same time I do want to protect them. I understand what the character in the movie is going through because you don't want to see your kids get hurt, that's the main thing. You just don't. They're going to have their hearts broken at some point and you can't ultimately protect them against having that happen, but boy, I'm just enjoying their childhood as long as I can, let me put it that way. Cause I know there's another period of time that's going to be a very very different and difficult growth period for all everybody—for my wife and I as well.   
How do you like returning to this role and how do you like the evolution that your character takes in this?
Carell: I love it. The movie itself is an evolution. I think it's a natural extension of the first movie, which I thought was smart. The characters changed and grew, but (no pun intended) at the same time it was, the sense of the movie feels familiar, the tone of it is the same as the first one, but the family is different. That dynamic is different and he's no longer officially a villain…there's certain things that kind of struck me about the story: One, that Gru is looking, he's searching for what he's going to do, and he thinks he's going to start a jam and jelly business and that doesn't seem to be working out, and he can't go back to being a villain, but ultimately needs something that will fulfill him. Which I think is a very relatable thing for parents,  when you do have kids,  it becomes all about the kids and it's very easy to lose your sense of self within that, and you do have to kind of keep your career and that side of it intact because, ultimately that makes you a better parent as well.
Does the movie encourage/celebrate adoption? Is that the intention of the DESPICABLE ME franchise? What do you think fathers can learn from Gru's parenting methods?
Carell: I think it celebrates family, more than anything. I think it celebrates a sense of love and commitment to one another…It's just a very sweet, kind, movie with sort of these dark trappings. Because that's one of the things that attracted me to the first one, it's a movie that doesn't condescend to children. It plays to the top of their intelligence…as a kid I wanted things that challenged me…so that's one of the things that attracted me about it. But I think underlying all of that, it's just a real sense of family and warmth…the first one just made me feel good when I saw it and that's why I wanted to do this one too. Cause I think it does the same thing. And it's funny.
Take a look at the full review!