Published: January 18, 2022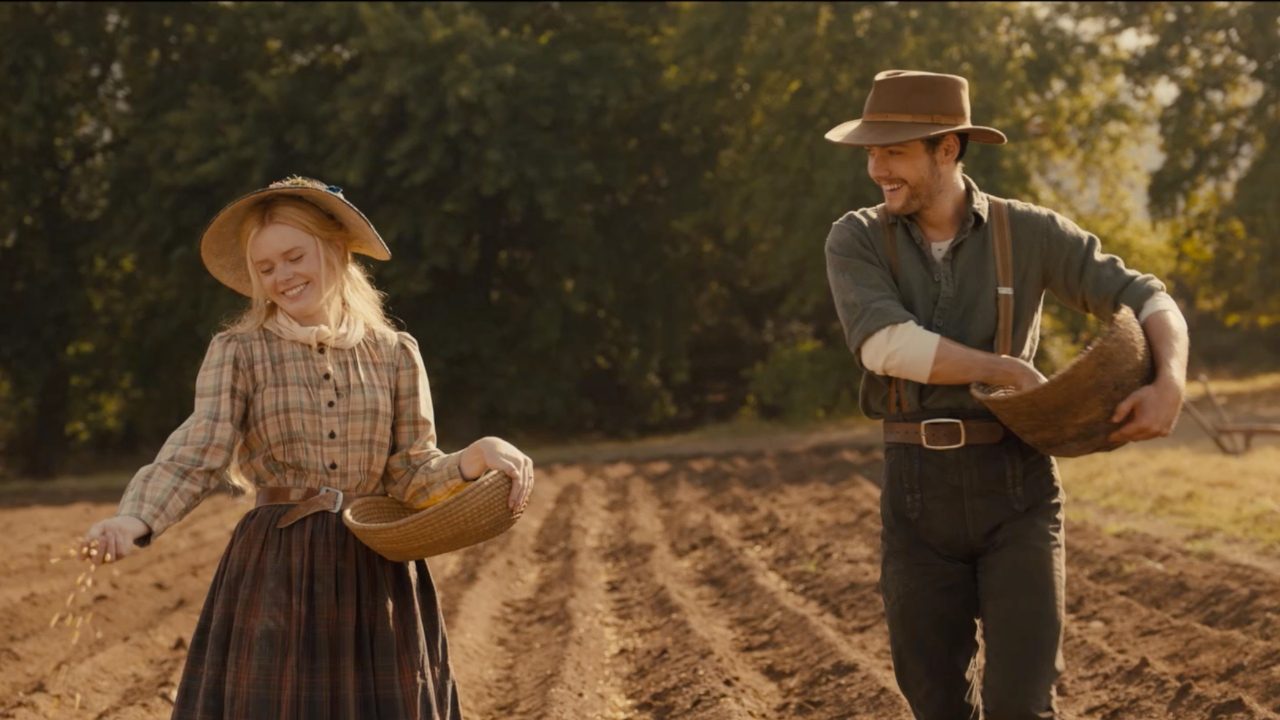 Why I Won't Be Seeing REDEEMING LOVE
By Movieguide® Contributor
I began reading Francine Rivers at the same age my husband was first exposed to pornography. We were both in middle school and discovered the strange excitement of sexual exposure. While I was able to put the books down and move on, my husband developed an addiction that plagued him for more than 20 years and nearly destroyed our marriage. 
We were engaged when I discovered how treacherous his addiction was. I called off the engagement after I discovered he'd been sexting with another woman and sending her thousands of dollars. Devastated, I cried out to God, certain that He'd bring vengeance.
The day after our breakup, I sat on my couch, baffled at my emotions. I could very distinctly hear the Lord pressing me to forgive. Cory Asbury's "Reckless Love" played through my heart. I was confused, but at peace. My precious roommate put together a care package, and as we ate through cupcakes and put on face masks, I shared my heart, and that I felt compelled to forgive him. 
She looked at me and asked, "Have you read the book of Hosea?" 
I nodded, but returned to the Bible to refresh my memory. Hosea was an Old Testament prophet who God told to marry a prostitute as a prophetic example of how Israel treats the Lord. The prostitute, named Gomer, continually leaves Hosea, but the prophet goes back to her, rescuing her from her indiscretions as the Lord rescues us. It's also the story on which Rivers' book Redeeming Love is based. 
On Friday, REDEEMING LOVE hits theaters, and tens of thousands of fans are ready to flock to the movies to see the story on the big screen. We won't be among them, as the movie contains graphic depictions of sex, rape, trafficking, strongly implied nudity, and more. 
Per the Movieguide® review:
REDEEMING LOVE follows the story of a young women who is put in to prostitution at a very young age, and is rescued by a Christian man, who shows her true love. Angel has grown up in prostitution and has been used and abused by every man she has ever met. When Michael, a farmer, calls out to God for a wife, he believes that God tells him Angel is his wife. Will Angel trust Michael and commit to marriage with him?

REDEEMING LOVE is based on a book by Francine Rivers, but Movieguide® advises extreme caution due to nudity, rape, sex, abuse, and other very heavy themes. The movie has some positive messages about true love opposed to lust, but is marred by showing graphic scenes.
I know the message of REDEEMING LOVE. I understand these darker themes and that the filmmakers want to show the gratuitous content in order to promote the woman's ultimate redemption. I get that they are depicting that trafficking is bad, and sex within the covenant of marriage is one of God's greatest gifts. That's wonderful — but it is unacceptable for my family.
My husband is nearly two years sober. He's been in recovery groups for four years. He's gone to specialists and had intercession to heal the broken places in his heart where his addiction thrived. It's been a painful process. He's been suicidal on multiple occasions because of how the pornography rotted his brain. I've been tempted to leave him on more than one occasion, certain I was justified because of his sexual immorality. 
But, God restores. 
We are so thankful for His goodness and mercy. We hold very strong boundaries in the movies and television shows we watch to honor God's healing in our lives. So why would we intentionally trigger my husband's addiction by going to see a movie that depicts sex, regardless of the context? 
As Christians, we want to support fellow believers in the entertainment industry, but we cannot support this movie. In one scene, the woman is nude, with her hair barely covering her nipples. In another, you see the man cupping her breasts. 
While women — the primary fan base for the movie — may see this as romantic, I cannot say the same. Instead, I begin to wonder how many times my husband watched similar scenes from porn websites. How many times did he fantasize about doing that to another woman? What's more, I'm certain I'm not the only woman in this boat. 
In a large survey for Psychology Today, men reported the following: 
97% had viewed pornography at some time in their lives.
94% had viewed pornography in the last six months.
82% self-reported as regular viewers of pornography.

The average frequency of porn viewing was three-to-four times per week, with an average session lasting 15-30 minutes. The average age of first porn use was 13, and most had become regular porn users by 16 or 17. Further, the men as a group reported more positive than negative effects of pornography consumption on all five aspects of sexuality surveyed.
And that's not just in secular circles. 
One Barna survey found that those who identify themselves as born-again Christians have similar struggles with pornography and affairs:
95 percent admit that they have viewed pornography.
54 percent look at pornography at least once a month.
44 percent viewed pornography at work in the last 90 days.
31 percent had a sexual affair while married.
25 percent erase Internet browsing history to conceal pornography use.
18 percent admit being addicted to pornography (and another 9 percent think they may be).
The cost of sexual addiction is just too high. When it comes to the entertainment industry, we must be especially mindful about how what we consume affects our souls. 
I am not willing to sacrifice my marriage to support REDEEMING LOVE in theaters. The visual aspects will trigger my husband into a relapse. Even if I were to leave him at home, the scenes will likely send me into a depressive spiral, as well, bringing me back into a codependent relationship. 
For other families who are dealing this, I ask you to prayerfully consider if you should see REDEEMING LOVE. The cost of watching is not worth sacrificing family.