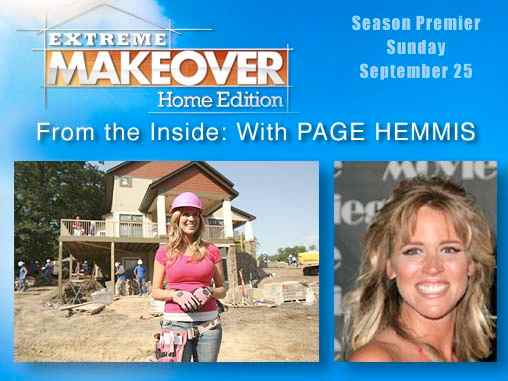 Paige Hemmis Discusses 'Extreme Home Makeover'
By Evy Baehr, Associate Editor of Movieguide®
"Coming up, the heartwarming stories of the transformation of broken homes," says the TV announcer. That's right, we've all seen it: Extreme Home Makeover, and we have all been there crying, watching as those wonderful people receive their new home from the great works of the crew of Extreme Home Makeover. One of those great

crewmembers, Paige Hemmis, speaks with Movieguide® about how she got involved with the show and how the show is going to continue to transform hearts, even through it's upcoming ninth season!
MG: Tell me your process to how you, yourself became apart of Homemaker over?
Paige: About 15 years ago, I was remodeling homes and doing a rent home program that would help couples and young families get into their first homes. I did a show called Monster House to win tools, and a day after that aired, they called me from Extreme Home Makeover. When they said we were going to try to build a house in a week, I thought, oh it's never ever going to work, but we did it. The first show we did; we pulled it off.
MG: Did you always enjoy constructing things and how did you get interested?
Paige: We go to church…and go do something free, because we were struggling. . . and we would go out and look at model homes and look at the designs. I just thought it was a great way to spend time with my family and turns out it was kind of shaping my future as well.
MG: Did you realize Home Makeover would come about and be so successful?
Paige: It was the first reality show that didn't vote someone off the island or stab someone in the back. I think reality shows when we started were about this drama. . . and here we have this show where we're helping people and we didn't know if the public would embrace it. It just felt so good to go out and help people.
MG: Do you have a favorite story?
Paige: I think my favorite kind of family to help is the ones that are already going out in the community and doing so much good for other people. We just finished one in Delaware where it was a soup kitchen this woman was running. She would use a local church but was making it from her condo. . . a thousand meals a week. We know we are not just helping one family when we are helping her, we're helping thousands and thousands of families in the future.
MG: You studied theology in college. Can you tell me why you decided on that and what came about?
Paige: I loved learning about my religion, Christianity, and about other religions as well and finding out what kinda makes people tick. The similarities and the differences. I guess that was my love.
MG: Do you think you can use your faith and share it with people on the show?
Paige: I think so. Everyone we meet has a special story about why they are there. Instead of going to church every Sunday, we get to be around people who are expressing their faith to us. It's almost like we hear testimonies everyday, why people put on the blue T-shirt and come out and help us. . . . To hear stories about how God has touched people in their lives and what brought them to help this week. I feel very fortunate that life has kind of led me here.
MG: What's coming up for this new season?
Paige: This week I'm in Oregon. The family has two kids with autism, and years before that they were helping kids with special needs and the dad was a youth pastor. But look out, [for] our 200th we are doing seven homes in seven days!
Clearly, once again, Extreme Home Makeover is giving people hope and support. So take a look at the Movieguide® Award Winning show: Extreme Home Makeover on September 25!