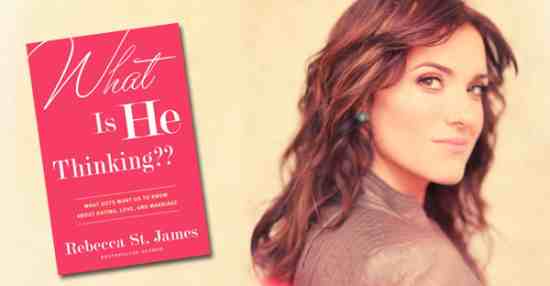 Quality: * * * * Acceptability: +4
Language: None
Violence: None
Sex: None
Nudity: None
RELEASE DATE: 2011
AUTHOR: Rebecca St. James
PUBLISHER: FaithWords/Hachette Book Group
CONTENT: (CCC, BBB) Very strong Christian, biblical, moral worldview; and, nothing objectionable.
GENRE: Non-Fiction/Self-Help
INTENDED AUDIENCE: Teenagers and adults
REVIEWER: Dr. Ted Baehr
REVIEW: Rebecca St. James is a famous singer, an actress, a friend of MOVIEGUIDE®, and now an author of a very helpful book for young women called WHAT IS HE THINKING?? In this well-written book, Rebecca interviews some single young men 18 to 35 about what they're looking for in a spouse. She also asks some older mentors who've been successfully married for years what gave them a successful marriage. In an effort to be totally transparent, one of the young men is Robert Baehr, chief operating officer for MOVIEGUIDE®, and one of the mentors is Dr. Ted Baehr, MOVIEGUIDE® publisher.
The bottom line among all the good information here is that men who are interviewed for the book were not looking for the typical Hollywood, anorexic playmate. As I shared in the book, men and women should be guided by seeking God's will. Love is deeper than physical attraction, fame or fortune. It's that special quality of finding someone with whom you are best friends… someone you can wake up with after 36 years and be more in love with than the day you met. It's not just about raging hormones; it's about growing love.
As the Bible says in 1 Corinthians 13:4-7: "Love is patient; love is kind. Love does not envy; is not boastful; is not conceited; does not act improperly; is not selfish; is not provoked; does not keep a record of wrongs; finds no joy in unrighteousness, but rejoices in the truth; bears all things, believes all things, hopes all things, endures all things."
Love is always satisfied. The opposite of love is lust, which is never satisfied.
Rebecca's book is a great advice column for young women.
Please address your comments to:
FaithWords
Hachette Book Group
237 Park Abenue
New York, NY 10017
Website: www.faithwords.com