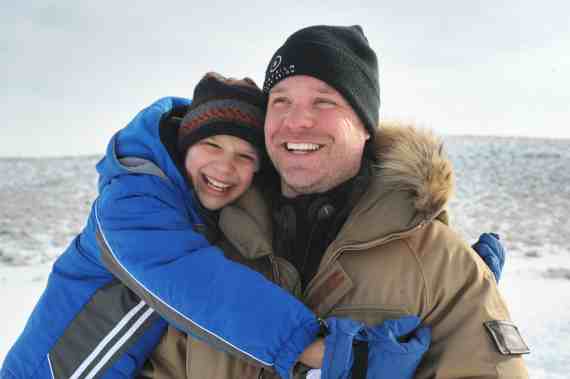 By Jeff Holder, Contributing Editor
SNOWMEN hits a few theaters this Friday, Oct. 21, bringing a comedic, heartfelt slice of life movie to the screen. Movieguide® sat down with writer/director Rob Kirbyson to find out what went into making a great family movie.
Read the Movieguide® review of SNOWMEN here
Rob began his career making short films including video segments for SESAME STREET. Here he learned to work with children on set, which served him well on SNOWMEN.
Rob said, "Working with 12 year olds on SNOWMEN was like working with grown ups, compared to the four and five year olds of SESAME STREET."
SNOWMEN is the story of a trio of pre-teenage boys who attempt to set a Guinness world record for the most snowmen built in a day.
The movie itself is more than about setting a record.
"As a kid," Roy said, "I struggled with questions about life and death and search for meaning. I really struggled with that. Kids ask, 'do I matter?' I wanted to make a movie that addresses that. My father passed away when I was young, and so I was asking huge questions. Much of that showed up in the movie."
Rob feels it's important to remind people of the questions they should be asking. He hopes his movie will do just that.
The process to make a movie is always an arduous one. The production company had received funding for the movie IF they could find the right lead to play the young boy. Rob and Producers John Shepherd and Steve McEveety auditioned boys after boys, trying to find the right one.
"We brought in all the top kid actors," Rob recalls. "But none of them were right. Bobby Coleman was the last one to audition."
Before he came, the producers were thinking they weren't going to make the movie because they couldn't find the young lead actor who was just right.
"But then, Bobby came in," Rob noted. "And, he WAS Billy [the character from the movie.]. Bobby arrived all excited about a sculpture that was in the lobby. So he drags Steve McEveety to it to see how great the sculpture was. After he auditioned, Steve turned and said, 'We're making a movie.'"
While the movie was shot during winter in Utah, it wasn't cold. There was very little snow, so the production company had to truck in snow. The kids were often sweating since they were costumed in big heavy jackets. In fact, a story plot point of the snow starting to melt was put into the script because the snowmen were actually starting to melt.
Rob hopes audiences will walk away with a fun evening and asking the right questions about life.
"Every life is to be celebrated," he said. "Life is really, really important."