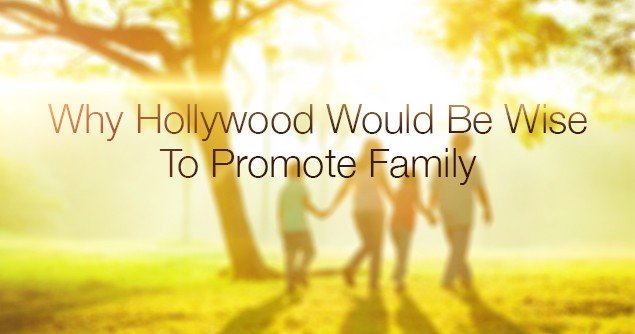 A September 2014 report by the U.S. Bureau of Labor Statistics reveals that married parents with children between six and 17 years old average $1,351 in entertainment fees and admissions. Single mother households average only $404. This translates into $19 billion in entertainment spending by married parents with children to only $2.7 billion from single mother families.
The Bureau of Labor study shows conclusively it's to Hollywood's financial advantage to promote marriage and the traditional family. The demise of the traditional family is costly to those who sell movie tickets, DVDs, movie related consumer goods and such things as cruises and theme parks.
The Brookings Institute reports that 82 percent of white American adults 30 to 39 years old lived as married couples with children in 1969. By 1998, that number dropped to 55 percent. African-American's dropped from 58 percent to 32 percent. Single parents rose from four percent of whites to 19 percent and African American's rose from nine percent to 29 percent. This trend is the leading cause of poverty and the growth of income disparity in the United States.
President Barack Obama took office in 2009 determined to reduce income disparity, but, because respect for marriage has continued to decline, income disparity has continued to rise.
Only 17 percent of the poorest fifth of Americans are married. Seventy eight percent of the richest fifth of Americans are married.
When marriage is undermined, children wind up deprived — and worse.
The Heritage Foundation reports, "Recent research demonstrates that marriage provides a safe environment for all family members, one in which child abuse and fatality are lowered dramatically." They concluded, "Something is seriously and deeply wrong with a society that has lost its ability to foster stable environments — especially two-parent families with married biological parents — within which children are loved and protected."
The Heritage Foundation quotes a study from Britain that found:
The safest environment for a child — that is, the family environment with the lowest risk ratio for physical abuse — is one in which the biological parents are married and the family has always been intact.
The rate of abuse is six times higher in the second-safest environment: the blended family in which the divorced mother has remarried.
The rate of abuse is 14 times higher if the child is living with a biological mother who lives alone.
The rate of abuse is 20 times higher if the child is living with biological parents who are not married but are cohabiting.
The rate of abuse is 33 times higher if the child is living with a mother who is cohabiting with another man.
Many studies show that children raised by single mothers are far more likely to drop out of school, use drugs, commit crimes, go to prison, have children out of wedlock, be unemployed and commit suicide.
Promoting marriage and the traditional family greatly reduces adverse impacts on children.
Those in Hollywood would benefit financially from a demographic revival of the traditional family, but the benefits to children would be far more valuable than money can measure.
At Movieguide®, we want to see Hollywood prosper making movies that strengthen marriages and families, but our far greater desire is to redeem the culture to the point that fewer and fewer children are raised in poverty and subject to abuse.