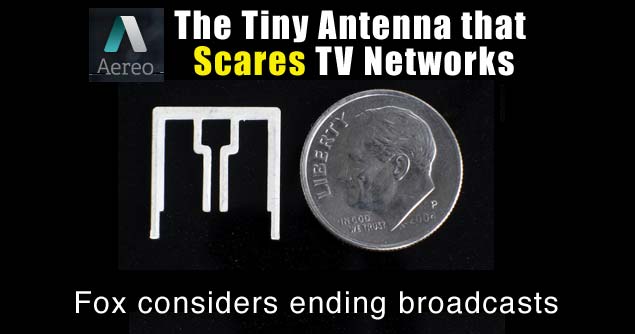 By David Outten, Production Editor 
A tiny TV antenna with special HD capability is scaring the broadcast television networks. So much so that President Chase Carey of Fox TV's News Corp. warned that his network may have to turn from being a broadcast service to being a subscription service.
On April 1, a federal appeals court in New York ruled in favor of the Aereo company and against CBS, Comcast/NBC, News Corp./Fox, and Disney/ABC.
For 80 bucks a year, Aereo will lease consumers a tiny personal antenna in their facilities. Consumers can then get live broadcast television shows through the Internet on their televisions, computers, iPads, and smartphones without paying for cable. In addition, the service comes with cloud storage DVR software.
The service is currently available only in the New York City area, but after winning the latest case, they have plans to expand to the following cities this year:
Atlanta
Austin
Baltimore
Birmingham, AL
Boston
Chicago
Cleveland
Dallas
Denver
Detroit
Houston
Kansas City
Madison, WI
Miami
Minneapolis
Philadelphia
Pittsburgh
Providence, RI
Raleigh-Durham, NC
Salt Lake City
Tampa
Washington, DC
The reason the service horrifies Hollywood is that Cable TV companies often pay networks for the right to put networks on cable. Aereo pays the networks nothing. By using a tiny personal antenna for each customer, it comes under the "personal use" court ruling that originally allowed consumers to use VCRs to record programs for their personal use. Each customer's video stream is from his personal rented antenna.
For less than $7 a month, people who don't need hundreds of cable channels can get HD quality broadcast television on any device they choose. Because cable fees can run more than $100 a month, Aereo threatens Cable TV companies. As Cable subscriptions drop, fees paid to networks drop as well.
The entertainment companies make vast sums on "bundled" programming.
Christian broadcasters, especially members of the National Religious Broadcasters, are deeply concerned because bundled cable programming gives them a platform to reach people with the Gospel of Jesus Christ who may just be randomly searching through the channels. The NRB contends that the loss of bundled programming will hurt the cause of Jesus Christ by driving the religious Christian broadcasters into a dark corner of the cable and broadcasting universe.
The technology exists today for incredible services consumers would love, but Hollywood clings to the cable model because it's a huge part of their current revenue. Companies like Aereo and Netflix offer consumers the opportunity to cut out Cable TV.
This doesn't mean that the Cable TV companies or the movie studios and television networks in Hollywood will go out of business. It means their entertainment delivery methods will have to adjust to another new model.
The major studios sued Sony to stop introduction of video recorders. The courts rules in favor of Sony and the studios wound up making billions on the VHS tapes and DVDs when consumers fell in love with video and digital recorders.
Now studios and broadcasters are now fighting upstarts like Aereo.
"We can't sit idly by and watch someone steal our signal," Fox's Carey said about companies like Aereo. "Aereo is stealing our signal. . . . [but] we are going to pursue our legal rights."
"Having a television antenna is every American's right," Aereo spokesperson Virginia Lam replied.
"When broadcasters asked Congress for a free license to digitally broadcast on the public's airwaves, they did so with the promise that they would broadcast in the public interest and convenience, and that they would remain free-to-air."
Companies like Sony with its recorders and Aereo with its tiny antennas force the studios to adopt technology that consumers love. In the long run, the studios benefit. In the short run, they fear and hate change.
The best example of all is television itself. The studios feared and hated it at first, but now their television revenues dwarf their motion picture revenues. If only the studios had the vision of a Steve Jobs, who loved to excite customers with futuristic products and services.
Also, please pray that the NRB and other Christian broadcasters find ways to reach the public with the Great News of Jesus Christ.