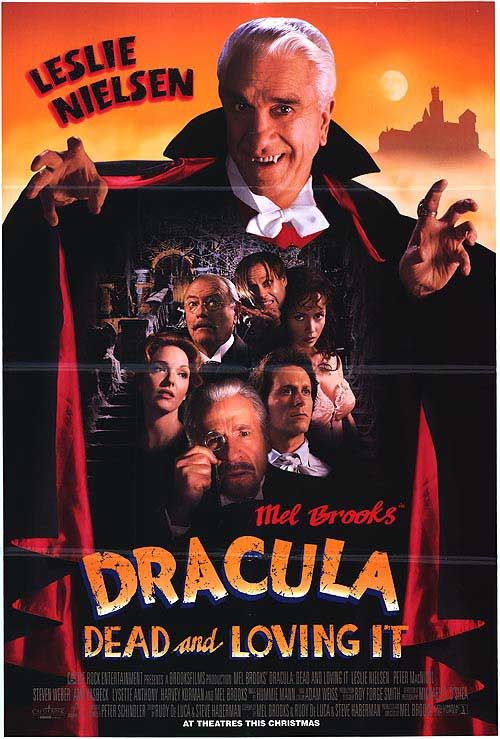 | | None | Light | Moderate | Heavy |
| --- | --- | --- | --- | --- |
| Language | | | | |
| Violence | | | | |
| Sex | | | | |
| Nudity | | | | |
What You Need To Know:
Leslie Nielson returns to the screen as the title vampire in Mel Brook's DRACULA: DEAD AND LOVING IT. Slow pacing, dull humor and lack of originality makes this an overwhelmingly mediocre retelling of the classic tale.
Content:
(O, L, V, S, N, A, M) Occultic worldview; 1 obscenity; mild violence including bites to the neck; brief sexual activity implied by shadows on the wall & undead women climbing into man's bed; constant cleavage shots; alcohol use; and, lying & little respect shown towards cross, though it is shown to have power against the undead
More Detail:
Known for his deadpan comedic style in sillier-than-life projects such as the NAKEN GUN series, Leslie Nielson returns to the screen as the title character in Mel Brook's DRACULA: DEAD AND LOVING IT. Though Nielson may portray a rather debonair undead, the character and the film itself are as lifeless as the unflappable Count. The plot is straightforward, following Dracula's attempts to seduce the daughters of his next door neighbor, Dr. Seward. Mel Brooks plays the famous vampire killer, Professor Van Helsing, who attempts here to thwart Dracula. Also included in this story are the young lovers Harker and Mina, plus Dracula's bug-eating servant Renfield.
Brooks punctuates the story with the gags and questionable humor that are his trademark, but there isn't much that is funny. Viewers are treated to Dr. Seward's scatological obsession, the campy gore of a vampire staking and slapstick scenes where Renfield gets battered by a sliding coffin as he tries to stabilize it on the stormy seas. Some of the takes on the vampire limitations are more amusing, as when an hypnosis victim keeps falling asleep too soon, or when women under Dracula's power follow his instructions too closely. Even these bright spots are few and far between. This movie is dead, and no one should regret its passing.