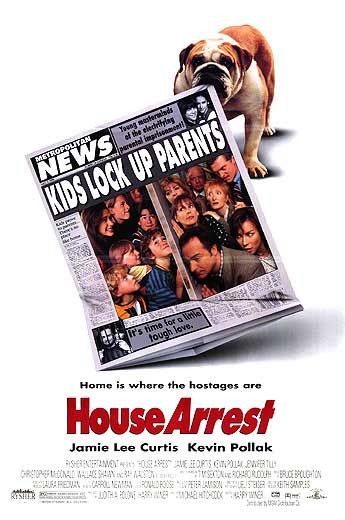 | | None | Light | Moderate | Heavy |
| --- | --- | --- | --- | --- |
| Language | | | | |
| Violence | | | | |
| Sex | | | | |
| Nudity | | | | |
What You Need To Know:
In HOUSE ARREST, kids rule and parents are punished. When Grover Beindorf's parents decide to split up, he locks them in the basement until they can settle their differences. A second-rate comedy that seems to suggest that modern psychology can settle personal struggles and that children know more than their parents, HOUSE ARREST is a dud.
Content:
(Pa, L, V, S) Pagan worldview demonstrating that modern psychology can cure problems; 3 obscenities & 2 exclamatory profanities; mild violence including fist fight between two men, slapstick violence including man falling down stairs, woman falling down laundry shoot, & rat crawls up ladies arm; and, implied sex between married couple
More Detail:
For a normal boy, Grover Beindorf has some serious problems. Besides the fact that the school bully constantly beats up on him and the girl of his dreams never notices him, his parents have announced that they are going to separate. So he and his sister decide to lock their parents in the basement until they work out their differences. They lure them down with a little anniversary party, and then run up the stairs, turn around and nail the door shut. Things get complicated when the school bully finds out what Grover has done. The bully decides that his cheating father and naive mother need to be locked down there until they work out their problems.
HOUSE ARREST is a second-rate comedy about the problem of broken homes in America. The solution, however, is totally misguided, dangerous and in violation of God's Law. Not only does this movie place children in authority over their parents, which is an anathema to God; but also, it fails to recognize that there is only one person who can fix everything: Jesus Christ. On the other hand, this film does lay bare the many difficulties of even the best intentioned marriages. However, the dumb parents/smart children theme is not the type of movie that loving parents will want their impressionable children to see.