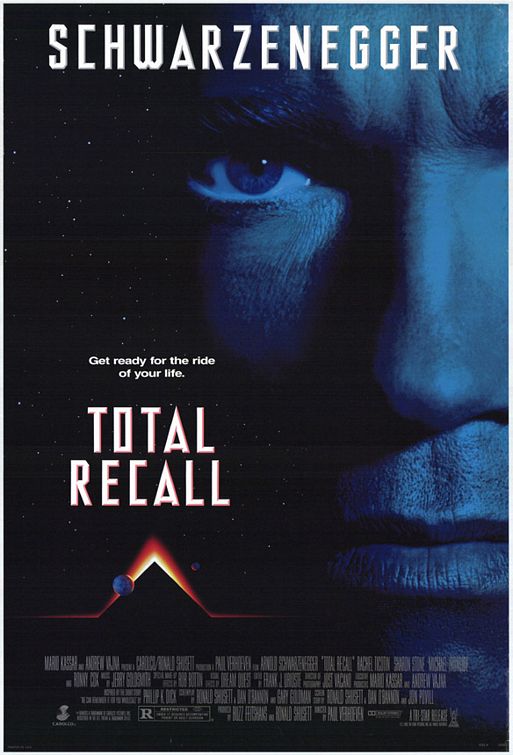 | | None | Light | Moderate | Heavy |
| --- | --- | --- | --- | --- |
| Language | | | | |
| Violence | | | | |
| Sex | | | | |
| Nudity | | | | |
Content:
Several obscenities, few profanities; female nudity and pornographic images; sexual perversion, fondling and innuendoes; revenge, adultery and prostitution; psychics; and, murder, graphic violence and gun play.
More Detail:
Haunted by nightmares that he used to live on Mars, Doug Quaid, a construction worker in the year 2084, thinks a simulated mental trip to the Red planet will help him overcome his anguish. He goes to Rekall, a unique travel service specializing in implanting fantasy adventures in the minds of its customers. His choice to go on a Mars vacation memory-trip using a secret-agent identity triggers a discovery that his entire life has been programmed and implanted in his brain. At the same time, a whole separate personality that had been blocked from his mind violently comes back to life.
When strangers and even his own wife try to murder him, he travels to a Martian mining colony to find out why, and who he really is. Quaid learns that he used to work for Mars Intelligence as agent Howser. He further learns that Cohenhagen, the Agency Head who is embroiled in a struggle against rebel insurgence, had dumped Howser and erased his memory when he switched sides. Cohenhagen has now purposed to kill Quaid before he has total recall. Using mind games, he attempts to trick Quaid into thinking he is experiencing paranoid delusions in a dream.
Quaid teams up with Melina, a woman whom he has seen before in his dreams while on Earth, but who in reality is a rebel friend of Howser's. She informs him that Kuato, the psychic mutant leader of the rebels, wants to help Quaid remember what he, as Howser, knew about an alien artifact in one of the mines. Cohenhagen knows that it is a reactor built by an ancient civilization capable of generating an atmosphere for the entire planet. Since Cohenhagen controls the settlement's air supply, he is determined to stop them.
Entertainment-wise, the movie goes all out. There are thrilling chase-sequences with cliff-hanging escapes, one after another. The surrealistic Martian-landscape sets are also excellent. Especially noteworthy are the futuristic special effects — holograms, scanning/tracking devices and robot cabbies, though some of the accompanying comical quips are mockingly derisive.
Unfortunately, the script is riddled with obscenity upon obscenity. Murder, violence and gory gun play graphically permeate the action scenes. Innocent people are gunned down and bullet-ridden bodies are literally strewn throughout. Kuato, the grotesque and hideous-looking mutant leader of the rebels, clearly shows a demon in his eyes. Nudity, pornographic images and sexual immorality run rampant, indicating that vice on Mars is just as bad as it is on Earth (and indicating that Paul Verhoeven, who is producing a film on Jesus, has not moved too far from his original career of making porno films). One scene, a midget hooker with a knife that's played for laughs, is particularly offensive.
The premise of the film, which teaches reliance upon self, is contained in a taped message Quaid has made to himself in order to set things aright. "It's all up to you," he says, a message which is further developed by Kuato, who says: "A man is defined by his actions, not by his memories."
Psalm 73:20 says, "As a dream when one awakes, so when you arise, O Lord, you will despise them as enemies." That is, when God arouses himself as from sleep and deals with the wicked, they vanish like the shadowy characters of a dream. For those in the film, unless they repent, this is their lot. However, for those who put their trust in the living God, they can take comfort in Psalm 4:8, "I will lie down and sleep in peace, for you alone, O Lord, make me dwell in safety."