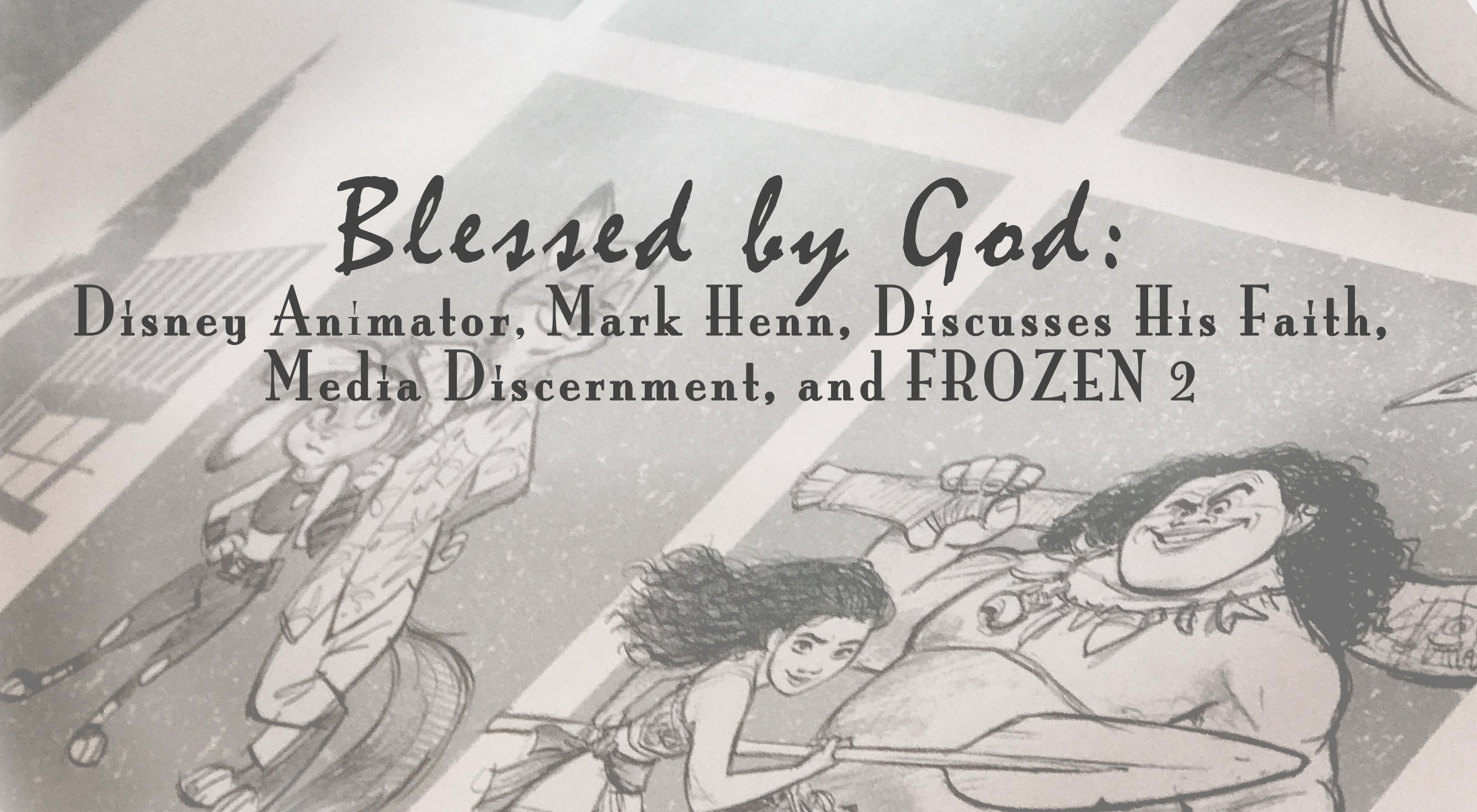 Blessed by God:
Disney Animator Mark Henn Discusses His Faith, Media Discernment and FROZEN 2
By Ben Kayser, Managing Editor
In an exclusive interview with Movieguide®, Mark Henn, one of Disney's lead animators, discussed his Christian faith, his experience animating MOANA and the possibility of his involvement on FROZEN 2.
Beginning his career at Disney in 1980, Mark Henn said he always wanted to work at Disney. After working on such Disney classics as THE LITTLE MERMAID, BEAUTY AND THE BEAST, ALADDIN, THE LION KING, LILO & STITCH, BIG HERO 6, FROZEN, and this year's MOANA (most of them MOPVIEGUIDE® Award winners, by the way), Henn is one of the most accomplished animators in Hollywood.
Movieguide®:  Talk about your experience working on MOANA. When did you guys start that process?
Mark Henn:  These films are always a couple years well into development. Ron and John, the directors, started several years before I actually came on board, but I was on early enough to help do some early test scenes, test animations, hand drawn 2D tests, [and] to just start exploring some ideas with the characters. In fact, they pulled together some scratch lines from The Rock. They asked me to do a test based on these scratch lines to …help put together a presentation to go to Dwayne to ask him if he was interested in doing the film. I guess in a way, I had a little bit of a hand in helping get Dwayne on the picture. I think he would have done it anyway because I think he's that kind of guy.
Movieguide®:  MOANA is all about finding your calling and pursuing it. As an animator who's living out your dream working for Disney, how much do you see yourself in a character like Moana?
Mark:  A lot. It certainly is very similar to the path that I took to get to Disney, with people at first kind of saying, "Oh, that's nice." Cause I grew up in the Midwest, and that was one of the last things anyone would expect a young boy from the Midwest to say:  "So Mark, what do you want to be when you grow up?" "Oh a teacher, or this or that" or some other things would be more normal. But, I was like, "No. . . I want to be a Disney animator," and they all just … went "Uh-huh, okay." So, it went from just [being] polite, we'll let that go in one ear and out the other, to (as I got older and started pursuing it more), I don't want to say I met with resistance, but certainly there were a few obstacles that I had to get over. Very much like Moana. She felt like there was something drawing her. I had really no other dreams in my head to do. I thought, well maybe I could fall back on being a teacher because my parents were teachers, but I just had my blinders on and just focused on one thing and that was to be a Disney animator. So, I can understand that call, that inward drive to drive a person, Similarly with Moana. She didn't quite understand it, but she just knew there was something there that she had to do and had to follow. . . .
Movieguide®:  Do you attribute some of that to your Christian faith?
Mark:  Oh absolutely. I wouldn't be here, I wouldn't still be here if it wasn't for God's Grace. There's not many days that go by, that if I just take a walk across the street, I'm just "Thank you, Lord, for letting me be here and letting me live my dream." And that's very rare. I've had a number of people, people that I grew up with, people I've gotten to know over the years, [who] have said, "How lucky you are to have gotten to do what you always wanted to do." Luck really had nothing to do with it. In my mind, God has me here, and I'm so happy to be here.
Movieguide®:  As a Christian who works in the entertainment industry, how important is it for families to be aware and discerning of the media they consume?
Mark:  It's very important. We're such a huge entertainment, media-driven society. Everything from the social media outlets, to entertainment…and just an endless supply of TV shows and streaming online. It's such a big part of our lives these days. I just became a grandparent for the first time, and now my daughter has a daughter of her own. They don't want to just stick a device in her hand and stick her in a corner and let her stare at a 3×3 inch screen and call that babysitting. So it's very important. If nothing else, just be asking questions. "Why do you want to see this?" "Do you think it's the best thing to be watching?" Even as an adult, we have to ask ourselves that, because we have to police ourselves in those areas. "Is this the best use of my time? Is this the best content of film? If I'm going to take two hours out of my life to sit and watch a movie, is this going to be the best thing?" It's tough, and it's getting tougher, but parents need to have those conversations.
Movieguide®:  How do you feel about these live action renditions [of Disney movies] from JUNGLE BOOK, and of course the now in development live action LITTLE MERMAID and LION KING, which is probably a little more personal to you because you had worked on both of those, right?
Mark:  Yes, I did.
Movieguide®:  So how do you feel about these live action movies?
Mark:  It definitely wouldn't be my first choice, but they don't ask. I think it's kind of neat that they still look at these films and are still inspired to do these reimagining of different films. Certainly nowadays, in live action, the technology is there to do things that, before, we used to think were only possible to do in animation. So, to see CINDERELLA come out and do as well as it did, and then some of the others, it's a real testimony to how good and how foundational these animated films were. Even in a live action version, it still holds up quite well, and, with some of the new technology [available], it gives it a fresh take.
Movieguide®:  I know there's still a great slate of animated movies coming, including the announced FROZEN 2. Are you involved in that at all?
Mark:  Not at this point. I'm working on some other films. There are still a couple films down the line. I might be. I haven't talked to the directors. They might want to get the band back together and get pretty much the same creative team back together to work on that. So we'll see. That would be fun, I would love to.
Movieguide®:  When it comes down to it, it's all about the story. Families want to go be uplifted and feel safe in the movie theater. They want good to triumph over evil, and those are things that don't change.
Mark:  Right, exactly. We aim to make movies that are entertaining. People forget that these [are] grown people making these little cartoons. Yet, they were interested in making and creating entertainment that [the people] were interested in too, [and] felt entertained by and very passionately about. That same spirit is still here with this new generation of artists. Even though the tools have changed, that drive and passion is still here.