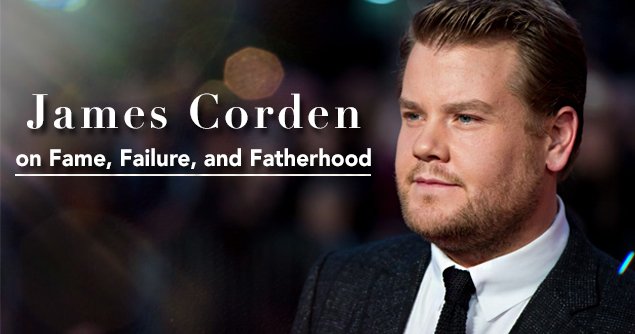 James Corden on Fame, Failure, and Fatherhood
By Abbie DeHaas, Contributing Writer
English actor, singer, and comedian James Corden is no stranger to failure.
Corden has often received criticism for tasteless pranks, thoughtless comments, and disrespect toward fellow performers. Corden rose to fame after landing a role in the British sitcom "Gavin and Stacey". At the 2008 BAFTA awards, during his acceptance speech for best comedic performance, he made a jab at the judges for not also nominating the show for best comedy. He had public disagreements with other celebrities, including Patrick Stewart and Gareth McLean. Ruth Jones, his friend and mentor, once warned him that he was on a track away from success, not towards it.
After Gavin and Stacey, Corden suffered several career setbacks. He attempted producing a sketch show with his "Gavin and Stacey" co-star, Mat Horne, titled Horne and Corden. It was cancelled after only six episodes. After that, he had a role in the box-office flop, "Lesbian Vampire Killers". Both of these attempts were met with harsh criticism.
These missteps and a series of messy relationships sent Corden into a downward spiral. He began turning to alcohol and one-night stands to ease the pain of failure. Before long, however, he realized how unfulfilling it was.
"The longer it went on, the emptier my soul felt," he said. "I was lost."
This changed with an unexpected visit from Corden's parents. His father, a Christian book salesman, and his mother, a social worker, had always been devout Christians. Corden cites that there was never any reason for him to turn away from their teachings.
They arrived at Corden's sparse apartment to help him work through his depression. He found himself sitting between his mother and father, weeping. "Every tear that left my eyes made me feel a little lighter," says Corden. His father hugged him, and prayed for him. As they walked out the door, he said "You've so much to be thankful for, James. I know it's been a tricky year, but you can't carry on like this."
That was Corden's turning point. He began to examine himself deeply, trying to understand exactly where he stood with his career and lifestyle choices. Soon after, his newfound humility began to show in his work. He met his fiancee, Julia Carey, with whom he had a son, Max. He also wrote a memoir, titled May I Have Your Attention, Please.
Now, Corden hosts an American late night talk show, "The Late Late Show with James Corden." It stands its ground against other late night shows due to Corden's warm, approachable demeanor. He is known recently for his popular "Carpool Karaoke" videos, which are a segment on the talk show. The video featuring Adele garnered over 100 million views on YouTube. He also hosted the 2016 Tony awards, which gave him an opportunity to redeem himself from his mistake at the BAFTA awards.
After his marriage, Corden and his wife also had a daughter. Corden loves "every minute of being a dad," he says. "There's no one else in the world that can wake me up at five o'clock in the morning and be forgiven with a smile within 30 seconds." Domestic life suits him better than he expected it would. He says he feels "fulfilled" being a family man, and that the space of his home allows him to be more creative and relaxed than ever before.
When asked if he still holds onto his parents' faith, he said, "I guess I have a faith. I have an overriding feeling that all of this can't be for nothing." Corden shows however that he hasn't quite returned to his parents' conviction in faith by adding, "But then I also fully understand that it might be."
Above all, he loves his job, and the fact that he's finally found a niche in show business. "It's a picnic every day," he says. "A joy."
We hope and pray that James continues to step into the deeper joy that is given through family, values, but most importantly, faith in God.